In this recipe, I'll show you how to make a quick & easy homemade sauerkraut in a jar with a few spices & superfoods added in for more health benefits!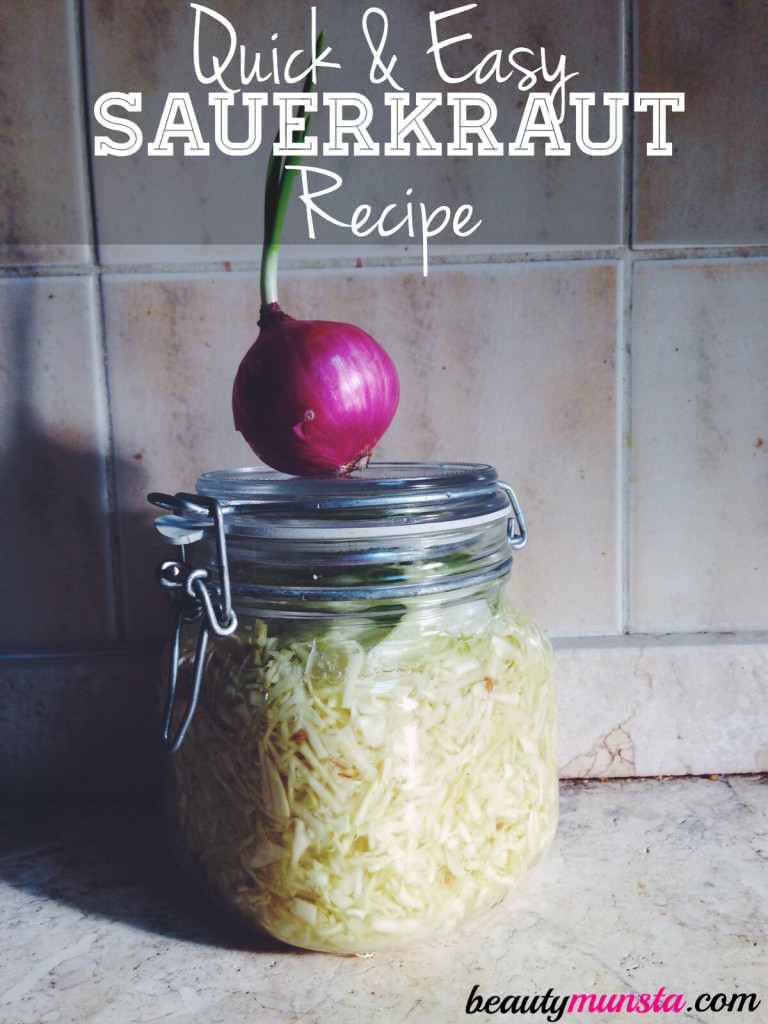 Sauerkraut | A Traditional Fermented Food
Sauerkraut is German for 'sour cabbage'. It is a traditional German food that is a popular staple of the winter diet in Germany and Netherlands. Sauerkraut is created through lacto-fermentation (by the lactobacillus bacteria) when the sugars in the cabbage are broken down by the natural beneficial bacteria existing in the cabbage, turning it into lactic acid, which also acts as a preservative for the sauerkraut. It is really simple to make: you only need to shred/finely chop a fresh cabbage, add salt and purified water but in this recipe, I'll show you how to make simple traditional German sauerkraut with a few spices & superfoods added in for more health benefits!
Why You Should Make & Eat Sauerkraut
Sauerkraut is one of the healthiest, most probiotic-rich fermented foods you could ever eat and make on your own! The probiotics in sauerkraut include gut-friendly bacteria that help sweep out toxins, waste material and other debris that accumulates in the gut and intestines, thereby preventing a myriad of diseases (you know the saying, disease begins in the gut) and promoting a healthy body. Here's a quick list of benefits of sauerkraut and why you should be eating this probiotic-rich fermented food:
improves digestion as well as treats and heals digestive disorders and problems such as chronic constipation, indigestion, irritable bowel syndrome, leaky gut syndrome and ulcerative colitis.
fights inflammation
detoxifies the body, especially the gut and the colon
supports healthy brain function and general cognitive health as well as lowers the risk of mental illness and brain disease.
fights cancer
prevents and heals autoimmune diseases including psoriasis
lowers the risk of metabolic conditions such as diabetes
prevents asthma
boosts immunity
helps aid in weight loss and prevents obesity
aids in depression, anxiety and other mental/emotional disorders
…and so much more!
How to Make Easy Homemade Sauerkraut In a Jar
In my quick recipe, you will need a small cabbage, whey water, cumin seeds and Himalayan pink salt. I chopped up a small white cabbage but you could also use red cabbage. The whey water I used was from straining my homemade kefir – you can buy whey water from the store or strain it from store-bought plain yogurt/kefir but I recommend making your own whey water for full benefits! Himalayan pink salt is a natural salt rich in minerals that support a healthy body. You can also use rock salt, sea salt or even normal table salt but keep in mind table salt has been processed and bleached so most of its nutritive properties have been stripped off. I also added cumin seeds, an antioxidant-rich spice, to create a lovely flavorful sauerkraut but there's also another reason for adding these flavorful seeds – they help prevent flatulence as you know cabbage, rich in sulfur is one of the foods that cause excessive gas and flatulence.
Ingredients
Directions
In a large bowl, combine the chopped cabbage and salt thoroughly with clean hands. Massage the cabbage until the juices start oozing out. This can take up to 5 minutes. Now mix in the cumin seeds and whey water.
In a sterilized glass jar, begin packing in the cabbage tightly. Using your hands squeeze out the excess juices from the cabbage and stuff it into the mason jar or swing-top jar like mine.
Now pour the juices into the jar, making sure the cabbage is fully immersed in the whey water.
Keep in a warm area of your kitchen like on top of the refrigerator or in the pantry for 3 – 5 days for it to ferment and accumulate beneficial bacteria. Now transfer the sauerkraut to the refrigerator and consume within 1 week for maximum probiotics.
Go wild with your flavorings! Instead of cumin seeds, you could use dill seeds, fennel seeds, celery seeds or even a few juniper berries!
Some people notice a brown or thick white film of scum at the top of their sauerkraut. This happens especially when you don't refrigerate or keep it for more than a week without eating it up, both of which I don't recommend. If it's happened to your sauerkraut, don't worry, it isn't spoilt – just use a spoon to gently scoop it off and you can safely continue eating it. However, if the mold has spread deeper turning the rest of the sauerkraut brown then throw it out and make a fresh batch, which you must refrigerate and consume within the week. C'mon, it's too easy to make a new batch of sauerkraut weekly with this simple recipe!
If your sauerkraut tastes too tangy or you think it has gone rancid (this might happen in most fermented foods, such as kefir, especially if kept fermented for too long), then trash it and make a new batch.
Avoid regular iodized/table salt and go for Himalayan pink salt, rock salt, sea salt or any other natural mineral-rich salt instead, for extra benefits!