Check out these top 10 foods that fight infection in the mouth!
Infections in the mouth can be a cause for concern especially if it's a tooth infection or dental abscess. Teeth are something that don't grow back so taking care of them very well is vital. Plus dental work is very expensive, especially if you're not covered by insurance!
If you're prone to infections in the mouth or have one right now and want to heal it the natural way, take a look at these 10 foods that fight infection in the mouth!
Top 10 Foods that Fight Infection in the Mouth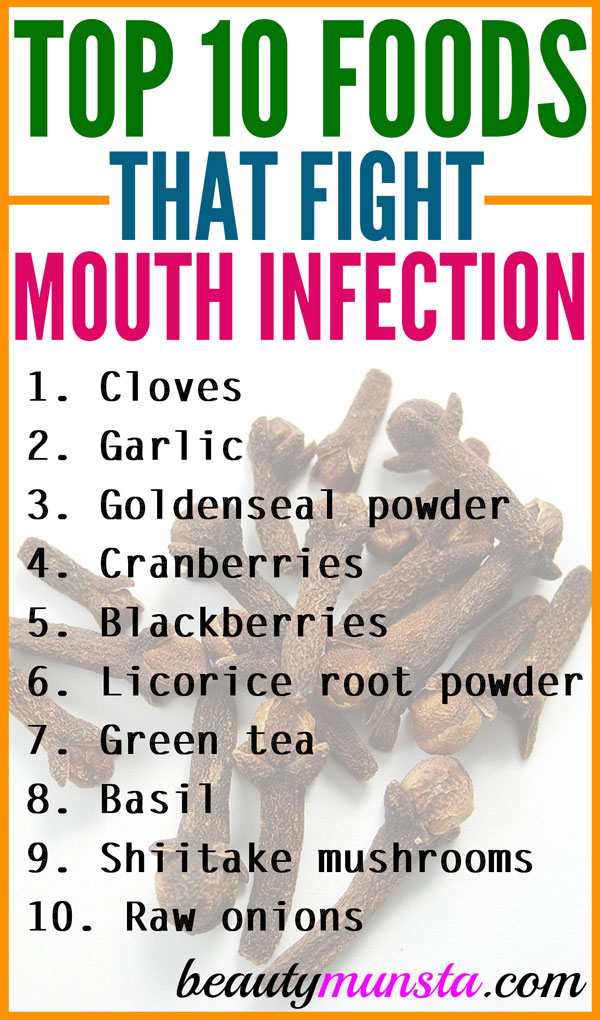 1. Cloves
Cloves are the number one food for dental health. They are hot spices that originate from India. Cloves are powerful antioxidants as well as antifungal, antibacterial and antifungal agents. They fight mouth bacteria, reduce inflammation & swelling and numb down pain.
The best way to use cloves is by popping one into your mouth and sucking on it until it softens and melts. This will not only fight infection in the mouth but also freshen your breath and prevent cavities!
2. Garlic
Garlic is another potent herb that's good for oral health. It is a powerful natural antibiotic so it's good for fighting off infections. In one study published in the Archives of Oral Biology, researchers from South Yorkshire, UK found that garlic contains allicin, which inhibits the activity of a compound that causes periodontitis. Garlic fights gingivalis, the bacteria that causes periodontal disease.
You can add garlic as a seasoning to your soups and dishes. Take garlic in moderation.
3. Goldenseal Powder
Goldenseal root (scientific name: Hydrastis Canadensis) has been used medicinally by the Native Americans. It has shown to have a powerful antimicrobial activity which makes it good for fighting off infections. Naturopaths and holistic doctors recommend goldenseal powder for treating oral infections including abscesses. Goldenseal powder is best used topically to fight off oral infections. It takes the pain right off abscesses.
The University of Maryland advises making a moutwash for sore gums as follows: mix ¼ tsp salt and ½ tsp goldenseal powder from one capsule with a cup of warm water. Let the steep for 5 minutes then strain it. Rinse gums with the mixture then spit it out. Repeat 5 times a day.
4. Cranberries
Cranberries are tart fruits. Their juice is popular for fighting UTIs and detoxifying the body. But did you know that cranberry juice fights plaque from forming in the mouth? In a study published in the Journal of Antimicrobial Chemotherapy in 2004, researchers from Israel found that cranberry juice helps stop the growth of biofilms, collections of microorganisms that grow on your teeth and cause tooth decay and periodontal disease.
So up your intake of cranberry juice to fight off infection in the mouth!
5. Blackberries
In a 2012 study published in the Journal of Periodontal Research, researchers from the University of North Carolina and University of Kentucky found that blackberries may kill pathogens that cause periodontal infections. The researchers subjected 10 types of mouth bacteria to blackberry extract. The results showed that the extract not only offered anti-inflammatory benefits but also antiviral and antibacterial properties reduced the amount of harmful pathogens that cause periodontal disease.
6. Licorice Root Powder
Licorice sticks are something most of us loved as children. But did you know that licorice root powder is also a heavy-weight in the dental world? Two naturally occurring compounds in licorice: Licoricidin and licorisoflavan A, were found to kill the major bacteria responsible for tooth decay and gum disease.
This research was carried out by scientists from the American Chemical Society and the American Society of Pharmacognosy. They also found out that these compounds have antibacterial properties, and they have been found to kill Streptococcus mutans, which is the main oral bacteria known for causing cavities. They also kill a variety of other bacteria strains that cause numerous dental problems.
7. Green Tea
Drinking green tea not only keeps you in shape but also protects your mouth from infections, cavities and gum disease! Catechins in green tea kill mouth bacteria and prevent gum disease. In one study published in the journal Preventive Medicine, regularly drinking one cup of green tea per day can prevent tooth loss in older adults.
Drink a cup of green tea without sugar every day to achieve these amazing benefits!
8. Basil
Basil is a fresh herb known to fight off colds and respiratory ailments. What's more is that it's good for dental health! Fresh basil contains essential oils that have been shown to be powerful antimicrobial and antibacterial agents.
Make a cup of basil tea with fresh basil (without any sweetener) and sip it up slowly to reap its dental health benefits!
9. Shiitake Mushrooms
Surprise! Shiitake mushrooms are also one of the top foods that fight infection in the mouth! Researchers have found that the antibacterial properties of Shiitake mushrooms disrupt the reproduction of mouth bacteria. This prevents biofilm from forming. Biofilm is a slimy buildup of bacteria that forms on the surfaces of teeth.
10. Raw Onions
Raw onions may not give you pleasant breath but they are powerful against mouth bacteria that cause cavities and infections. The very sulfur compounds that give you bad breath from onions are the ones that fight bacteria. A 2010 publication in the Journal of Chemical and Pharmaceutical Research, has a report by a Russian doctor who found that chewing raw onions for 2-3 minutes is enough to kill all the bacteria in the mouth.
You can add a few rings of onion to your fresh salad to fight off any infections! Onion juice can also be swished as a mouthwash to kill any oral infections.
Which of the above foods are you interested in to fight off mouth infection?