Can chia seeds go bad? What are the signs of expiry for chia seeds? How do you store chia seeds to make them last longer?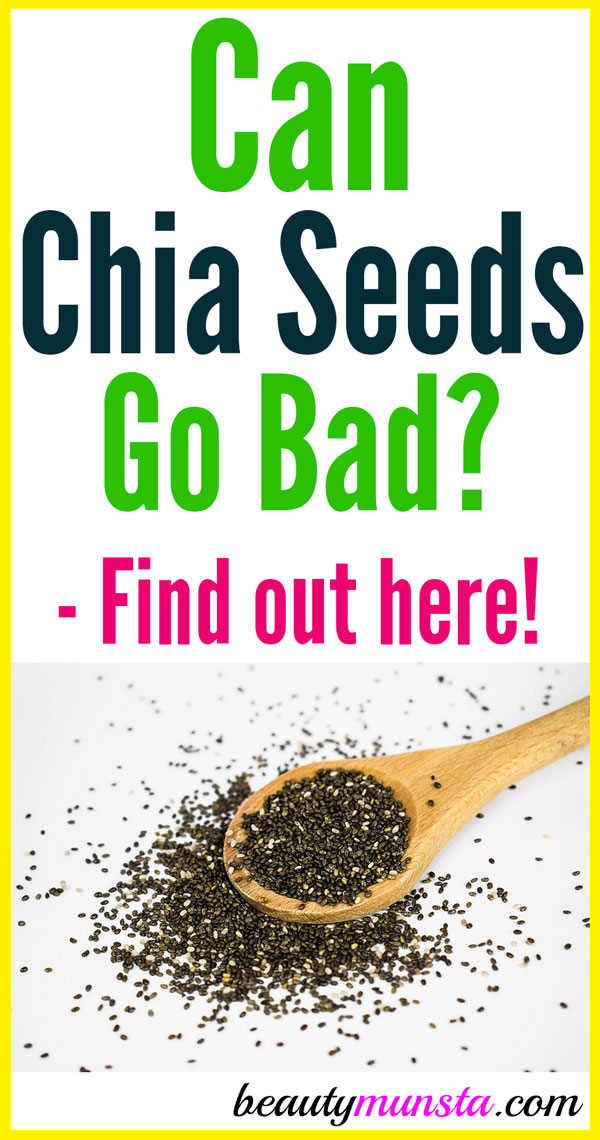 Chia seeds, like any other seeds, can go bad. This is because they contain a large amount of oil in them. Once the oil in the chia seeds goes bad, the rest of the seed goes bad.
Originating in South America, chia seeds are tiny black seeds that are a heavy weight super food. They are rich in protein, omega 3 fatty acids, vitamins and other nutrients. Chia seeds can be pricey so it's best to store them meticulously and eat them while they are fresh.
5 Signs That Chia Seeds Have Gone Bad
Eating expired foods, or foods past their prime freshness is not good for your health. Expired chia seed can contain rancid oils which can unleash free radicals into your body. This extra oxidative stress from expired ingredients can cause faster aging, affect your immune system and cause unnecessary burden on your body.
Here are 3 signs that show that your chia seeds have gone bad:
1. Change in Smell
Chia seeds normally don't have any smell. But once the oil content in the seeds goes rancid, the seeds may give off a stale, rancid smell. This might be hard to tell. A good way to find out is to crush a teaspoon of the seeds using a mortar and pestle. This will release the oils and then you can check for any rancid odor.
2. Change in Taste
Usually you won't be able to tell any change in taste, until you soak the seeds and eat them. Chia seeds have no taste at all when soaked in water. But if you taste anything rancid, stale or off putting in any way, it might mean your chia seeds have gone bad. In this case you should throw it out.
3. Time
Most brands will label the expiry date of their chia seeds on the packed. For chia seeds, the expiry date is 2 years at room temperature. If your chia seeds are more than two years old, chances are they've probably gone bad.
How to Store Chia Seeds
Proper storage of chia seeds can definitely lengthen their life span. Here are some tips on how to store chia seeds:
Transfer the chia seeds from their plastic packing into a clean, dry glass jar.
Make sure to keep the lid of your glass jar tightly screwed to prevent unwanted air from getting in.
Always use a clean, dry spoon to scoop out your chia seeds.
Keep away from water.
Storing chia seeds in the refrigerator helps keep them fresher longer.
How to Eat Chia Seeds
Looking for some easy and fun ways to add chia to your daily diet? Try these:
Add them to your baked goods
Sprinkle them over peanut butter toast
Make homemade jam with them
Blend them in your smoothies
Soak them in almond milk to make chia cups or breakfast jars