Oleic acid is a natural fatty acid that can be derived from many sources. Find out the health and beauty benefits of oleic acid and how it can be used in daily life.
What is Oleic Acid?
Oleic acid is a monosaturated omega 9 fatty acid, which occurs naturally in many animal and vegetable sources.
The term 'oleic' acid is most probably derived from 'olive' oil, which is one of the best sources of oleic acid. It is a natural insect repellent and has many health benefits, as well as beauty benefits.
Sources Rich in Oleic Acid
There are many food items and skin care items that are rich in oleic acid. By supplying your body with foods rich in oleic acid, you can promote healthy skin and hair from the inside out.
Natural food sources of oleic acid include: butter, eggs, nuts, cheese, meats, poultry and others.
Oleic acid is also found in skin care products and skin care oils. It is often used as an emulsifier in both homemade and commercial beauty products.
Popular oils used in the beauty and skin care world, which are rich in oleic acid include:
Please see: Top 8 Carrier Oils Rich in Oleic Acid
15 Beauty Benefits of Oleic Acid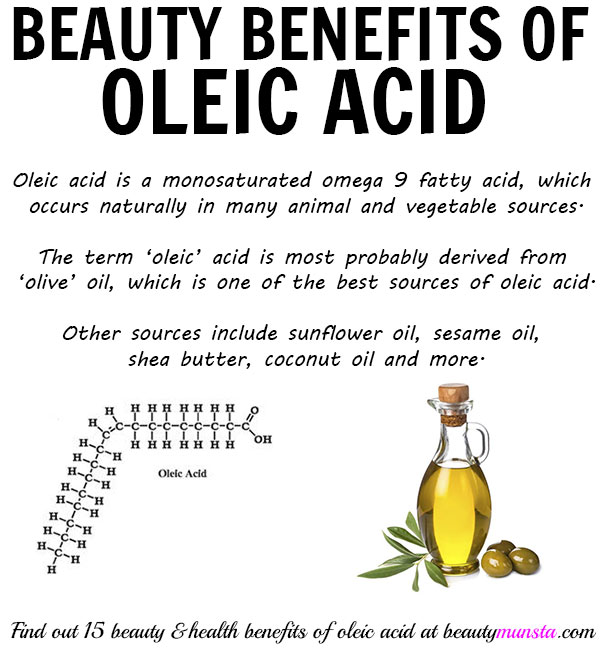 1. Moisturizer: Oleic acid is a component of many skin care items, which has potent moisturizing qualities. It helps the skin keep soft, supple and radiant.
2. Boosts hair growth: Many oils rich in oleic acid, such as olive oil are popularly used to stimulate hair growth and make hair thicker, longer and stronger.
3. Anti-aging properties:Oleic acid has potent antioxidant compounds that help slow down aging and prevent premature wrinkles and fine lines.
4. Prevents dry scalp and dandruff: One of the leading causes of hair fall is poor scalp health and dandruff. Oleic acid can help moisturize the scalp, repair damaged follicles and treat dandruff to support hair growth.
5. Soothes skin conditions like eczema, rosacea and psoriasis: Oleic acid contains compounds that strengthen the integrity of cell membranes and fosters the repair of damaged cells in conditions such as eczema, rosacea and psoriasis.
Health Benefits of Oleic Acid
6. Boosts the immune system: Healthy sources of oleic acid boost the immune system and promote the production of white blood cells. These help keep the body healthy by fighting off microbial invaders.
7. Fights free radical damage: The antioxidant properties in oleic acid help neutralize the action of harmful free radicals and reduce oxidative damage in the body.
8. Anti-inflammatory: Oleic acid is rich in anti-inflammatory compounds, which help prevent inflammatory diseases such as rheumatoid arthritis and autoimmune disorders such as fibromyalgia.
9. Supports cardiovascular health: The molecules of oleic acid tend to be larger and more slippery, thus reducing the chances of blocking arteries or building plaques. It supports heart health and blood circulation.
10. Fights cancer: Food sources of oleic acid inhibit the growth of cancer cells and have found to reduce the incidences of breast cancer.
11. Supports respiratory health: Oleic acid helps support the proper functioning of the lungs. It has also been found to relieve the symptoms of asthma.
12. Helps in weight loss : Oleic acid helps boost metabolism, improves energy efficiency and helps in weight loss.
13. Good for the brain : Worried about your brain health? Foods containing oleic acid boost memory power and promote neurological transmission in the brain. It also helps the brain function smoothly.
14. Reduces inflammation: Inflammation of the joints causes stiffness, pain and ailments such as arthritis. These can be prevented with proper sources of oleic acid in the diet.
15. Helps in regulating blood sugar : Oleic acid helps in reduces the resistance of insulin. This in turn helps improve blood sugar regulation and maintains healthy glucose levels in the blood.