One of the most important nutrient for beautiful skin and hair is Vitamin B. Find out the beauty benefits of B vitamins and how they can help you improve your skin, hair and body.
What Are B Vitamins?
Vitamin B1 or thiamine was discovered by Casimir Funk in 1912. Subsequently, the B-Vitamin was discovered by a biochemist called Elmer V. McCollum sometime around 1915–1916.
Vitamin B2 was discovered by D. T. Smith and E. G. Hendrick in 1926 while folic acid was discovered in 1933 by Lucy Wills.
Subsequently, Paul Gyorgy was responsible for discovering Vitamin B6 in 1934 followed by Conrad Elvehjem, who discovered Niacin in 1937.
B-Vitamins are found largely in animal proteins like meat, liver, cheese, milk and eggs.
List of B Vitamins
B-vitamins are water soluble compounds and there are eight types of such vitamins. These include:
Vitamin B1 or thiamin;
Riboflavin;
Pantothenic acid;
Niacin;
Pyridoxine or Vitamin B6;
Biotin;
Cyanocobalamin or Vitamin B 12 ; and
Folate (also called folic acid when it's added to supplements)
Vitamin B can be found in a variety of foods like: carrots, sweet potatoes, papaya, red meat, eggs & cheese, apricots, mangoes, avocados and more.
Where to Get A High Quality Vitamin B Supplement
If you are too busy to cook these foods on a daily basis, invest in a high quality supplement. I like Garden of Life's Vitamin B Complex.
Garden of Life Vitamin B Complex – Vitamin Code Raw B Vitamin Whole Food Supplement, Vegan, 120 Capsules, Packaging May Vary

Top 10 Beauty Benefits of B Vitamins
Getting sufficient B-vitamins is necessary to have healthy skin because these vitamins speed up dermal cell metabolism. Research reveals that B-Vitamins benefit the skin, both when applied directly or ingested and provides protection against eczema particularly. The following are the top 10 beauty benefits of B-Vitamins.
1. Protects From Aging:
Vitamin B1 being a powerful antioxidant, helps increase blood circulation and therefore, keeps the skin toned and healthy. This in turn, prevents the skin from premature wrinkling and also from acne. Niacin improves the condition of the epidermis or the skin's upper most layer, while topically applied nicotinamide softens and smoothens the skin to reduce dryness, flakiness and to erase fine lines eventually.
2. Cuts Excessive Oil Formation:
Vitamin B5 reduces excessive oil formation on the skin and thus, prevents acne breakouts. It helps the skin retain its moisture by hydrating it more and makes it look healthier. In fact, Vitamin B5 also effectively fights eczema.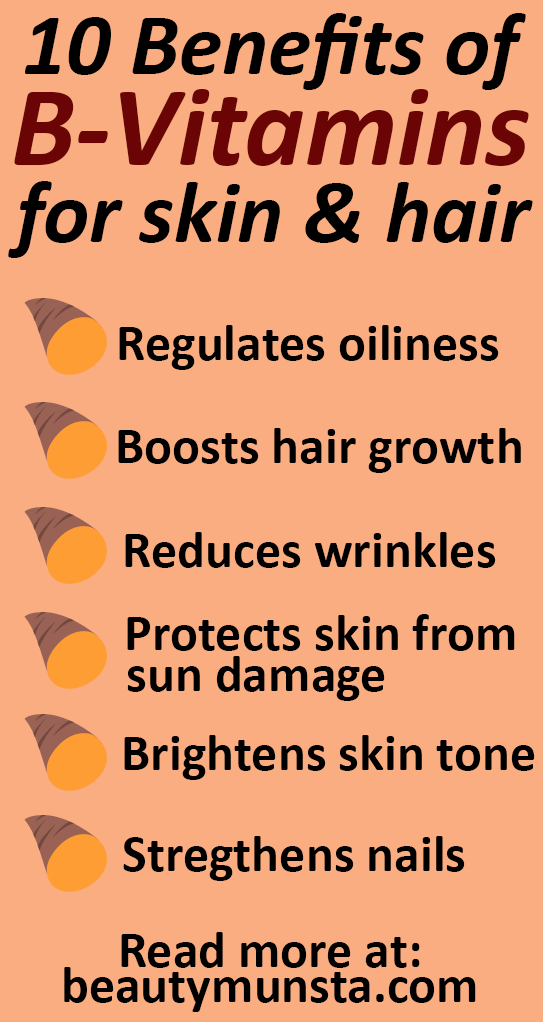 3. Promotes Nail & Skin Health:
Another amazing beauty benefit of b vitamins is from biotin. Biotin makes your nails harder and healthier. It also aids in treating skin conditions like acne, seborrhoea dermatitis and eczema.
4. B-Vitamins Lighten Skin Tone:
B-Vitamins are powerful skin lightening agents. Regular use leads to decreased hyperpigmentation and they are also effective in treating any diseases that cause blisters on the skin. These are also known to reduce skin redness and scaly skin irritation.
5. Boost Overall Hair Health:
Foods rich in B-Vitamins prevent if taken regularly reduce hair loss and encourage the growth of thick and shiny hair. Any person who is deficient in such vitamins tends to have brittle and thin hair that surely lacks shine and luster and may even turn bald in the long run.
6. Stimulates Growth of Hair:
Thiamine improves scalp blood circulation, providing the oxygen that hair follicles require. This hastens the hair growth process. Moreover, Vitamin B 12 is an integral part of hair structure and maintaining an appropriate B12-Vitamin level aids in enhancing overall hair health.
7. Tackle Baldness:
Vitamin B6 reduces Dihydotestosterone formation that causes baldness in humans. Moreover, this vitamin is known to inhibit the production of the dihydotestosteone hormone to thwart premature hair loss.
8. Keeps Your Scalp Moisturized:
The high antioxidant content of B-Vitamins aids in sebum secretion in the scalp and regulates its flow to hair follicles. This keeps the scalp moisturized and prevents dandruff. These also aid melanin production that maintain the hair's natural color while the Biotin prevents hair from graying prematurely.
9. Enhances Nail Health Significantly:
Deficiency of B-Vitamins may lead to brittle, split, discolored, chipped and pale nails.  Vitamin B 12 aids the body in absorbing a vital mineral like iron that is necessary for strong and healthy nails. Iron deficiency usually leads to brittle and excessively white nails that also grow unevenly. Similarly, Folate also plays an important role in cell development that leads to healthy nails.
10. Protect from UV Radiation:
Oils, which are rich in B-vitamins act as effective sunscreen lotions and skin protectors against the sun's harmful ultra violet rays. For this reason, it's advisable to apply them topically when visiting the beach or other areas which are exposed to strong sunlight.