Gelatin is a gem when it comes to promoting natural beauty! Let's find out 12 beauty benefits of gelatin for skin, hair and more!
You might be thinking gelatin for beauty?! Yes, beauties, the substance used to make jelly jiggle has lots of beauty benefits from removing blackheads to making your skin youthful!
What exactly is gelatin? We've all definitely bought gelatin powder for making desserts before but what is in it? Well, gelatin is made from animal bones or skin – don't be grossed out! It's a very nutritious food that boosts our supply of collagen which promotes youthful skin by delaying wrinkles. The bones, skin and connective tissue are made up of collagen, a protein that yields gelatin.
Most gelatin is got from pig skin though! So be sure to buy organic grass-fed gelatin that's preferably Kosher and preferably, comes from cows. You may want to get your hands on some high quality collagen supplements from grass-fed cows!
Gelatin can be consumed or used topically for its beauty benefits. One of the richest & best sources of gelatin is bone broth! It's a powerful ancient health food that can be consumed in the paleo diet and is very healthy. I've talked about its beauty benefits before so you can go check them out!
Okay now let's move on to the real topic at hand – beauty benefits of gelatin! Read on:
12 Beauty Benefits of Gelatin for Skin, Hair & More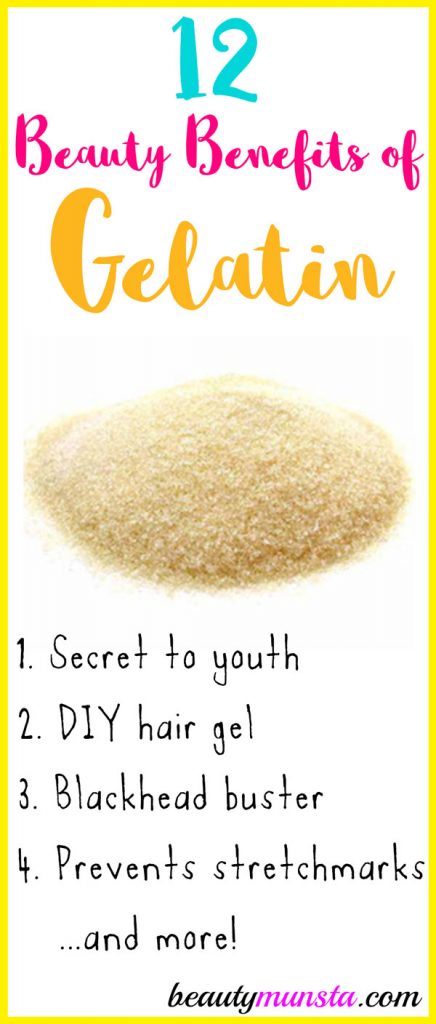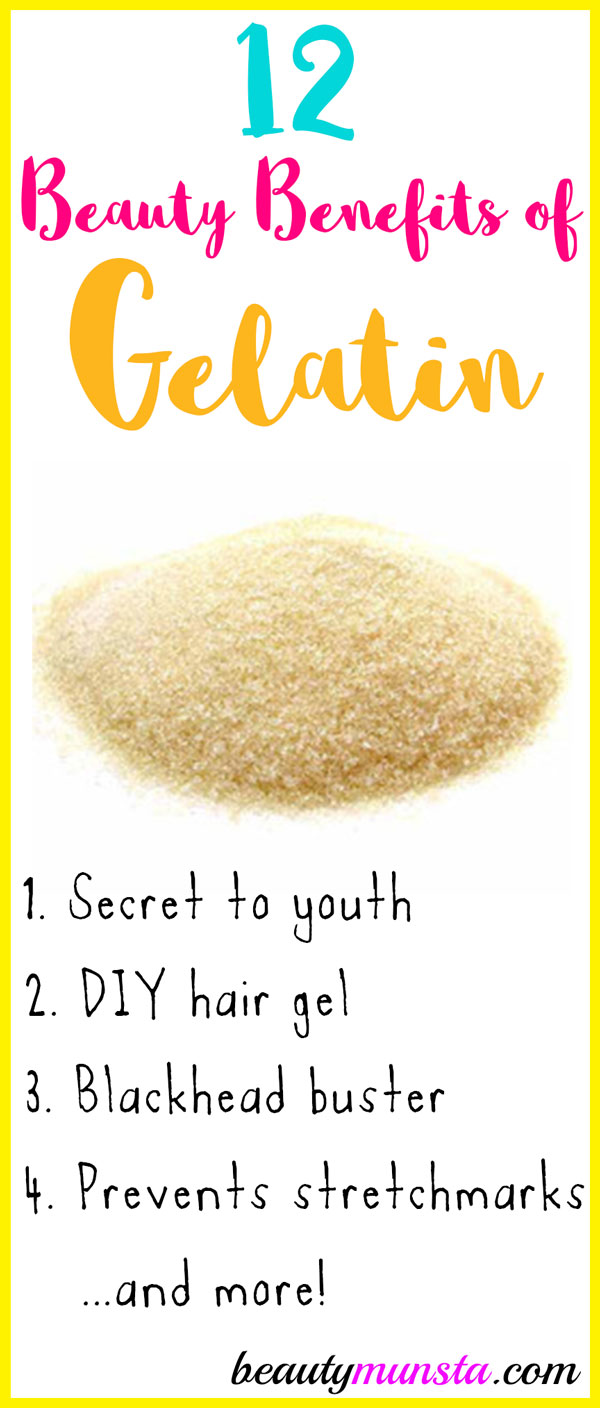 Below are 12 astonishing beauty benefits of gelatin for skin, hair and more!
1. Secret to Youthful Skin
The best beauty benefit of gelatin is it's a big secret to youthful skin! Gelatin is made up of collagen, a protein that holds together our skin, bones, tissue and everything like glue. As we get older, the body's collagen levels dwindle as part of the natural aging process. This equates fine lines, wrinkles and sagging skin! However, by eating foods rich in gelatin or dietary collagen, you can increase collagen production which helps delay premature aging, keeping you looking younger longer! Add bone broth to your diet to make your skin youthful.
2. Prevents Stretch Marks
Consuming gelatin helps promote skin elasticity and firmness which helps prevent those unsightly pregnancy and growth stretch marks! Make some flavorful nutrient-rich bone broth that will not only keep stretch marks away but also nourish your baby and you!
3. Reduces Cellulite
You may have cellulite on your thighs, butt, hips or arms because of low collagen production in your body! That's why you need to consume dietary collagen to replenish and boost your supply of collagen to keep your skin firm, taut and smooth. Consume bone broth or high quality collagen supplements to bust cellulite from the inside-out!
4. For Longer Thicker Hair
Another astonishing beauty benefit of gelatin is that it promotes hair growth! If you're taking ages to grow out your hair, you've got to try eating more gelatin-rich foods. Bone broth is the best source of gelatin that's why I love recommending you make some. Here's my favorite recipe: The Easiest Yummiest Bone Broth in a Pressure Cooker
5. Makes Skin Soft & Smooth
You can make your skin soft and smooth by upping your intake of gelatin-rich foods and also applying gelatin on your face! Try the Gelatin and Honey Face Mask below to see amazing results:
Gelatin and Honey Face Mask: In a small bowl, mix up ½ tsp unflavored grass-fed gelatin powder, 1 tsp raw honeyand 1 tsp vegetable glycerin. Mix them all up to form a well combined mixture. Apply it on your face, avoiding the eyes, with a cosmetic brush. Leave it on for 10-15 minutes then gently rinse off with warm water first, then cold water. Tone with skin with organic rose water then use 3-4 drops of argan oil to moisturize. You can try this every single day to keep your skin soft and smooth!
6. Strong Shiny Nails
Diet plays a big role in the health of your nails! Eating the right foods helps keep your nails strong and shiny and help them grow faster too! Foods rich in gelatin like bone broth as well as those rich in Vitamin E strengthen your nails so ahead and consume more of them!
7. Blackhead Buster
Do you find yourself buying store-bought pore strips every often? Then it's about time you stopped because you can make a natural pore strip at home! Using gelatin and milk, you can create a peel-off mask that peels off your blackheads and clogged pores instantly. Here are the instructions on how to do it: DIY Gelatin & Milk Pore Strips for Blackhead Removal
8. Make your Own Hair Gel
Fancy making your own hair gel at home? It's super easy when you have a box of gelatin around! When you make it yourself, you can use chemical-free ingredients and add a custom scent to it using essential oils!
Go to the post to see how to make a hair gel at home: Natural Homemade Hair Gel
9. Strengthens Hair
Gelatin is rich in protein, one of the nutrients that make up own hair strands. What happens if you don't have enough protein in your body/hair? Well, your hair will easily fall out because it becomes weak!
Strengthen your hair by consuming gelatin which is rich in dietary protein or even adding it to your shampoo to foster your hair from the outside! This creates your very own protein shampoo for stronger unbreakable hair! Just add 1-2 tsp of gelatin powder to an 8 oz sulfate-free natural shampoo and shake very well for a minute to combine everything evenly.
10. Cleanses Skin
Are you looking for a natural skin cleanser that effectively gets the job done? Try gelatin powder! Mix it with other grainy ingredients with cleansing action like colloidal oatmeal, gram flour or cornmeal like so: on your palm, add 1 tsp cornmeal and ½ tsp of gelatin powder. Now add just a little water to create a paste then rub this on your whole face, avoiding the eyes, for a minute. Rinse off with tepid water then use 3-4 drops of your favorite skin care oil (like jojoba oil) to moisturize.
11. Aids in Weight Loss
A healthy fit body is attractive! Gelatin aids in weight loss because it is packed with protein that makes you feel fuller longer. A full stomach stops you from non-stop bingeing on unhealthy snacks! Gelatin is also good for weight loss because it helps detoxify the liver and keep it functioning optimally. The liver is a very important organ for fat metabolism which plays an important role in weight management so this is very beneficial for those looking to trim off excess fat.
12. Skin Tightening
Tighten sagging skin from the outside using gelatin and water! Combined together, these two form a gel that has skin tightening properties! Skin tightening also helps shrink large pores that secrete excess sebum onto the skin. To make a skin tightening face mask follow the instructions below:
Skin Tightening Mask: In a bowl, add 2 tsp gelatin powder to ¼ cup of hot water. Stir it vigorously to form a gel then let it cool down completely before adding 2 tsp fresh lemon juice. Apply a suitable amount of this gel all over your skin, avoiding the eyes. Let the mask sit for 15 minutes then rinse off with cold water. Moisturize afterwards with a pea-sized amount of shea butter. Store the excess mask in the refrigerator for future use.
Where to Get Gelatin
As I mentioned at the start of this article, please ensure to buy Grass Fed Beef Gelatin that's Kosher. You can use this gelatin topically or consume it. I like Great Lakes Unflavored Kosher Gelatin Powder – it's better than Knox in my opinion.
How to Consume Gelatin
It's best to eat homemade bone broth (here's the recipe). But if you can't, then the best way to consume gelatin is by filling up the above gelatin powder in 00 vegetable capsules so you don't have to taste it. You can also invest in these Collagen Supplements:
Many people also love consuming Premium Collagen Peptides which are Grass-Fed, Certified Paleo Friendly, Non-Gmo and Gluten Free! It's easy to mix up and consume 1-3 times a day!

Aim to consume 1 tbsp of gelatin a day to see results.
You can also make homemade jello with it too! It's simply a matter of mixing up unsweetened fruit juice, sugar and gelatin powder! If you want the recipe, here it is:
Easy Homemade Jello

What you need
1 cup unsweetened fruit juice of choice
Sugar to taste
2 tbsp food grade gelatin powder
Directions
In a cup, mix 1/2 cup of fruit juice with 2 tbsp of gelatin powder till incorporated fully.
Let it sit for 5 minutes to gel
up.
Then, warm up the other 1/2 cup of fruit juice and dissolve sugar to taste.
Pour the hot liquid into the cold liquid and mix well.
Finally, pour into a jello container then let it harden it in the refrigerator for a few hours. Enjoy!
Will you use gelatin for beauty? Share your thoughts below!