If your hair looks dull and rough, you definitely need to make a DIY natural hair gel to breathe some life into your hair again! The recipe below is perfect for that!
A natural hair gel is something that has a light consistency and can be used as a quick styler for hair. It's not greasy and acts as a sealant which locks moisture into hair. This means you must apply it on damp hair for best results.
Applying this gel gives your hair personality by keeping it hydrated and glossy – without any oils! If you're someone who doesn't like using oils on your hair, then this DIY natural hair gel is for you!
Benefits of Natural Hair Gel
Here are some of the benefits of using this natural hair gel:
Quick hair styler
Makes hair shiny
Keeps hair moisturized
Acts as a detangler
Provides good hold or slip for natural hair
Reduces oiliness of hair
Can be used as a scalp soother
Doesn't weight hair down like hair oils
Doesn't make hair look greasy
DIY Natural Hair Gel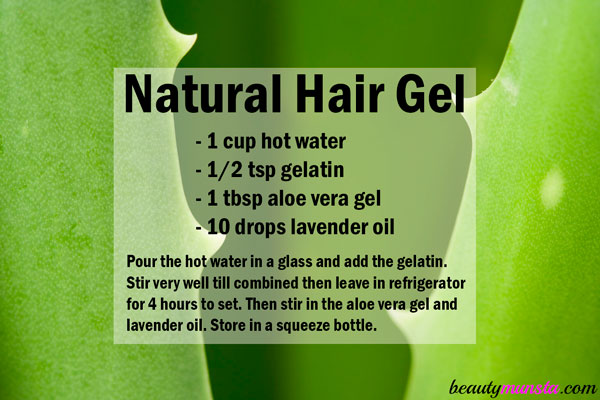 What you need
Directions
Pour a cup of hot water into a glass cup and then stir in the gelatin until well combined.
Now leave it in the refrigerator for about 4 hours for it to set into the gel-like consistency.
When the time is up, get it out the refrigerator and add the aloe vera gel and lavender oil.
Stir very well and voila! Your natural hair gel is ready!
Transfer it into a squeeze bottle. Store in a cool dry place. You can store it in your bathroom cabinet to quickly style freshly washed damp hair.
Notes
You can use more or less gelatin (1/4 tsp – 1 tsp) if you want your hair gel to be less or more thick. I used ½ tsp which is perfect for normal wavy hair. If you have thick curls/kinks, you might want to use more gelatin. Remember it's all about your hair type so try experimenting with small batches.
Instead of lavender oil, you can use any of your preferred essential oils for scent. My favorite essential oils for hair are jasmine, vanilla, rose, geranium and ylang ylang!