Doing a bone broth fast for weight loss is a guaranteed way to see results fast. But is the bone broth fast safe for you?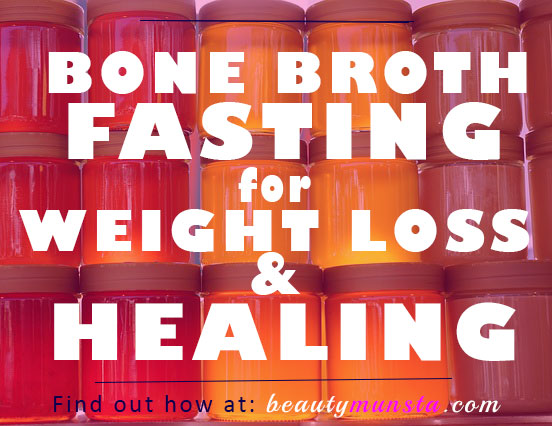 What is a Bone Broth Fast?
A bone broth fast is a fast where you eat or drink nothing but bone broth. You are also allowed to drink water but nothing else.
Bone broth is a nutritious soup that is rich in so many crucial nutrients, such as protein, minerals like zinc, calcium and phosphorous, and antioxidant compounds like glutathione.
The nutrients in bone broth are bio-available and easy to absorb, meaning your digestive system will have very little work to do, can take enough rest and the body's efforts can be channeled into detoxing and repair.
The body will also be forced to use up the fat reserves for its calorie needs and this can directly help with weight loss too.
Who Should Avoid Fasting?
Not everyone is eligible to fast. Please consult your doctor before doing any long term fasting. It is generally recommended that you do not do a bone broth fast if you are:
Pregnant or lactating under 3 months
Diabetics, and others with pre-existing conditions
If you have to perform high-intensity work
Sometimes a blood test may be performed to check if you are okay to fast.
Bone Broth Fast for Weight Loss
There are many variations to be found when it comes to the bone broth fast for weight loss. It's up to you to pick the one which is most suitable for you. Here are some of the ways you can do a bone broth fast for weight loss:
1. One Day Bone Broth Fast – This is more like a one-day cleanse and while it may not do much for weight loss, it will definitely help you detox your body, reduce gas and bloating, give your digestive system a break and help heal your gut.
The one day fast can also help you get a taste of what a longer fast will feel like and it can help you find out if you can handle a bone broth fast or not.
A one day bone broth fast can also help you 'warm up' or prepare for a longer fast.
In order to lose weight using the one day bone broth fast, you can do this type of fasting two times a week. For instance, every Monday and Thursday can be set as your bone broth fast days for at least 3 months. This, coupled with healthy eating habits on the rest of the days, can help you lose significant weight within 3 months.
2. Three Day Bone Broth Fast – This is the same as the one-day fast, except in the 3-day fast, you will be drinking nothing but bone broth for 3 days straight.
At the end of the 3 days you may find that you will have lost some weight on the scale. A 3 day bone broth fast can help you to set the pace for a longer fast and it can also help you to kick-start your weight loss goals. Fasting for 3 days can also help you reduce the size of your stomach so that you will get full eating smaller portions. It can also help heal and seal your gut so that your gut bacteria can get balanced and you can get rid of junk food cravings.
3. Two Week Bone Broth Fast – A 2 week bone broth fast is where you drink nothing but bone broth for 2 weeks. Seems daunting, huh? It is! The first few days are the toughest, though. Once you cross the 3 day mark, your detox symptoms may start to fade, making the rest of the 2 week fast more bearable.
Many people report incredible weight loss with the 2 week fast. You can lose up to 5 kilos in 2 weeks, or even more!