Find out how to make an easy summer homemade deodorant without beeswax.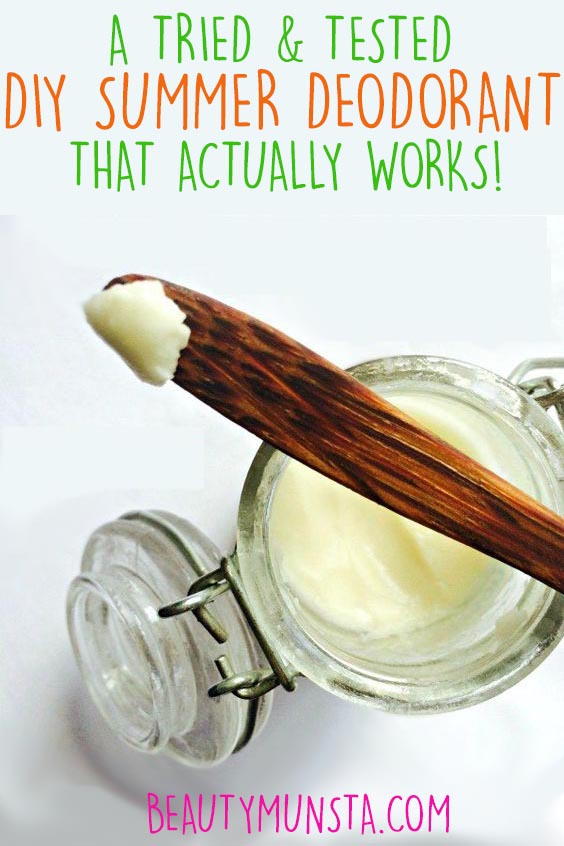 Homemade Deodorant without Beeswax
Ingredients
What Each Ingredient Does
✾ Baking soda & Corn starch – Absorb sweat and sebum on skin and neutralize stink.
✾ Coconut oil– Anti-inflammatory, moisturizes skin, prevents skin irritation & rashes. It also keeps the deodorant a nice creamy but solid consistency as you can see in the picture.
✾ Lemon eucalyptus essential oil – This essential oil smells like a milder version of citronella – wait, don't get repelled (no pun intended lol)! The scent is not as strong and overpowering as citronella and you can definitely detect the sweet eucalyptus scent with a hint of lemon. It smells refreshing and cools your skin. Lemon eucalyptus gives this deodorant a refreshing and neutral scent for both men and women. Did you know that the scent of lemon eucalyptus is also a POWERFUL bug repellant?! While you're being healthy and smelling fresh, why not keep away those pesky mosquitoes as well! If you use this essential oil for a summer deodorant you'll be tackling so many issues at a go!
Directions 
Combine all ingredients (except the essential oil) in a pan over a low flame.
Stir with a wooden spoon until everything melts.
Now let it cool off for about a minute then gently pour it into a GLASS jar. Do not use plastic because it'll melt.
Add the lemon eucalyptus essential oil and stir well with a chopstick. You can use this small ball glass jar. It will get into a kind of creamy but more solid consistency that you can easily scoop out with your finger. I love this consistency.
Voila! It's ready! Store at room temperature in a cool dark place. It lasts over 3 months!
To use, scoop out only a tiny pea sized amount using a clean fingertip and apply. Make sure to use clean and dry fingers – do not introduce water into the deodorant. This homemade deodorant has a good consistency that sinks right into your skin when you apply. Even if you have armpit hairs, you can still use it without any problems – it will not leave a trace like some store bought deodorants that are a chalky mess.
Watch My Video:
FAQ

Does this help stop sweating? Sweating is normal and actually healthy for you: it helps keep the body stay cool and remove toxins from the body! Sweating also cleanses the skin pores, fights off certain germs and promotes a strong immune system. The only thing that makes sweating bad is the BO that follows and this deodorant will take care of that! It has a refreshing scent that masks bad body odor.
Will baking soda irritate my skin? I've seen recipes call for a LOT of baking soda like ½ cup (!!) which made my eyes pop. Using ½ cup of baking soda will burn your pits like hell! That's why I only used 1 tbsp and 1 tsp in my recipe, which works and you won't feel/ see any kind of irritation!
Can I use another essential oil? Sure thing! Customize the scent of your deodorant by adding a different essential oil! For a citrusy scent, go for bergamot while for a flowery scent, go for geranium! In place of lemon eucalyptus you can also use peppermint or eucalyptus, which have almost the same scents and properties.
♥ Will you try out this homemade deodorant without beeswax? Please leave a comment down below! ♥
If you love making your own deodorants at home, don't miss: