There are many homemade face cleanser recipes out there. But a recipe for homemade creamy face cleanser is hard to find! I've shared an easy recipe for that in this article! Enjoy!
This face cleanser is safe to use for all skin types including acne prone skin! Isn't that amazing! Okay now without much rambling, let's get straight onto the recipe, shall we?!
Homemade Creamy Face Cleanser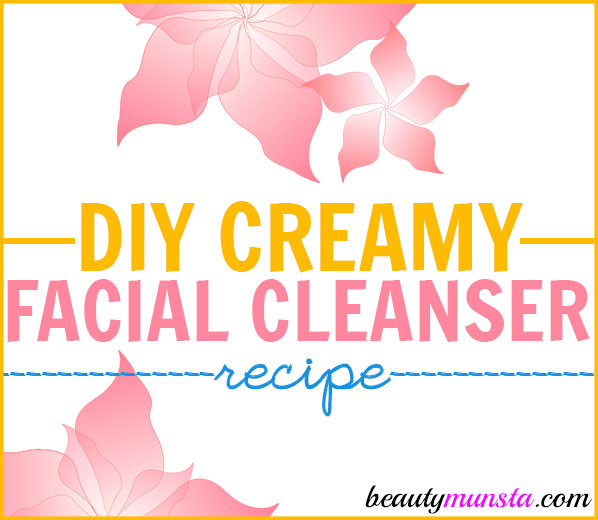 What you Need
Directions
Place the shea butter in the Pyrex measuring cup. Now put a pan containing about 2 inches water on the stove over medium-low heat. Rest the Pyrex cup on the pan, making sure water doesn't enter into it. Now allow it to gently melt down to liquid form, after which turn off the heat and remove the Pyrex cup from the pan.
Once melted, stir in the argan oil, aloe vera gel, vegetable glycerin, xanthan gum and raw honey.
Now carefully add the liquid castile soap.
Mix everything up evenly using an immersion blender.
When everything is well combined, your mixture is ready to be spiced up with the essential oils! Add all the essential oils: lavender, geranium and tea tree carefully, drop by drop. Now mix again with the immersion blender.
Transfer your all-ready homemade creamy face cleanser into a pump bottle.
Store in your bathroom cabinet for 3 months, without contamination.
Use morning and night by pumping a little on your palm and massaging the creamy cleanser on your damp face. Let it sit for a few seconds then rinse off with warm water then splash your face with cold water.
Pat dry with a clean towel then moisturize with a pea-sized amount of shea butter.
I can't wait for you to try out this homemade creamy face cleanser, guys! Let me know your thoughts!