Discover how to use apple cider vinegar to prevent stomach flu in this article!
Stomach flu is a horrible thing to deal with especially if you or your family members have been exposed to it.
There are lots of home remedies that are said to prevent the stomach flu when someone around you has it. But one home remedy really stands out because of its simplicity and also because so many people have used it with success. What is it? It's apple cider vinegar!
Apple Cider Vinegar for Stomach Flu
Anecdotal evidence shows that you can really use apple cider vinegar to prevent stomach flu. Of course, you can't use it all on its own. Also take preventive measures such as those I've listed here: How to Avoid Getting the Stomach Flu when Your Family Has it
Okay, let's check out how exactly apple cider vinegar works to prevent stomach flu below!
Probiotic – Raw apple cider vinegar (with the mother) is a natural probiotic food. It helps with digestion, strengthens your gut and increases healthy gut flora.
Anti-infective and anti-microbial qualities – This helps destroy germs and fight against infections, stomach upsets, etc.
Boosts immunity – People who have strong immune systems can prevent getting the stomach flu even after exposure! Apple cider vinegar is one of those foods to boost your immune system to help it fight off all kinds of germs.
Balances the stomach's pH – By keeping your gut's pH balanced, you have a chance of staving off the stomach flu. The norovirus (which is the stomach flu virus) can't thrive in an alkaline environment. ACV will reduce the acidity in your gut.
Okay, now let's check out how to use apple cider vinegar for stomach flu below:
How to Use Apple Cider Vinegar to Prevent Stomach Flu
This is an incredibly simple drink to consume frequently during the day. You can also give it to your children. Only just reduce the measurements for them as I'll show you below.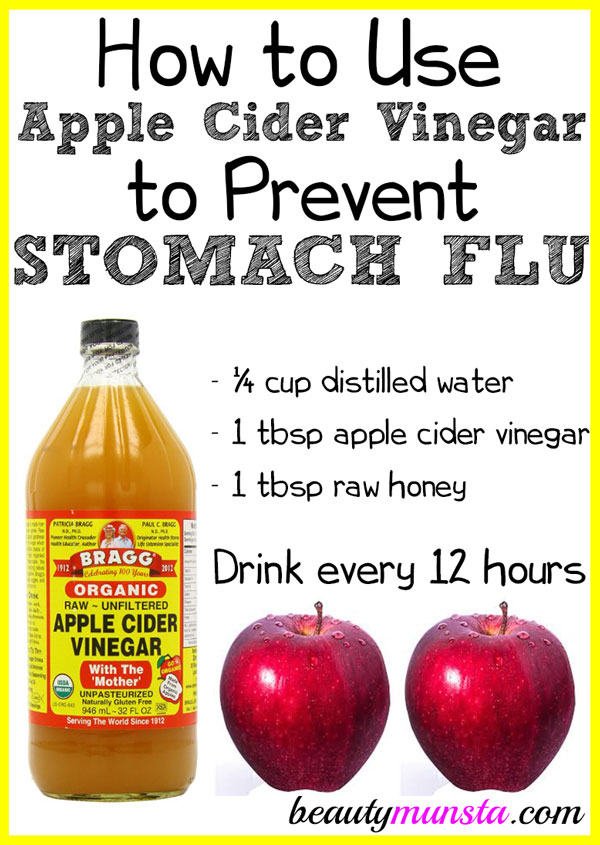 What you need
1 tbsp raw organic apple cider vinegar
1 tbsp raw honey
¼ cup drinking water
Directions
Heat the water till warm then stir in 1 tbsp of apple cider vinegar and 1 tbsp raw honey.
Drink it up in one shot because it can taste unpleasant! Consume it every 12 hours.
For children, use 1 tsp of raw apple cider vinegar instead of 1 tbsp.
What Kind of Apple Cider Vinegar to Use
You can't just use any apple cider vinegar you find in the store. Most of these are just synthetic and artificially processed, lacking the probiotics that are necessary for preventing stomach flu.

Get yourself raw apple cider vinegar with the mother. That's what it should say on the cover. Braggs Organic Raw – Unfiltered Apple Cider Vinegar is the best natural ACV brand to buy. It's what people are using for preventing stomach flu! You can also purchase other brands but make sure they are the real thing!