Are you wondering how to avoid getting the stomach flu when your family has it? Follow these effective ways and you'll surely survive!
The stomach flu is just plain nasty. Not to mention, it travels so fast, hitting people like lightening as it passes – which is horror when a family member has it!
In medical terms, it is known as the norovirus. Stomach flu can be got from contaminated food and water, from another person suffering from it and contaminated surface such as toilets, door handles, taps, etc.
Some of the symptoms of the stomach flu include:
Diarrhea
Vomiting
Abdominal pain
Fatigue
Nausea
Fever
Muscle aches
And more
How to Avoid Getting the Stomach Flu When your Family has it – 12 Tips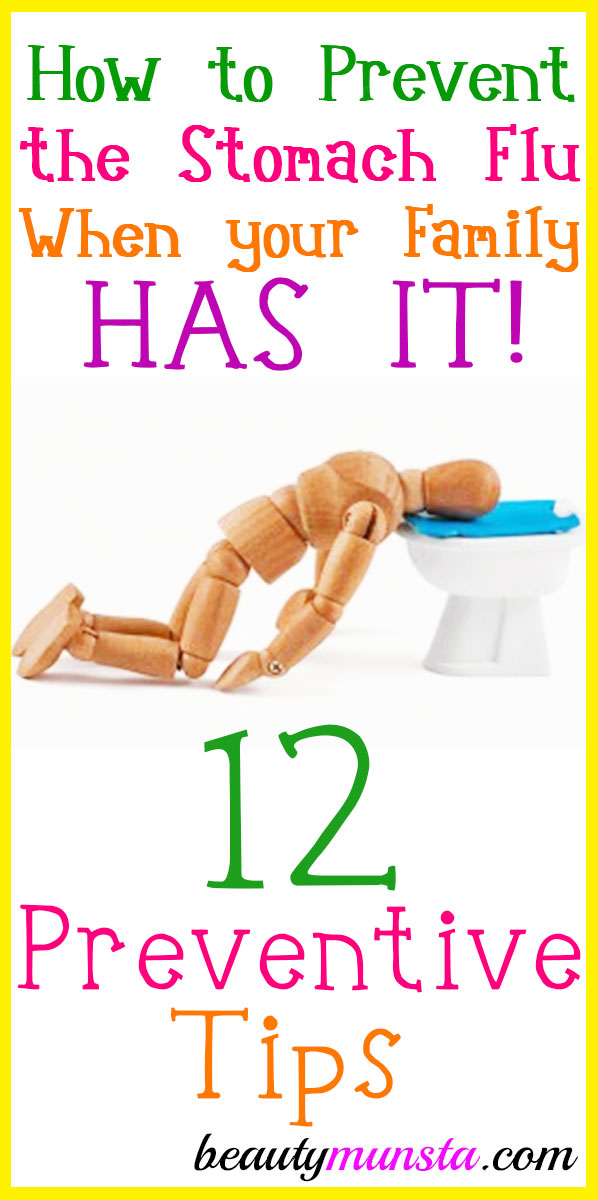 The best way to control the stomach flu is not getting it in the first place! If you end up with the stomach flu, it's agony for about 10 days or so! One of the most important things to do to prevent getting stomach flu is following the tips below:
1. Wash your hands frequently
Yup, keep washing your hands every after visiting the restroom, touching door handles and stuff other people touch. Before eating anything, wash your hands properly. After coming into contact with other people (sick with the stomach flu or otherwise) make sure to scrub your hands with warm water and hand soap. Do not use hand sanitizers because they won't work against the norovirus even if they're alcohol based (source)!
2. Wipe down surfaces, door handles, taps, light switches, toilets and other such communal things frequently
Use bleach to clean these surfaces because light cleaning won't do – the norovirus is hard to kill. For places that have been splattered with vomit, use a strong solution of ¼ cup bleach mixed with 2 ¼ cups of water. For door handles, light switches and surfaces, just use 1 tbsp of bleach in 2 ¼ cups of water. Use the solution to clean surfaces at least thrice a day, especially if you're living in a home with a family member or two down with the stomach flu.
3. Clothes of the sick person should be washed separately in the hottest water possible
This destroys the norovirus that's definitely hiding in a little splatter of vomit or fecal matter (sorry gross) in the clothes of the sick person.
4. Let the sick person use a separate bathroom, if possible
Let the guest bathroom or any other bathroom in the house be used only by the sick person. It should be cleaned properly – bathroom floor, tiles, sink, taps and toilet, with the bleach solution mentioned above.
5. Don't let the sick person handle/serve food
Also, don't share the same utensils and cutlery used by the sick person. If possible, use disposable plates and utensils for the sick person to prevent the spread of the norovirus through dishes.
6. Up your intake of alkalizing foods
The stomach flu virus thrives in an acidic environment! It does not like alkaline foods! So what you're going to do is increase your intake of alkaline foods. Some of these include lemon water, apple cider vinegar, fresh fruits like apples, bananas, grapes, papaya, etc, vegetable like cucumber, olives, lettuce, okra, kale, bell peppers, avocado and more.
7. Drink a ton of water
Flush your system with a lot of water. Water also alkalizes your body, making it hard for the norovirus to survive.
8. Take raw Apple Cider Vinegar (ACV)
In addition to taking a lot of water, take little shots of ¼ cup of warm water with 1 tbsp of Bragg's apple cider vinegar and 1 tbsp honey every 12 hours. For children, use just 1 tsp of ACV. ACV is antibacterial and rich in probiotics that help balance the pH of the stomach. So many people have had success with ACV so you can't miss out on this one!
9. Drink 100% Grape Juice
Grape juice is another miracle to prevent the stomach flu! You can consume Welch's 100% Grape Juice. It coats your stomach walls, keeps your body in an alkaline state and improves your family's resistance against the bug!
10. Take probiotics
Eat a lot of yogurt, kefir, kombucha, bananas or buy a powerful probiotic supplement to keep your gut healthy and strong against a plethora of germs including the norovirus.
11. Get your hands on some activated charcoal
Activated charcoal capsules are ingenious ways of preventing the stomach flu. Did you know that it's given to people who've swallowed poison to cure them? It's so powerful at absorbing very many toxins in your body before they can do any damage to you. Take a capsule 3-4 times a day with water. Do not take it at the same time as your probiotic supplements because it can absorb your good nutrients too! Even after the stomach flu has left the house, continue taking at least 1 capsule for a couple of days.
12. Use essential oils
Essential oils are powerful antiviral, antibacterial and antiseptic plant extracts. You can diffuse this blend: 2 drops lemon, 2 drops tea tree, 2 drops oregano, 2 drops peppermint and 2 drops lavender in a high quality diffuser for 15 minutes three times a day. This blend can also be placed in a 10 ml roller bottle and topped with olive oil. Roll it on the stomach three times a day.
Do you have any experiences avoiding the stomach flu when a family member had it? Share how you did it with your valuable prevention tips below!