Make this homemade flea spray with vinegar and baking soda to kill fleas on your pets and in the house!
Are your dogs infested with fleas? That sucks because these pesky critters can be a pain to get rid of! It's like you have to constantly use an insecticide on your pets or around the house until the tiny bugs are eradicated.
But what if you're averse to commercial chemical laden flea killers? Especially if you have babies in the house and you don't want to fill their environment with toxic chemicals?! Don't worry, you can try this homemade flea spray with vinegar and baking soda!
This is an easy recipe: you only need to have 4 things in hand. And I'm sure you have all of these in your kitchen right now!
It's totally optional but you can also add some flea-killing essential oils too! Essential oils are 100% pure concentrated plant extracts. Many of them have bug-repelling properties! The best essential oils for fleas are: eucalyptus, peppermint, lemongrass, rosemary and lavender. If your making this spray for cats, then please leave out the essential oils.
Alright, here's the recipe:
Homemade Flea Spray with Vinegar and Baking Soda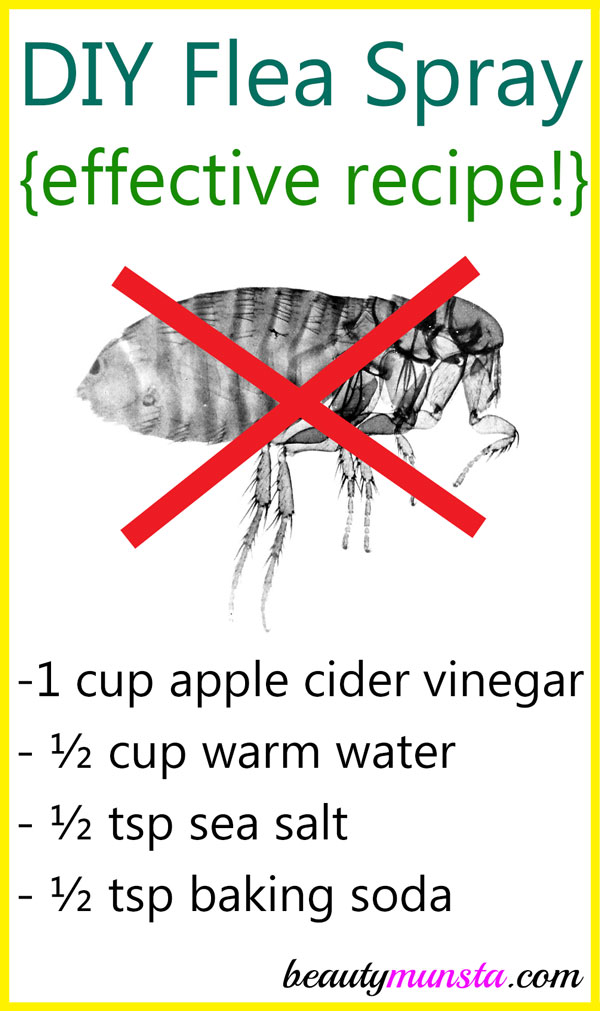 What you need:
Directions:
Into a Pyrex measuring cup, place ½ tsp each of sea salt and baking soda.
Now add your 5 drops of eucalyptus essential oil.
Slowly pour ½ cup of warm water into the Pyrex cup.
Next, carefully pour 1 cup of raw apple cider vinegar into the Pyrex cup. This will cause a hissing and foaming reaction.
After that, pour your mixture into a spray bottle and shake well.
That's it! Your homemade flea spray with vinegar and baking soda is ready!
Store in a cool dry place.
To use, spray your pets down from a distance of at 6 inches away. Do not spray on their eyes, nose, mouth and ears.
Other Tips to Banish Fleas!
Please ensure to also do other effective things that will banish fleas forever! These include:
Make sure to wash your cat or dog's bedding, cushions, towels, etc frequently in hot water.
Sprinkle borax on carpets and places your dog likes to hang out at night, then vacuum the next morning.
Apply dog conditioner on your dog's fur then comb out using a flea comb.

Go ahead and try out this effective homemade flea spray with vinegar and baking soda!