A homemade dog perfume might be just the solution to smelly dog fur!
Have you ever been in a situation where your furry friend jumps onto the couch for a cuddle but you suddenly smell something foul?! And then you realize it's coming from his fur and you're like why I'm I such a bad pet parent?!
If your dog smells, don't worry, it's natural for dog fur to catch not-so-pleasant smells especially when they love hanging around outdoors, during summertime especially.
No matter how much you give your dog a bath, sometimes they still come bounding up to you with a less-than-nice smell attached to their fur. Most of us give our dogs baths about 1-4 times a month but what do you do to keep your dog smelling fresh and clean in between? I'll tell you what, it's a simple homemade dog perfume!
Homemade dog perfume is so easy to concoct, doesn't contain any toxic chemical ingredients whatsoever and leaves your doggy pal smelling pleasant! Here's the simplest DIY recipe on Earth that you can whip up in seconds:
Homemade Dog Perfume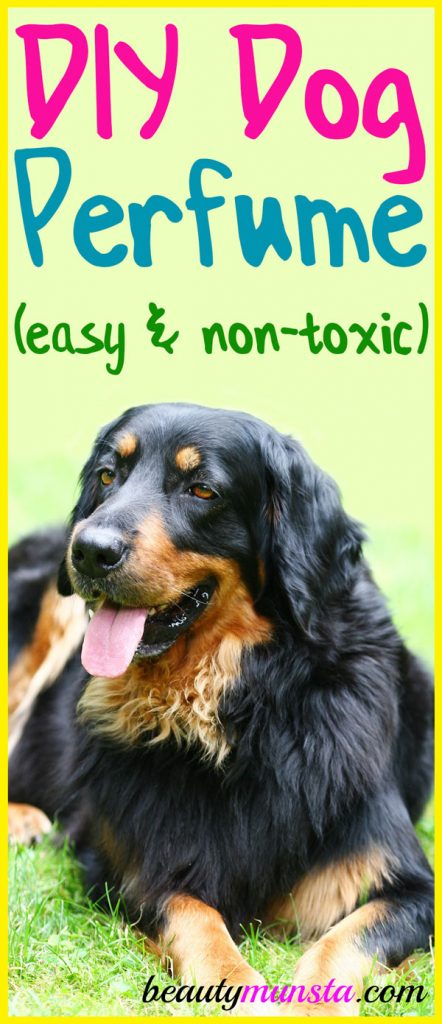 What you need:
Directions:
Simply pour ½ cup of distilled water into a 4 oz amber spray bottle.
Next add 12 drops of a dog-safe essential oil such as lavender, eucalyptus, sweet orange, lemongrass or rosemary.
Optional: You can add 1 tsp of jojoba oil, for its moisturizing properties for a shiny silky fur + to act as an emulsifier for the essential oil.
Replace the spray top on the bottle and shake vigorously to combine all ingredients.
To use, spray 6 inches away from dog fur, then brush your fingers all over or use a gentle dog brush to evenly distribute the perfume all over his/her fur. Do not spray on eyes, nose, ears and other mucous membranes!
This homemade dog perfume keeps your dog smelling good for one week before you have to reapply!

Are you interested in trying out this homemade dog perfume? Do you have any other remedies to get rid of pet odor? Share below!