Hey guys! Learn how to make an easy homemade air freshener with lemon juice!
Lemons smell clean and fresh! That makes them one of the perfect ingredients for making your own non-toxic homemade air freshener! They not only neutralize bad scents and mask stale air but have a therapeutic scent that energizes and uplifts mood.
We'll be using lemon juice plus lemon essential oil in this recipe. However, lemon essential oil is totally optional. It just has a more long lasting lemony scent compared to lemon juice plus keeps the spray from going bad fast.
Other ingredients used are baking soda and hot water. Baking soda is an important ingredient because it helps make the lemon scent stronger. Hot water helps dissolve the baking soda.
Use a spritz bottle or fine mist spray bottle to store your air freshener. Okay, now let's check out the ingredients we'll need and the instructions!
Homemade Air Freshener with Lemon Juice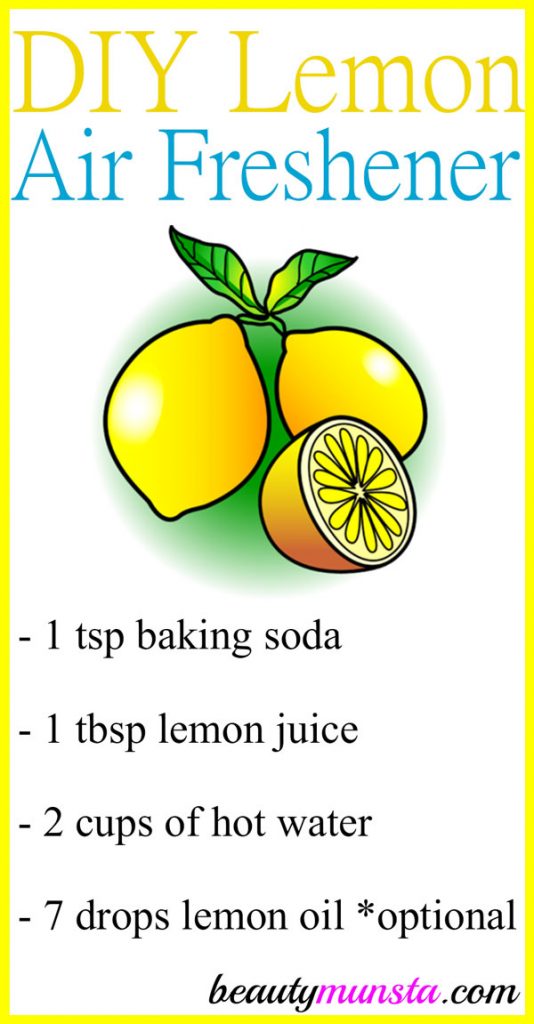 What you need:
1 tsp baking soda
1 tbsp freshly squeezed lemon juice
7 drops lemon essential oil *optional
2 cups of hot water
Funnel
Spray bottle
Directions:
Add 1 tbsp lemon juice and 1 tsp baking soda to your spray bottle.
Now pour in 2 cups of hot water then shake the bottle to dissolve the baking soda and combine all ingredients together. Then add 7 drops of lemon essential oil (optional) and shake again.
Spray whenever needed for a fresh clean lemony scent! You can use it in the bathroom, kitchen, closets, rooms, pantry, etc!
Store in the refrigerator for up to 2-4 weeks. If the water turns murky, then discard.
Wasn't that an easy air freshener recipe with lemon juice?! Make it and share your results!