If you have severe acne, eczema or psoriasis on your face, a probiotic face cream might just be your miracle cure!
First off, probiotics are live bacteria or yeast that are good for health. They naturally occur in the body. In fact, the body is filled with both good and bad bacteria.
The good bacteria keep the bad bacteria at bay so they don't cause any harm. But when an imbalance occurs, that is, the bad bacteria multiply very fast that the good bacteria can't control them fast enough, that's when health issues form. Even stuff like acne is caused by bad bacteria taking over.
That's why it's important to eat a diet rich in good bacteria. I try to take homemade kefir everyday to keep up my supply of good bacteria. To make sure the good prevails over the bad. Yup, kefir is a probiotic food and so is raw apple cider vinegar, yogurt and coconut water too.
So now we know what probiotics are, let's find out how to incorporate them into a face cream to create a DIY Probiotic Face Cream!
DIY Probiotic Face Cream Recipe
Note: All the ingredients used are safe for acne prone skin, they won't break you out at all! Enjoy ~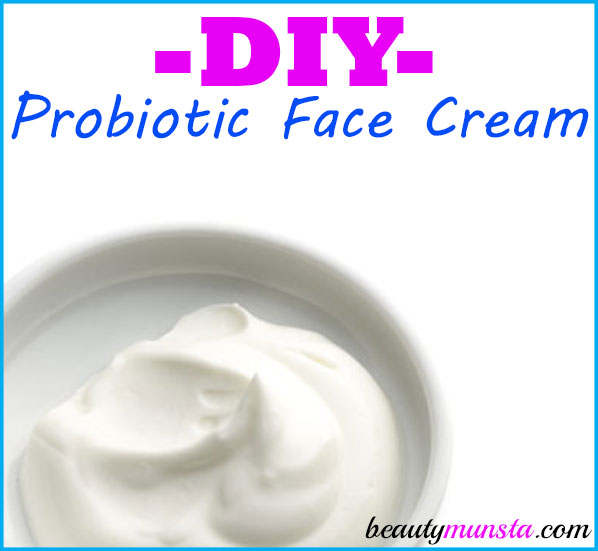 What you need
Directions
Begin by melting down the shea butter to liquid form. All you need to do is place it in a double boiler over low heat on the stove top.
Once it liquefies, remove from heat, let it cool for 2 minutes then stir in the raw honey and aloe vera gel.
Now let the mixture cool off in the refrigerator for about 15 minutes. This will make it solidify a bit. That's what we want. Don't let it begin very hard though, it should be soft enough that it dips down when poked with your finger (clean finger, of course).
When the time is up, get out your hand mixer and start whipping the mixture into a fluffy white cream.
Empty 2 probiotic capsules into the cream then add the essential oils, drop by drop.
Whip up the cream again until the probiotics and essential oils are well-incorporated.
Scoop your DIY probiotic face cream into a sterilized amber glass jar. Store in a cool dry place.
Use a pea-sized amount all over your face as a face moisturizer.
Please go ahead and make this DIY probiotic face cream! It gives incredible results for severe acne, eczema and other irritated skin conditions on the face! xoxo