A lot of people want to know if cystic acne and coconut oil are enemies or friends. Will using coconut oil for cystic acne eliminate it or cause it to exacerbate? Well, it's a 50-50 thing: it'll work or not! Find out more below!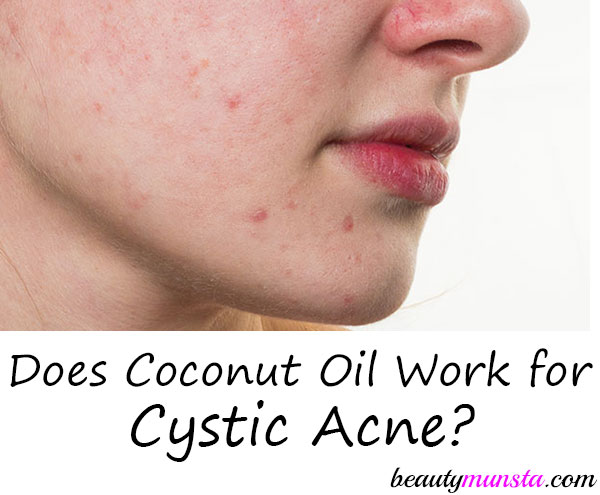 Why Coconut Oil Works for Acne
It's antibacterial. One thing that makes coconut oil great for acne is its antibacterial properties. It fights off acne-causing bacteria and in particular, a major one known as Propionibacterium.
It easily penetrates into skin. The small molecular structure of coconut oil makes it easily penetrate and absorb into the skin. This makes it an excellent moisturizer for acne.
Seals moisture in skin. Coconut oil is rich in fatty acids that moisturize skin. It keeps skin soft, smooth and well hydrated. This is especially helpful for those with dry acne prone skin (like me!).
Drives out stale oils stuck in pores. Did you know that good oils push out bad oils? So coconut oil helps drive out stale sebum and bad oils stuck within the pores which lead to breakouts. You can use the oil cleansing method with coconut oil to clear out your pores. See below for oil cleansing with coconut oil.
Why Coconut Oil May Not Work for Acne
It can clog pores. Coconut oil has a comedogenic rating of 4/5, which is a major bummer because this means it can clog pores. A comedogenic rating is a scale from 0- 5 that shows the pore-clogging rate of any skin care product. So if you're using coconut oil for acne, it's very important to cleanse your face very well. That's why the oil cleansing method with coconut oil works amazing (see below for how to).
It's heavy. Coconut oil isn't a light oil. It's a bit greasy so it might lead to oily skin that can cause breakouts. If you use a little amount though, then it's not a big of a deal. But many people use copious amounts on their faces which automatically blocks pores and leads to cysts and comedones.
So Is Coconut Oil Good for Cystic Acne?
Yes and no. If you have dry acne prone skin, then coconut oil may very well restore the moisture and oils needed to keep your skin moisturized and free from breakouts. But if your skin is oily and filled with whiteheads, clogged pores, then I suggest not using coconut oil. Instead, go for shea butter, a non-pore clogging plant-based substance that I personally use for acne.
For some people, coconut oil has been the only thing that works for their cystic acne. So if you've never tried it out, it's worth a shot! Below is a simple protocol that you can use daily to manage cystic acne:
Simple Protocol – How to Use Coconut Oil for Cystic Acne
Step One – Wash your face with your acne cleanser. I like this one for store-bought. Making your own is actually quite simple also: just get an 4 oz foaming soap dispenser then add ¼ cup liquid castile soap, ½ cup distilled water, 1 tbsp vegetable glycerine and 7 drops of tea tree oil. Now give it a shake and it's ready! Use your acne cleanser just twice a day.
Step Two – Pat your face dry and spray on this toner: In a fine mist spray bottle, combine 1.5 cup of distilled water, 3 drops geranium oil (skin balancing) and 1 tsp of organic apple cider vinegar. Shake well and spray onto your face after cleansing. Let it dry.
Step Three – Get a tiny pea-sized amount of coconut oil and dab it on your forehead, nose, cheeks and chin. Now rub it in.
That's it! Do this every day, when you wash your face in the morning, for at least a week and see how things go!
Other Ways to Use Coconut Oil for Acne
1. Internal consumption – Taking coconut oil internally helps balance hormones that are a major cause of cystic acne. Coconut oil is also antibacterial which fights off bacteria within the body. It's also smooth and filled with healthy fats that pushes toxins and wastes out of the body through regular bowel movements. I use coconut oil to stir-fry veggies and make my omelets – it's delish!
2. Oil cleansing method – My sister loves this one. This is how you do it: Get a pea-sized amount of coconut oil and rub it all over your face. Now get a soft microfiber washcloth and wring it out in very hot water. Start dabbing your face with this hot washcloth. Repeat the wringing out and dabbing one or two more times. The last time, wipe your face with the washcloth to remove the oils. Now splash your face with cold water, pat it dry and that's it! Do this every night before bed.
Where to Get Coconut Oil
Ensure to purchase 100% pure organic cold pressed virgin coconut oil. I like Hamilton Healthcare Coconut Oil. It comes it in 16 oz jar, is USDA organic and smells divine! You can use it for your skin and cook with it too!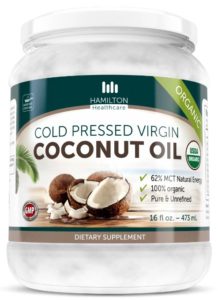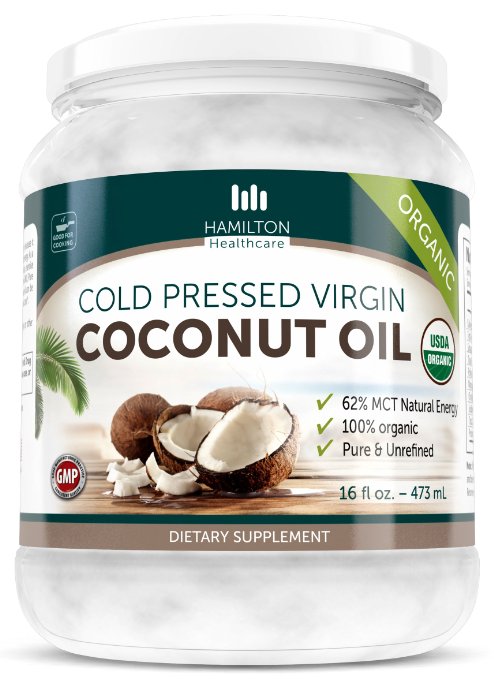 What do you think? Are you ready to give coconut oil a shot for your cystic acne?
Check Out: