Garlic doesn't just keep vampires away! Discover 6 amazing garlic benefits for acne to get clearer skin faster!
6 Garlic Benefits for Acne
Caution: Please mix something else like raw honey with garlic before applying it on your acne. Crushed garlic used alone will burn your skin, leaving you with angry red/purple burn marks! Take it from me, who has experienced this! X_X
Okay, let's find out the benefits of garlic for acne below: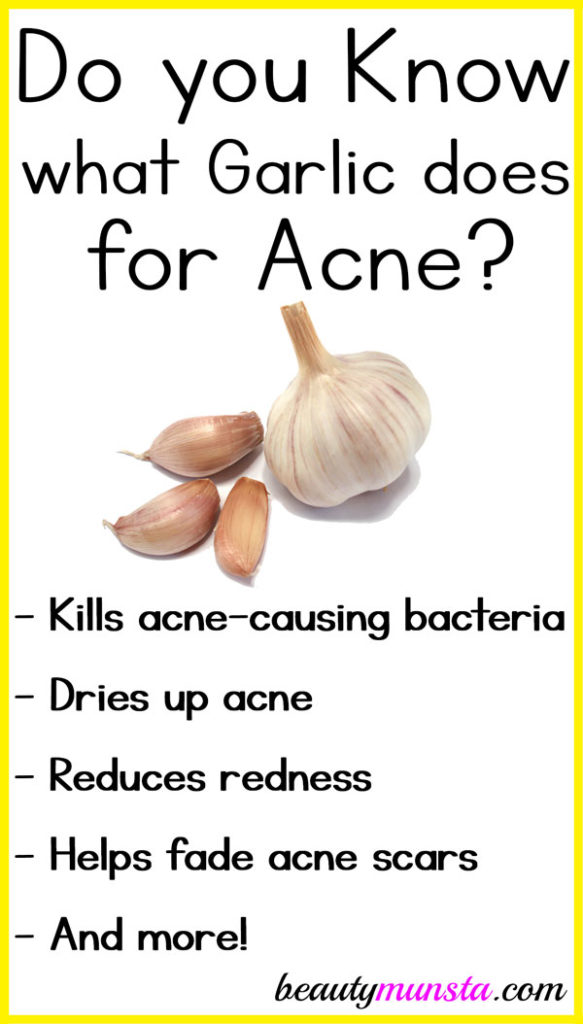 1. Kills Acne Causing Bacteria
Garlic contains the powerful compound allicin which has strong antibacterial, antiseptic and anti-fungal properties. The antibacterial properties help kill acne causing bacteria when garlic is used topically or internally.
2. Dries Up Acne
Garlic helps acne heal faster by drying it out! That's because it contains sulfur compounds called thiacremonon, which acts as a drying agent. Remember to dilute crushed garlic in honey before applying it on your skin because using it directly on acne will burn like crazy!
3. Reduces Acne Inflammation
The strong anti-inflammatory properties of garlic help reduce acne inflammation and redness. This diminishes the appearance of angry red acne.
4. Helps Fade Acne Scars
Have you got acne scars? Apparently garlic will help fade them away! Crush half a garlic clove in a small dish then add 1 tbsp of honey and mix well. Slather this on your acne scars and rinse it off after 5 minutes.
5. Strengthens the Immune System
Strengthening your immune system not only helps your body fight off infections and diseases but also keeps acne away! Garlic is one of the antibacterial foods to eat that will strengthen your immune system and fight off acne causing germs.
6. Has Antioxidant Properties
The strong antioxidant properties of garlic help fight off skin damaging free radicals. Free radicals slow down skin repair and healing of acne. By fighting free radicals, garlic helps increase skin repair and promote clearer, brighter and more youthful skin.
How to Use Garlic for Acne
Internally: The best way to use garlic for acne is through internal consumption. Garlic is a natural antibiotic and antibacterial food. It fights acne causing bacteria from the inside out. Add fresh raw garlic to your food such as Italian pasta, Garlic bread, etc. You can also steep one crushed garlic clove in a glass of hot milk then strain it, sweeten your milk with honey and consume. It's tasty and recommended in Ayurveda as a powerful health drink.
Topically: PLEASE make sure to dilute garlic before application. Never use garlic directly on your skin because it will leave you with burn marks! Garlic is very potent! Instead, crush ½ garlic clove in small dish then mix it up with 1 tbsp raw honey. Apply this to your acne and wash your face after 5 minutes.

Now that you know these amazing garlic benefits for acne, are you going to try using it?!