Discover 10 proven foods to eat to have regular bowel movements!
Top 10 Foods to Eat to have Regular Bowel Movements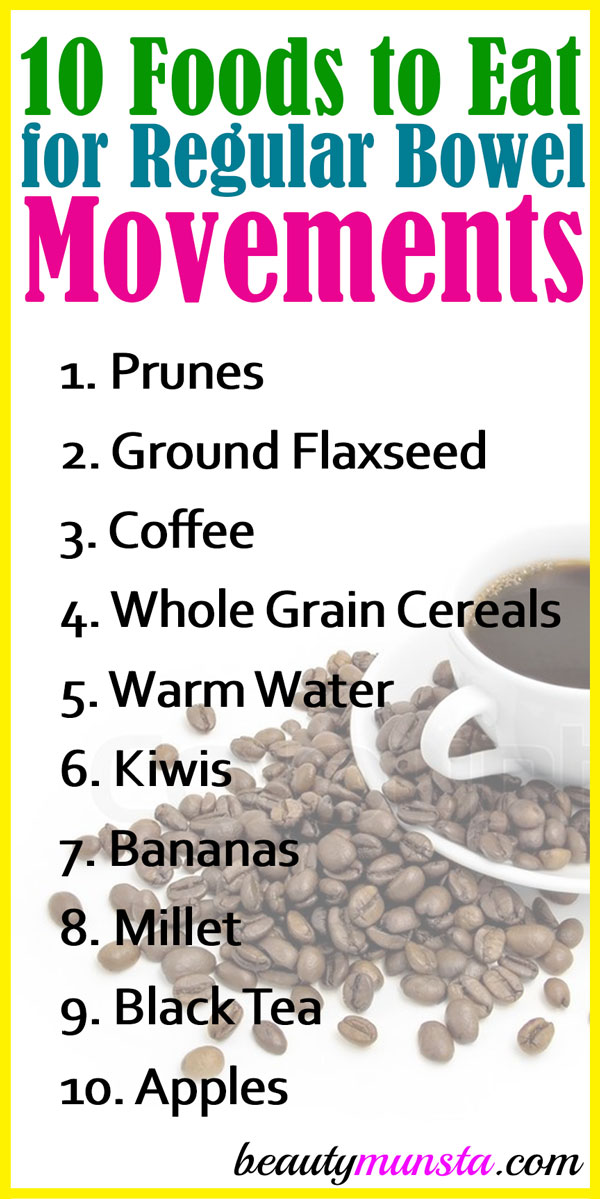 1. Prunes
Prunes are the ultimate remedy for constipation! They're the first food you should think of eating if you want to have regular bowel movements. Prunes are dried plums, by the way. They are very rich in fiber which is what increases the bulk of your stool so it can pass easily. Prunes also have fructans and sorbitol and fermentable sugars that can have a laxative effect.
2. Ground Flaxseed
Ground flaxseed is super rich in fiber that will keep you regular. Add it to porridge, hot cereal and even smoothies!
3. Coffee
Your morning cup of joe can make you 'go'! According to the Journal Gut, coffee promotes the release of gastrin, which can increase colonic spike and motor activity. If you drink coffee with breakfast, there's a high chance it'll make you go every morning without fail!
4. Whole Grain Cereals
A bowl of whole grain cereal topped with fresh fruit every breakfast can also promote a healthy bowel movement. Choose cereals with flax, oats, sunflower seeds and an assortment of grains for your daily breakfast.
5. Warm Water
Granted, water isn't exactly a food but it works like a charm! If you haven't had a bowel movement for long and you're feeling sluggish, it's time to warm up some water. Warm water gets your digestive system running in the morning. It helps sweep out wastes and toxins from your colon. When you wake up every morning, take 1-2 glasses of very warm water.
6. Kiwis
Kiwi fruits are also rich in fiber so you can snack on them as well to keep your bowels working! They also taste fun and sweet so it's a great addition to your diet! Kiwis are actually proven to help cure constipation. According to a study conducted by researchers in Pacific Asia, IBS sufferers who ate two kiwis a day for four weeks had less constipation and a general lessening of IBS symptoms than those who didn't.
7. Bananas
Eating ripe bananas, which are also loaded in good fiber can help normalize a sluggish bowel movement. A major bonus is that they also contain probiotics that feed the healthy microbes that live in our guts. So keep snacking on those 'nanas to keep your bowels moving!
8. Millet
Millet is also a good grain to eat for proper bowel movements. It's rich in fiber too! Make porridge with powdered millet every morning and you'll be good to go in no time!
9. Black Tea
Black tea is rich in caffeine and it works similar to coffee. When you drink it, you can immediately feel the need to go. It's also rich in antioxidants that help fight off free radicals that steal oxygen from cells!
10. Apples
If you love crunching on apples, then I'm sure you have no issues with constipation. Apples are cleaning in nature. They help dislodge toxins and wastes from the colon. That's because they're rich in fiber and contain sorbitol to increase bowel movements.
Do you know of any other amazing foods to eat to have regular bowel movements? Share below!