Use this kaolin clay face mask recipe to solve sensitive skin, clogged pores, blackheads and acne!
Kaolin clay is also known as white clay and it is just as detoxifying as any other type of skin care clays out there. But what makes it special is that it's very gentle and can be used on sensitive skin types.
If you have skin that's quickly prone to irritation, blotchiness and negative reactions to skin care products, then use this kaolin mask – it'll soothe your skin beautifully.
This white clay isn't just good for sensitive skin though. Take a look at some of its beauty benefits for skin below:
Benefits of Kaolin Clay for Skin
Soothes sensitive skin
Detoxes skin and removes impurities from deep within the pores
Pushes out excess oils and stale sebum in the skin
Good for dry skin
Fights acne
Exfoliates dead cells with its slightly abrasive texture and high amount of silica
Nourishes skin
Softens rough skin
Loosens blackheads
Stimulates blood circulation in the skin
Tightens, tones and firms skin
Shrinks large pores
Promotes youthful skin
Where to Get Kaolin Clay
If you're buying kaolin clay, make sure it's 100% pure and high quality. You can get pure kaolin clay here:
DIY Kaolin Clay Face Mask Recipe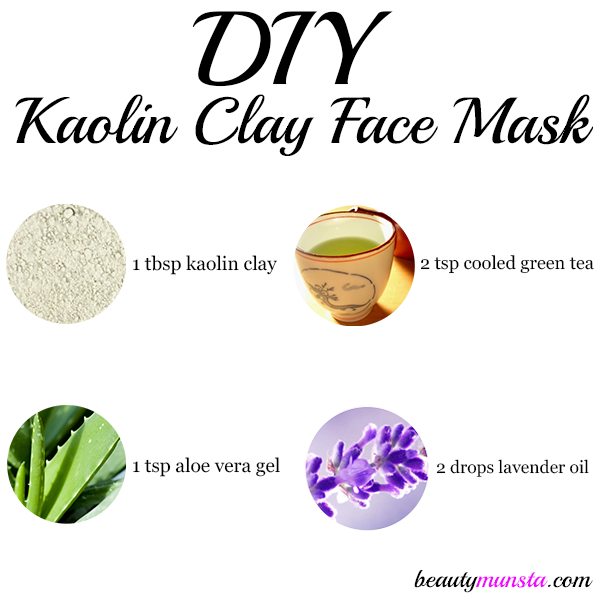 What you need
Directions
In a small bowl, dump in your kaolin clay then add the cooled green tea to form a paste.
Now add in your aloe vera gel and lavender oil.
Stir very well using a spoon to combine all the ingredients.
Now dip your face mask brush into the mask and apply it onto your clean dry face and neck.
Avoid the area around your eyes, mouth and eyebrows.
Leave the mask to do its magic for about 5 minutes then rinse off with warm water or a warm wet washcloth.
Splash your face with cold water then pat dry.
Apply moisturizer or if you want to go the natural route, a pea – sized amount of shea butter or coconut oil.
You would want to do this mask about 1 – 2 times a week and not more.
Take Care
The lavender oil is totally optional but before using it, you have to do a patch test to see that you're not sensitive or allergic to it. If you are, then please leave it out of your kaolin face mask recipe.
Detoxify Your Skin Using ORGANIC Charcoal Clay Mask With Kaolin Clay
Have you ever tried using a kaolin clay face mask? Which ingredients did you use?