Guys, get ready to learn 20 exciting beauty benefits of witch hazel for skin, hair & more!
Chances are you've already heard of witch hazel, a healing water-based substance that has got nothing to do with witches or hazel eyes. Okay, that was lame! LOL! Anywaaay…let's find out what witch hazel is exactly and 20 exciting beauty benefits below!
What is Witch Hazel?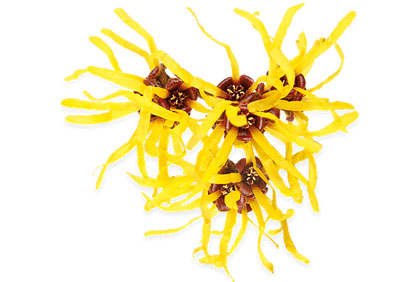 Long ago, the Native Americans discovered and made use of the witch hazel shrub, that grows in North America and parts of Asia. They extracted witch hazel from the shrub and used it to treat various skin ailments.
Nowadays, witch hazel is a drug-store staple – you can find it in any pharmacy and you probably have it at home right now! Popular brands are T.N Dickinson's and Thayer's Witch Hazel.
It has a ton of health benefits, from healing cuts & scrapes to treating hemorrhoids. Its beauty benefits don't make a small list either! Here are 20 exciting beauty benefits of witch hazel I want to share with you today!
20 Beauty Benefits of Witch Hazel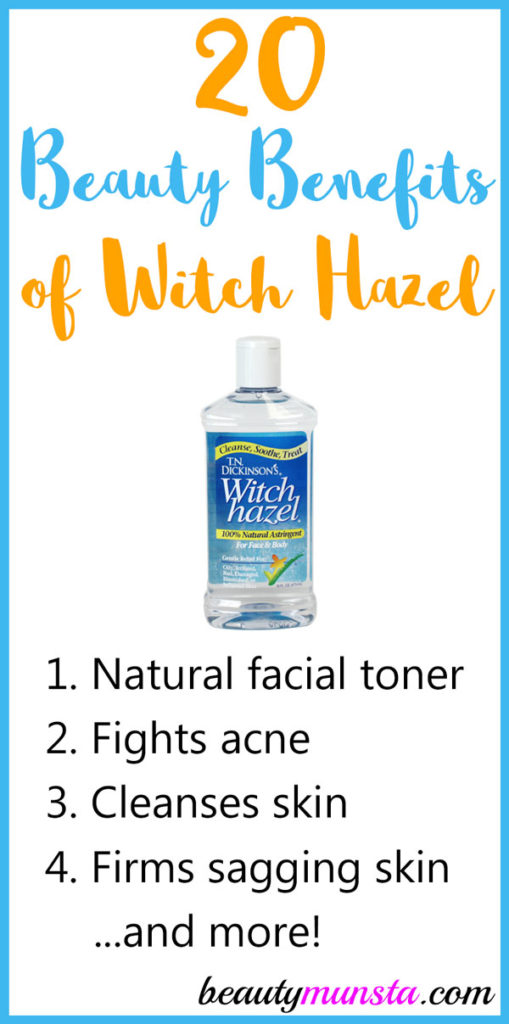 1. Facial Toner
One of the biggest beauty benefits of witch hazel is that it acts as an excellent facial toner! It tightens skin and firms it up, while keeping it moisturized and lovely. Here are my favorite recipes using witch hazel as a facial toner:
2. Reduces Oily Skin
When you apply witch hazel on your skin, you must notice immediately how tight and non-oily your skin gets. That's because witch hazel contains natural astringent properties. It reduces excess oily skin which is a big plus for those with oily and acne prone skin.
3. Fights Acne
Those with acne prone skin, rejoice! Witch hazel is a SUPER amazing ingredient when it comes to naturally diminishing the size of angry red acne. It is also antibacterial so it'll kick acne-fighting bacteria right off your face! You can use it as a facial toner or face wash for acne!
4. Cleanses Skin
Did you know that you can use witch hazel alone to wash your skin? Yes, this is for you guys with sensitive skin. I also have a recipe for witch hazel face wash combining liquid castile soap and essential oils for more robust skin types. If you want the recipes, please see: DIY Face Wash with Witch Hazel – 2 Recipes
5. For Spider Veins
I recently shared Natural Remedies for Spider Veins, and guess what?! Witch hazel is one of 'em! It helps by tightening and shrinking spider veins and varicose veins since it's a natural astringent. This helps stimulate blood flow and strengthen vein walls. It also contains compounds like gallic acid that help reduce swelling and pain. Just place witch hazel on a cotton ball and gently rub it on your affected areas. Or, use this Spider Vein Shrinking Spray:
Spider Vein Shrinking Spray: Fill up a 2 oz spray bottle with witch hazel then add 7 drops each of cypress, rosemary and helichrysum essential oils. Spray onto the spider veins three times a day then massage it in.
6. Shrinks Large Pores
Shrink away those wide open large pores in an instant with witch hazel! You can make a toner out of it to help tighten skin and diminish large pores. For toner recipes with witch hazel, check out Number One above.
7. Treats Ingrown Hairs
As mentioned earlier, witch hazel is a good disinfectant. This means it kills off germs whether they're acne causing bacteria or germs that cause infected hair follicles a.k.a ingrown hairs.
8. For Making DIY Deodorant
Did you know that you can make deodorant using witch hazel?! Yes and water-based deodorants are one of my favorites! Witch hazel not only de-funks your underarms but also fights off bacteria!
9. Acts as a DIY Perfume Base
I recently posted a very easy perfume recipe for your guys that also smells fantastic. It's great for those of you who want to make a quick inexpensive perfume at home and if you don't want to use alcohol to make DIY perfume. Here's the recipe:
10. Firms Sagging Skin
Firm sagging skin and droopy cheeks using witch hazel! Its natural astringent and skin tightening properties will leave you looking youthful! A good way to use witch hazel to make your skin firm and young looking is by making a serum with it. Try this:
Serum for Youthful Skin: In a clean container (preferably glass), add ¼ cup witch hazel with 3 drops each of lavender essential oil, geranium essential oil, frankincense essential oil and sandalwood essential oil. Stir well to combine then seal tightly. Use a suitable amount all over your face twice a day.
11. Soothes Sunburn
Soothe a nasty sunburn using witch hazel! It has anti-inflammatory properties that reduce inflammation related to sunburn and redness as well. You can combine witch hazel with aloe vera gel, another sunburn remedy and gently glide the cooling mixture over your sunburn.
12. Relieves Itchy Skin
Itchy skin is one of the worst skin problems to deal with. Thankfully, when you have a bottle of witch hazel, there is nothing to worry! Simply apply witch hazel to your itch and it's sure to be relieved in an instant!
13. Reduces Under Eye Bags & Puffy Eyes
Seeing under eye bags and puffy eyes first thing in the morning is like entering a nightmare right after you wake up! But witch hazel is there to save the day! What you're going to do is add 2 tsp of witch hazel and 1 tbsp of water into a glass bowl. Now soak 2 cotton pads for a minute then squeeze out the excess water and apply it on your eyes for 5-7 minutes. Repeat if necessary and voila! Your eyes will have improved dramatically!
14. Reduces Spots & Blemishes
Spots and blemishes…just UGH! But if you have witch hazel in your medicine cabinet, grab it now because it's going to be a part of your vanity table now. Every time you look into your mirror, apply a dab of witch hazel on those blemishes to make them disappear!
15. Calms Razor Burn
Razor burn sucks right? It doesn't happen to me when I use coconut oil to shave but when I do not apply it evenly, I get razor BURRNN. I'm so glad remedies like aloe vera gel, cocoa butter and witch hazel exist because they are very soothing and healing for razor burn.
16. Treats Poison Ivy Rashes
You can also use witch hazel to dry up and speed up the rate at which poison ivy rashes and blisters heal! Apply witch hazel to a cotton ball and gently dab onto your poison ivy todry those red blisters up!
17. Seals Moisture into Skin
Yes, witch hazel is good for reducing oily skin but it's also good for dry skin as well! It helps seal moisture into dry skin. This works when you've just washed your face and it's damp, then you apply witch hazel on it. The witch hazel is going to seal that water from your freshly washed face and keep it moisturized for long!
18. Natural Aftershave
If you're looking for a natural aftershave, look no further than witch hazel! As mentioned above, it's good for razor burn and ingrown hairs plus it also has anti-inflammatory properties that help reduce inflammation and redness related to shaving.
19. Treats Eczema
Now this is a benefit of witch hazel I never thought could work but it does! Witch hazel is a disinfectant and has healing properties. It also helps dry up weeping eczema, you know the type that is almost worse than dry eczema. Just apply it straight onto weeping eczema or mix it up with a few drops of essential oils like lavender or tea tree for extra healing action.
20. Banishes Dandruff
You can also eliminate a flaky scalp littered with dandruff using witch hazel! You're supposed to smooth a suitable amount of witch hazel all over your scalp when it's damp from being washed. I also like using a DIY Anti-Itch Hair Spray – it's good for itchy scalp and dandruff as well!
How do you use witch hazel for skin and hair? Share your valuable tips and beauty benefits of witch hazel below!