Make your own DIY herbal shampoo that lathers for a healthy scalp & hair!
Herbal shampoos use herbal extracts and infusions that are nourishing and offer healing benefits to the scalp and hair. You can use herbal shampoos to reduce itchy scalp issues, soothe scalp inflammation, treat scalp eczema and psoriasis and also fight dandruff. Normal hair can also benefit from a DIY herbal shampoo by keeping it healthy and free from irritants that can disrupt the scalp.
The herbs we shall be using in this homemade herbal shampoo include:
Calendula: treats scalp eczema & psoriasis, heals scalp wounds, soothes scalp inflammation, fights dandruff, protects the scalp from irritants.
Lavender: soothes scalp, promotes hair growth, moisturizes hair, conditions hair naturally
Rosemary: stimulates hair growth, reduces itchy scalp, controls excess oil production, banishes dandruff, makes hair shiny
Now onto the recipe:
DIY Herbal Shampoo Recipe for Healthy Hair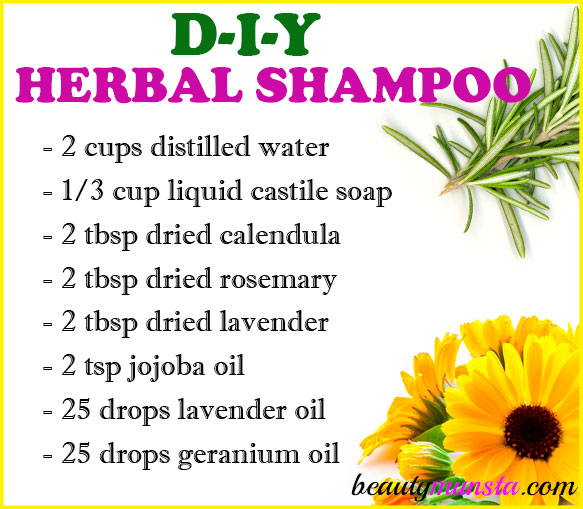 What you Need
Directions
In a saucepan, bring the distilled water to a boil then remove from heat and add the dried calendula, rosemary and lavender.
Steep for 20 minutes then strain and let the herbal tea completely cool down.
Pour the cooled tea into your Pyrex measuring cup then slowly add the liquid castile soap and jojoba oil.
Mix well with a whisk until well combined.
Now pour the shampoo carefully into a flip top bottle or old shampoo bottle.
Add the lavender and geranium essential oils, drop by drop.
Shake well to combine everything up before using. Store in a cool dry place.
To use, tilt the flip top bottle on your wet head to pour a little. Then work it in and leave it to sit for a couple of minutes. During this time you can shave/wash the rest of your body. Rinse off very well with cool water.
To condition your hair, you can use a tiny amount of coconut oil on your hair length then rinse off. If you have dry damaged hair, you might love my DIY Shea Butter Conditioner or DIY Aloe Juice Leave in Conditioner.
Have fun making this DIY herbal shampoo! Come share your results! Remember, you can adjust the recipe by using herbs and essential oils of your preference! xoxo