Looking for a soap-free face wash that makes your hair super gorgeous! You're on the right page! Make this DIY Rhassoul Clay Face Wash!
First off, the name rhassoul comes from the Arabic word 'rassala' which means 'to wash'.
Yep, rhassoul clay has been used as a skin and hair cleanser since the 8th century, when it was first mined from the Morrocan Atlas mountain ranges.
It's a very good cleanser because it sucks out all kinds of impurities and even toxins from the body, when applied topically. All clays have this kind of effect. Rhassoul clay has a reddish color and slightly abrasive texture. It absorbs excess and stale oils on the skin and keeps it clean, smooth and soft!
Morrocan women have used rhassoul clay since ages to wash their skin and hair. Full body mud wraps are done using rhassoul clay to purify the body, drive out toxins and soften skin.
They also made face masks and washes out of this clay. The clay can be mixed with water to make a hair wash but it can also be mixed up with other ingredients for a more cleansing and nourishing natural face wash! Rhassoul clay beauty recipes have been passed down from generation to generation. So there are many excellent recipes for a DIY Rhassoul Clay Face Wash. I hope you enjoy the one I share in this post!
We're going to be using simple but very effective ingredients in this face wash:
DIY Rhassoul Clay Face Wash Recipe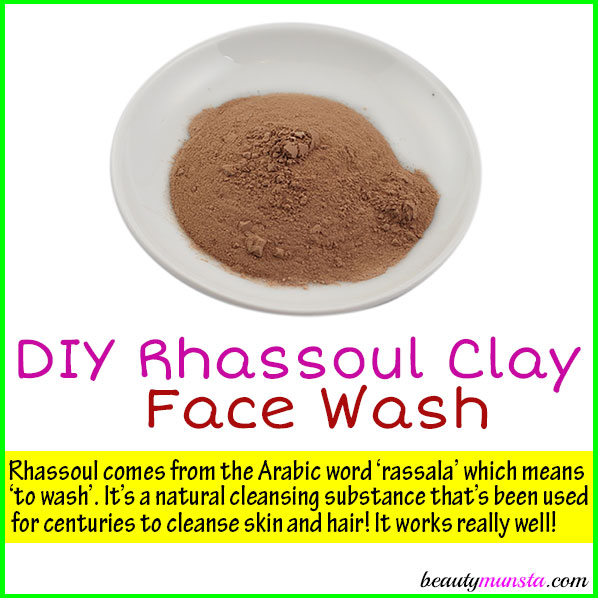 What you need
Directions
Place your rhassoul clay into your wide mouth storage container then add just enough water to create a spreadable paste which is non-drippy. Mix it all up using a non-metal spoon!
Now add the raw honey, argan oil and rose essential oil and mix up again. You'll form a creamy paste with a slightly abrasive texture. Store it in a cool dry place like the refrigerator. Do not get water into it!
To use, scoop out a tsp using a plastic spoon onto your palm.
Now rub the tsp of face wash all over your face in a gentle scrubbing motion for a minute.
Rinse off with warm water then splash your face with cold water in the final rinse.
Pat your face dry with a soft face towel. Then tone (if you do) and moisturize your face with two drops of argan oil, another exquisite natural beauty ingredient from Morocco! Don't worry: it's non-comedogenic which means it won't clog pores! So you can use it for sensitive, acne prone and oily skin types!
You can use this DIY rhassoul clay face wash twice a day in place of your usual cleanser! It's also safe to use for sensitive and acne prone skin types! xoxo