Can you do oil cleansing with castor oil for oily skin? And how does it help? Find out below!
Oil cleansing is a method of washing your face using oils. Yup, you use just oils to wash your face…and hot water & a washcloth as well. If you don't know the basics of oil cleansing, let me take you through the simple steps:
Begin by rinsing your face with warm water. This helps loosen dirt and open your pores. If you have makeup on, you can skip this step!
Now pour ½-1 tsp of your oil cleansing blend or any skin care oil of your choice onto your wet face in circular motions. Avoid your eye area.
After a minute of massaging the oil, get a washcloth and run it under hot running tap water.
Squeeze out the excess water and dab it onto your face to help allow the nourishing oils to sink deeper into your pores.
Run the washcloth again under hot water, wring it out and repeat the process of dabbing it on your face.
Finally, gently wipe off the excess oils on your face and splash it with cold water.
Pat your face dry with a clean towel and voila! You're done oil cleansing! Easy, huh?!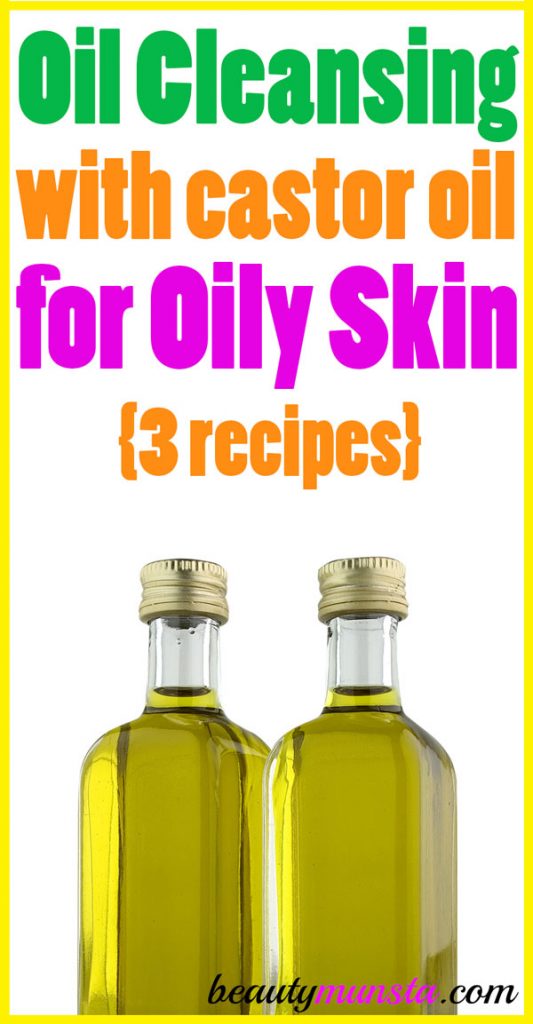 Why Use Castor Oil for Oil Cleansing Oily Skin?
Castor oil is a thick sticky oil that is preferred for moisturizing dry skin types. But did you know that it is the best oil for oil cleansing? Yes, it's even good for oily/acne prone skin types.
This is because it is a 'purging oil'. It draws out impurities from your pores such as dirt, stale sebum, bacteria, comedones, pollution and other gunk.
Castor oil is able to do this because it has discutient properties. This property helps it remove wastes, impurities and unwanted substances from the body. That's why it's useful for getting rid of warts, ovarian cysts, unwanted skin growth, tumors and more!
For oily skin, castor oil helps remove stale sebum stuck deep within the skin pores. It's also a natural astringent so it doesn't add on more oiliness to make your skin greasy!
Furthermore, using castor oil for oil cleansing won't clog up your pores because the oils will be removed using the hot water washcloth method. Only if you apply castor oil and leave it on is when you have a high chance of clogging up your pores.
Okay, now if you have oily skin, you might be interested in some recipes for oil cleansing your skin type right?! Below are three recipes you can try out!
Recipes: Oil Cleansing with Castor Oil for Oily Skin
Here are a few recipes for oil cleansing oily skin types starring castor oil! Try using any of these recipes for a whole week or two. If it doesn't work out for you, then don't trash! Keep and use as a hair mask, body massage oil, etc!
Note: Adding essential oils acts as natural remedies for oily skin since the ones used as astringents. They also make your oil cleansing blend smell nice!
Recipe 1:
1/3 cup castor oil
2/3 cup sunflower oil
Optional: 3 drops tea tree essential oil
Optional: 3 drops geranium essential oil
Optional: 3 drops lavender essential oil
Recipe 2:
3 tbsp castor oil
6 tbsp olive oil
3 tbsp grapeseed oil
Optional: 3 drops rosemary essential oil
Recipe 3:
¼ cup olive oil
¾ cup castor oil
4 drops rosemary essential oil
4 drops lavender essential oil

Do you have a recipe for oil cleansing with castor oil for oily skin? Share below!