Use the oil cleansing method for dry skin to solve an itchy flaky and dehydrated face!
Oil cleansing is all about using natural oils to wash your face. The basic idea is that you massage ½ tsp or 1 tsp of an oil of your choice onto your face. If you have makeup on, then first remove it using olive oil or these DIY Facial Cleansing Wipes. Next show a microfiber washcloth under warm running water, wring it out then dab your face with it to open pores and allow the good oils to penetrate deeply. Repeat that step once or twice then lastly, gently wipe off the excess oils with the washcloth and you're done! Your face will feel and look clean, moisturized, soft and healthy!
You can do the oil cleansing method every time you wash your face, at night time only or once a week can also work for people who're busy.
There's an assortment of oils to choose from to use in your oil cleansing method.
For dry skin, use oils that are very moisturizing and high in oleic acid, such as avocado oil and olive oil. If you have dry acne prone skin, you should use oils that are high in linoleic acid & don't clog pores. These include sunflower oil, safflower oil, argan oil and hemp seed oil.
Here's are 3 recipes to try out with the oil cleansing method for dry skin:
Oil Cleansing Method for Dry Skin
Store these oil cleansing blends in a clean container in a cool dry place. For daily use, pour a suitable amount of your blend in an applicator bottle for easy pouring without spillage, and store in your bathroom cabinet.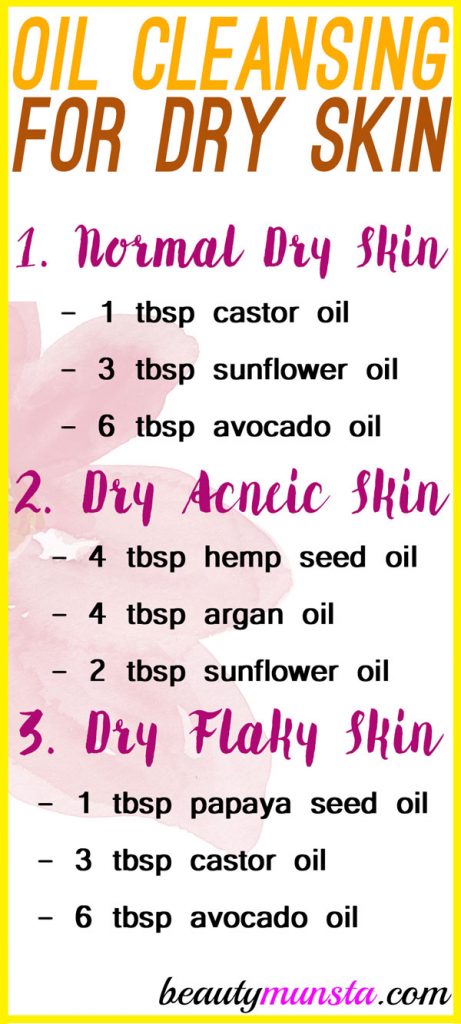 Recipe One: For Normal Dry Skin
1 tbsp castor oil
3 tbsp sunflower oil
6 tbsp avocado oil
Recipe Two: For Dry Acne Prone Skin
4 tbsp hemp seed oil
4 tbsp argan oil
2 tbsp sunflower oil
Recipe Three: For Dry Flaky Skin
*This oil cleansing blend exfoliates your skin because of papaya seed oil. Do not step out immediately in the sun because freshly exfoliated skin is sensitive to the sun.
1 tbsp papaya seed oil
3 tbsp castor oil
6 tbsp avocado oil
If you do oil cleansing for dry skin, you'll immediately notice your skin improving! It'll become moisturized, non-flaky and non-itchy too!