Here is a lovely essential oil perfume spray recipe without alcohol! Enjoy!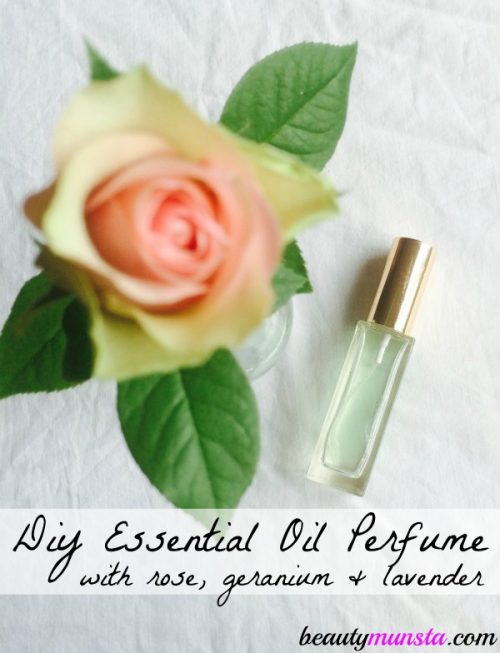 Isn't it so awesome that you can make your own essential oil perfume spray with just a few ingredients?! Most essential oil perfume spray recipes contain vodka, to enable the scent last longer and as a preservative, but in this post, I'll show you that you can make a perfume without alcohol! All you need is your essential oils plus a carrier oil or distilled water.
Before we move on to the recipe, there are a few things to note:
Important Tips before You Begin!
The key to a beautiful and lasting scent is adding a base note, middle note and top note. Notes are what make up the scent of your perfume. As I mentioned before, there are three types of notes: the top note, which is the first scent you take notice of when you sniff a perfume & the one that fades the quickest, then the middle note, which comes immediately after the top note & will fade after a few hours and lastly, the base note, which is the final scent that lingers and remains as the main scent. Now, when making your perfume blends, you have to be careful in selecting the right top, middle and base notes so that you can create a pleasant scent, so make sure to add all the notes drop by drop to prevent creating a very strong and off-putting scent!
It's very useful to keep a bowl of coffee beans near you while add the notes and keep sniffing until you get the desired scents. The scent of coffee beans helps neutralize the lingering scents in your nose as you keep sniffing different scents.
Keep a notebook and pen near you so you can jot down the amount of drops you're adding and which concentrations you like. This way, you can easily have a reference & your own first hand advice the next time you want to create the same or a different scent.
For the base ingredient, you can use either a carrier oil such as grapeseed or jojoba or distilled water. Using distilled water will give you a refreshing spritz and scent that may not last as long as when you use the carrier oil but it still smells so gorgeous! However, if you do use distilled water, your perfume will not have a long shelf life. Use within a week.
For your base note, instead of lavender, you could use any other aphrodisiac essential oils such as clove, sandalwood, vanilla, jasmine, etc. Remember it's all about what YOU like! Keep experimenting!
DIY Essential Oil Perfume Spray Recipe | Smell Romantic!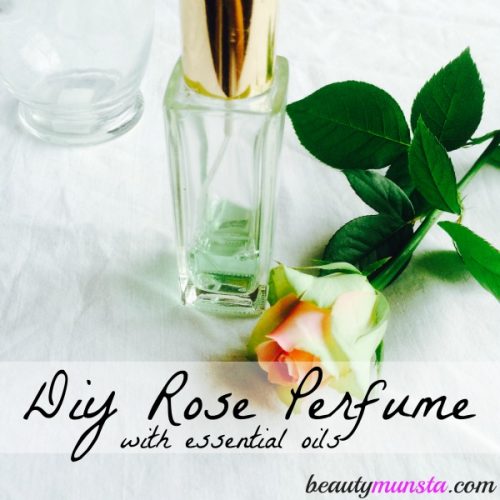 Ingredients
– Base ingredient: 30 ml grapeseed oil or distilled water
– Base Note: 6 drops lavender essential oil
– Middle Note: 15 drops rose essential oil
– Top Note: 9 drops rose geranium essential oil
Use this ratio: Base Note – 20% Middle Note –50% Top Note – 30%
Directions
Add the essential oils drop by drop starting with the base note to the top note into your glass perfume spray bottle to achieve the desired scent. Gently shake to combine and let it settle for a couple of minutes before sniffing again & adjusting if necessary until you have achieved your desired/signature scent. Note: Please sniff the scent carefully and with a good distance from your nostrils so you don't get a headache! The first time I sniffed geranium essential oil with my nose so close to the bottle opening, I ended up with a nauseating headache! No kidding!
Now store the essential oil perfume blend in a clean, cool & dark place for 48-72 hours. Yep, 3 days, for it to develop and mature. Some sources say leave it for up to 6 weeks for the scent to fully develop but personally, I can't take the risk and wait that long, I mean, I will have long forgotten about it by that time!
When the time is up, top the spray bottle with grapeseed oil or distilled water and shake gently to combine. It's even better to swirl the contents instead of shaking because vigorous shaking can alter the composition of the essential oils and change the scent!
It's now finally ready! Spray onto wrists, neck, inner elbows, clothes and other areas for a romantic scent that will last for almost the whole day! If you spray on your clothes, it'll last for at least half a day. Store the essential oil perfume spray in a dark place.