Not to so long ago, a shared a blog post on how to make eggshell calcium as a cheap and safe calcium supplement. Today, I'm sharing with you something made with eggshell powder and that's homemade eggshell toothpaste for remineralization!
What is Remineralization?
If you've read the book Curing Tooth Decay by Dr. Ramiel Nagel, then you know all the ins-and-outs of the real science of teeth. For example, did you know that teeth are porous? And cavities can be reversed?! Shocking, right? But it's true.
Now remineralization is a process whereby teeth are able to heal themselves naturally. The enamel is composed of precious minerals such as calcium, zinc and phosphorous. By supplying the teeth with these minerals, we can potentially fill in cavities and regrow damaged teeth.
Why Eggshell?
One tsp of eggshell calcium contains about 750-1000 mg of elemental or absorbable calcium combined with other essential micro-minerals including the ones mentioned above. It is very good for remineralization of teeth when taking internally and used as toothpaste.
If you want to find out how to take eggshell powder as a cheap and safe calcium supplement, refer to this post: How to Make Eggshell Calcium + Benefits
Homemade Eggshell Toothpaste for Remineralization
This toothpaste effectively cleanses teeth and whitens them as well!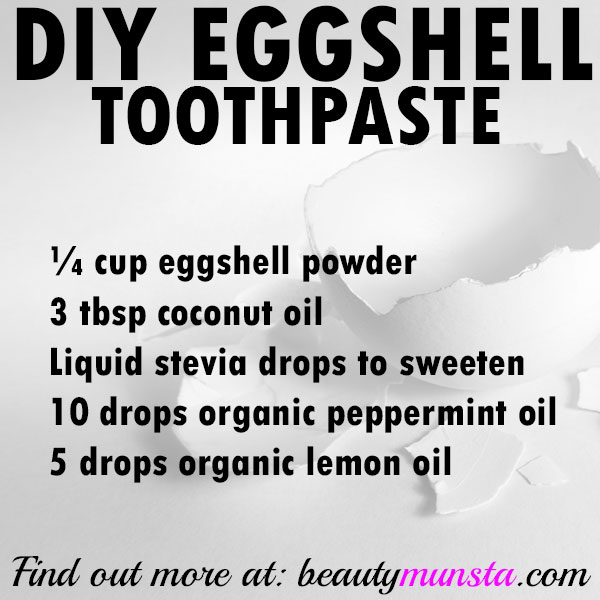 What you need
Directions
Make your eggshell powder from free range organic eggs: just collect about 10-15 eggshells in a container. Wash them thoroughly then boil them in a pot to destroy germs. Now let them dry completely under directly sunlight or in an oven at 200 degrees F for 10 minutes. Grind them in a coffee grinder till you get a very fine white powder.
Now place ¼ cup of some of the powder in a bowl and add 3 tbsp of soft coconut oil.
Stir well using a clean and dry spoon. Then add the essential oils and liquid stevia to sweeten.
Transfer your homemade eggshell toothpaste for remineralization in the 4 oz container.
Use three days a week because the eggshell can be a bit abrasive and harsh on the enamel if used daily.
Get ready for teeth remineralization! Of course don't forget to do other things like eating grass-fed butter and cod liver oil and limiting sugar and grains!