The beauty benefits of garlic are not to be missed as they are so potent and remedial for many conditions!
Garlic is an amazing herb that has a distinct pungent flavor. Apart from being a popular ingredient in food and cooking, did you know that there are plenty of beauty benefits of garlic that you probably didn't know of?!
Top 10 Beauty Benefits of Garlic for Hair, Skin and More!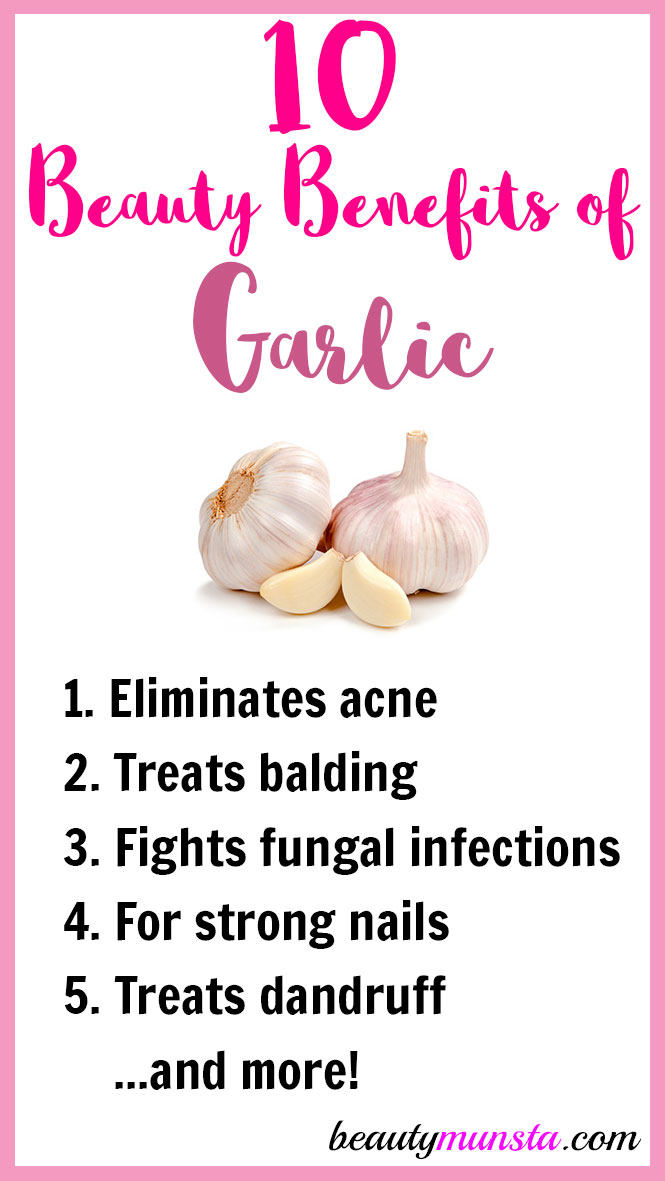 You'll be astounded by how this simple herb has not only many health benefits but also beauty benefits to improve the appearance of your skin, hair and more! Just take a look at the promising list below:
1. Eliminates Acne and Pimples
By far the best remedy for acne and pimples is garlic. This is because garlic is rich in antibacterial and antimicrobial agents that destroy acne-causing bacteria, even better than store-bought drugs! Use garlic as a spot treatment on acne and pimples by gently rubbing a sliced garlic mixed with honey over them. Remember to do a patch test on your inner wrist to make sure you aren't allergic to this remedy.
2. Stimulates Hair Growth
Trying to grow your hair longer? Try a garlic infused hair oil that you can apply every day on your scalp. Simply heat up some coconut oil and simmer some crushed garlic pearls in it. Strain and store in a bottle. This infusion is incredible and good for fostering faster hair growth.
3. Reverses Hair Loss and Hair Thinning
Are you suddenly facing hair loss for whatever reason? Garlic could be the answer. Even hair thinning can lead to unsightly gaps on your scalp. These gaps can be filled in by applying garlic juice on your scalp. Garlic stimulates the hair follicles and makes hair grow thicker and stronger.
4. Treats Dandruff
One of the best remedies for dandruff is none other than garlic. The many compounds in garlic including sulfur, allicin and precious minerals help arrest the formation of dandruff and leave behind a clean sparkling scalp.
5. Removes Blackheads
Blackheads and white heads can be reduced by garlic. The potent compounds in garlic help exfoliate and reduce the size of blackheads and whiteheads, making them appear much smaller and less prominent. It also prevents pores from getting infected and leaving scars behind.
6. High in Antioxidants
The amount of antioxidants in garlic is really phenomenal. We are constantly bombarded with free radicals from pollution and toxins around us. The antioxidants in garlic help neutralize the oxidative stress caused by free radicals and this helps in anti-aging, and improvement of beauty.
7. Treats Balding Naturally
All sulfur-rich vegetables like garlic, cabbage and onions have been suspected of being able to reverse balding. The sulfur in garlic plays an important role in treating balding naturally. Apply garlic juice to balding spots to regenerate hair.
8. For Nail Health
Brittle, weak nails can be strengthened by rubbing garlic on them. The antioxidant properties in garlic help strengthen nails. Garlic can also remedy and prevent infections in the nails and cuticles. Dull, stained and yellow nails can also be brightened with garlic juice.
9. Treats Fungal Infections on the Skin
Fungal infections can appear anywhere on the skin and can be really itchy. When fungal infections happen on the scalp, it can cause hair loss. Garlic has potent anti-fungal properties that can eliminate fungal infections.
10. Helps in Weight Loss
Having a trim figure greatly contributes to one's beauty and attractiveness. When eaten, garlic helps boost the metabolism and burn calories faster. This will help you lose weight. Garlic is also great for digestion.
Caution: Garlic is potent and can cause burning sensations if used directly on skin and in large amounts. Please mix it with other ingredients such as milk, water or honey before application.
Friends, what are your favorite beauty benefits of garlic?