The herb clary sage has long been recognized for its medicinal qualities. Today, it's cultivated for the purpose of extracting its essential oil. And quite an amazing essential oil clary sage is! Let's discover 7 beauty benefits of clary sage essential oil in this article.
Clary sage comes from the Latin word clarus meaning 'clear.' During the Middle Ages, it was referred to as 'clear eyes.' That's because it was used as a remedy for tired eyes and poor vision due to its seeds having a mucilaginous coat. Old herbal remedies placing a seed into someone's eye to bring out a foreign object by sticking to it.
The essential oil of clary sage is extracted from the leaves and flowering tops of the clary sage plant. It is a wonderful oil with many health benefits. It's well noted for having hormone balancing properties, which makes it good for easing menstrual problems & promoting relaxation during child birth. It is also good for calming the nervous system, relieving pain and disinfecting wounds.
However, this post will be concentrating on the beauty benefits of clary sage essential oil. Before we look at them, let's first check out its profile!
Clary Sage Essential Oil Profile
♥ Scientific Name:
Salvia sclarea
♥ Other Names:
Clary sage is also known as Clary, Clary Wort, Clear Eye, Esalarea and Muscatel Sage.
♥ Origin:
Clary sage is native to the northern Mediterranean Basin, some parts of North Africa & Central Asia
♥ Color and Smell:
Clary sage oil has a clear to pale yellow color. It has a sweet, slightly herbaceous and nutty scent.
♥ Texture:
It has a watery texture but can be viscous if the leaves are included in the extraction process.
♥ Shelf Life:
4 years
♥ Potential for Irritation:
Low
♥ Precautions & Tips:
Always dilute clary sage essential oil before application. Use a vegetable oil for dilution. The dilution rate is 2 drops of clary sage oil in 1 tsp of vegetable oil like olive oil, coconut oil, etc.
Never drop clary sage oil into your eyes, ears or mucous membranes.
Do not ingest.
Keep away from children and pets.
Do a skin patch test using 1 drop of clary sage oil in ½ tsp of vegetable oil in your inner wrist. If you notice any irritation, do not use the essential oil.
Avoid during pregnancy because it stimulates menstrual flow.
People with low blood pressure should avoid clary sage oil.
If having any severe or chronic health problems, consult a doctor before using clary sage oil.
Properties of Clary Sage Essential Oil
Some of the properties of clary sage essential oil include:
Antidepressant, anticonvulsive, antispasmodic, antiseptic, aphrodisiac, astringent, bactericidal, carminative, deodorant, digestive, emmenagogue, euphoric, hypotensive, nervine, sedative, stomachic, uterine and nerve tonic.
7 Beauty Benefits of Clary Sage Essential Oil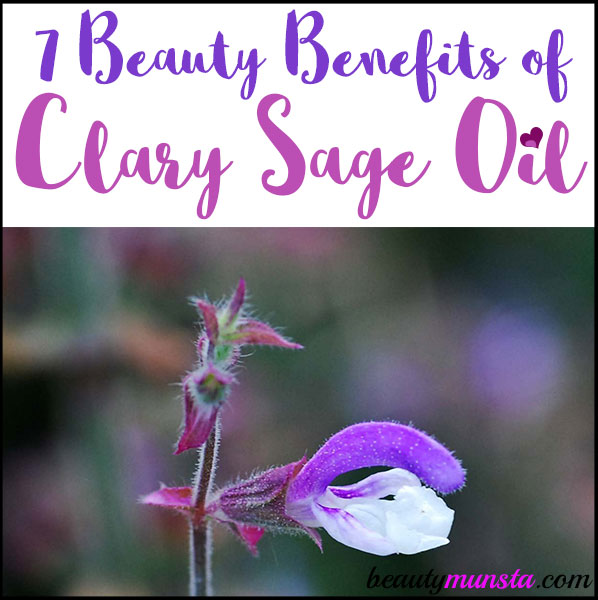 1. Treats Hormonal Acne
One of the most known benefits of clary sage oil is its hormone-regulating properties. This makes it immensely useful in treating hormonal acne. Clary sage oil can help balance cortisol levels, blood sugar levels and reduce depression.
2. Gets Rid of Dandruff
When used as a dandruff hair treatment, clary sage oil can be of great help in getting rid of thise nasty white flakes! Add 6 drops to 1 tbsp of Head and Shoulders shampoo and massage it on your scalp for 2 minutes then wash off.
3. Boosts Hair Growth
Another amazing beauty benefits of clary sage essential oil is its hair growth boosting properties. It stimulates the hair follicles, checks stress-related hair loss and fosters growth of new healthy hair.
Clary Sage Hair Growth Serum: Make a hair growth serum by combining 2 tbsp liquid coconut oil and 2 tsp Jamaican black castor oil in an amber glass bottle. Then add 9 drops of clary sage essential oil and 9 drops of rosemary essential oil. Close the bottle and shake well to combine. To use, place the bottle in a bowl of hot water to warm up the oils. Then pour the warm oil on your palm and massage it all over your scalp until saturated. Cover your hair with a shower cap and let the oils soak in for 2 hours. After which, wash your hair well.
4. Has Anti-Aging Effects
With its strong anti-aging properties, clary sage oil can erase fine lines and prevent premature wrinkles. Make a nourishing anti-aging facial cream as follows:
5. Reduces Skin Inflammation
Clary sage oil has potent anti-inflammatory properties. This makes it good for managing inflammatory skin conditions like eczema, rosacea, psoriasis and more. You can add a few drops to your facial cream or body lotion then use.
6. Regulates Oily Skin
Clary sage has a skin tightening and astringent effect on oily skin. Make a toner with clary sage oil to regulate excess oily skin. Here's how.
Oily Skin Spray: Simply combine ¼ cup of distilled water, 1 tsp witch hazel and 3 drops of clary sage essential oil in a 4 oz spray bottle. To use, shut your eyes tight and spray on your clean face. Let it dry then moisturize.
7. Natural Aphrodisiac
Is it surprising that clary sage is a natural aphrodisiac? It has a sweet balsamic fragrance that attracts the opposite sex and creates feelings of passion and romance.
Where to Buy Clary Sage Essential Oil
Always look for 100% pure quality clary sage oil without additives. My recommended clary sage oil is this one from Plant Therapy. You can buy it here.

Other Clary Sage Goodies: