Hi Lovelies! Today's special post is about clary sage oil for hair growth and lovely locks of hair! You'll find out the benefits of clary sage oil for hair and how to make your own hair growth serum with it!
What is Clary Sage Oil?
Scientific Name: Salvia sclarea
Clary sage oil is an essential oil extracted from the herb clary sage. The leaves and flowering tops of the plant are steam distilled to get the precious essential oil. It is very potent since it is an essential oil, so make sure to dilute it properly before use. A 2% dilution rate is the safe and recommended dilution for adults. This means for 1 tsp of vegetable oil/base ingredient, add just 2 drops of clary sage oil, not more.
Here are some of the properties of clary sage oil: Antidepressant, anticonvulsive, antispasmodic, antiseptic, aphrodisiac, astringent, bactericidal, carminative, deodorant, digestive, emmenagogue, euphoric, hypotensive, nervine, sedative, stomachic, uterine and nerve tonic.
Let's now take a look at the benefits of clary sage oil for hair growth and more below!
Benefits of Clary Sage Oil for Hair
Clary sage oil offers the following benefits for hair:
Stimulates the hair follicles thus increasing blood circulation and promoting hair growth
Promoting a healthy scalp
Balancing scalp oils
Making hair shiny
Strengthening hair strands
Balancing hormones hence solving hormonal hair loss
Fights dandruff
Naturally conditions hair
Gives hair a nice scent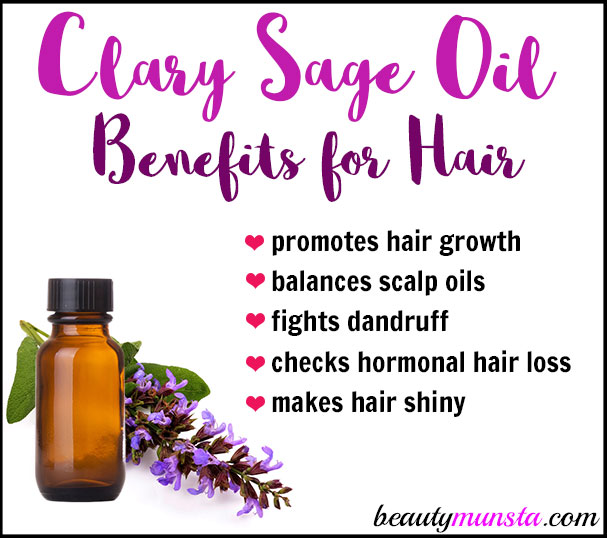 How to Use Clary Sage Oil for Hair Growth
The best way to use clary sage oil for hair growth is to make your own scalp massage blend/hair growth serum with it! Here's how to make it:
Clary Sage Oil Hair Growth Serum/Scalp Massage Blend
What you need
Directions
Using a small funnel, pour the measured amounts of Jamaican black castor oil, liquid coconut oil and jojoba oil into your amber glass dropper bottle.
Now add all the drops of essential oils.
Close the bottle and shake well to combine everything.
To use, place a few drops of the blend all over your scalp. Then use your finger pads to massage the oil into your scalp for 2-4 minutes.
Once your entire scalp is massaged, cover your hair with a shower cap and let the mixture penetrate for an hour or two.
When the time is up, wash your hair with tepid water and a natural shampoo.
Do this 1-2 times a week to see splendid results!
Where to Get Clary Sage Oil
Always look for 100% pure quality clary sage oil without additives. My recommended clary sage oil is this one from Plant Therapy. You can buy it here.
Clary sage oil is truly an amazing oil for hair growth and a healthy scalp. You can place it right next to your bottle of rosemary oil for its great hair benefits! It's also wonderful for women's problems like cramps and hormonal imbalance so keep it handy!
Other Clary Sage Goodies: