Did you know that shea butter is one of the best remedies for eczema on the skin? Learn how to create this easy homemade lotion using shea butter for eczema.
What Is Eczema?
Eczema is a skin condition characterized by itchiness and inflammation of the skin. Also called atopic dermatitis, eczema is more rampant in babies and young kids. Areas that eczema usually appear on the skin are the face, the knees and inside of the elbows. Rarely, eczema may also appear during puberty. It is not contagious.
Atopic dermatitis is the most common type of eczema, but there are others too. Another type of eczema is dyshidrotic dermatitis, which affects soles of the feet, fingers and palms. And it itches, make scaly patches appear on the skin, becomes cracked, turns red and it's painful. This type of eczema affects women more.
Another type is contact dermatitis. This type is caused by an irritant, which causes itching, redness and burning. The moment the irritant is removed off the skin, contact dermatitis disappears.
Yet another type is nummular dermatitis. This type affects men more and it makes dry round patches appear on the skin. It affects the legs more.
Seborrheic dermatitis is again another type. This type of eczema causes scaly rashes, redness and itchiness and it is usually found on the eyelids, back of the ears, scalp, sides of the nose and on the eyebrows.
While the real cause of eczema cannot be ascertained, it is discerned to be caused by the hyper activeness of a person's immune system to the presence of irritants. Also, an irregular response to protein in the body could cause eczema.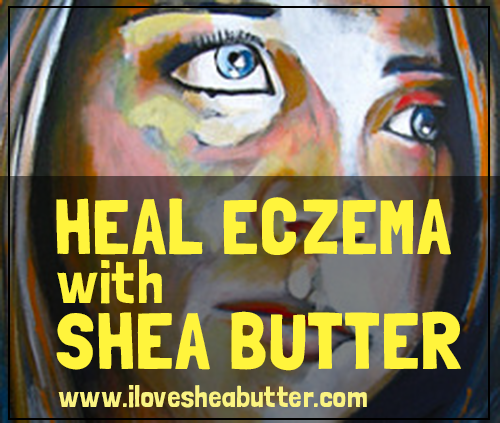 How Can Shea Butter Help Eczema?
Shea butter contains vitamins A, E and F. it also has fatty acids. Not to be left out is the cinnamic acid property. All these attributes make shea butter lotion for eczema treatment very efficient.
Shea Butter Lotion for Eczema
Shea butter lotion for eczema is very efficient because it is so rich in vitamin A, vitamin E and vitamin F and these nutrients aids the healing of dry and inflamed or damaged skin. The anti-inflammatory and antimicrobial properties of shea butter also help in treating eczema breakout. Shea butter likewise prevents the skin from having contacts with irritants that cause eczema. Shea butter lotion for eczema is essential because it's all-natural, non-comedogenic and it is safe for usage, even on babies.
Recipe for Eczema with Shea Butter
Ingredients:
Raw shea butter – 1 cup
Local honey – 1 tablespoon
Coconut oil or almond oil or olive oil –  cup
Lavender essential oil – 30 drops
Tea tree essential oil – 10 drops
Myrrh essential oil (optional) – 5 drops
Geranium essential oil (optional) – 5 drops
Procedure:
Heat up the shea butter and coconut oil, almond oil or olive oil in a heat-safe glassware and over a low heat source to melt.
Once melted, take off heat and allow to cool down but not allowing it to solidify. Now add the honey. Stir again. Add the essential oils to the mixture, stir again to mix properly.
Now it's time to cool down the mixture further until it appears to thicken (but make sure your finger can still make a hole through it, so let's call it semi-solid).
Get a mixer or a blender then mix or blend until you have a mixture looking more like a body lotion – mix for some 10 to 12 minutes to get this result. Turn your lotion is a container with a good lid then keep it in the refrigerator or store at room temperature.
Apply the lotion to the eczema affected areas regularly.
Other Remedies for Eczema
In case you are looking for other effective ways to combat eczema, you can try using the following: consume turmeric, apply olive oil, apply apple cider vinegar, apply tea tree oil, eat flaxseeds, apply baking soda, apply Aloe Vera, apply vegetable shortening, eat fish oil and more.