Here's a simple recipe for a DIY face cleanser for combination skin, one of the most common skin types out there!
What is Combination Skin?
When you have both dry skin and oily skin on your face, then you've got combination skin. Combination skin can also be acne prone and get breakouts in the oily region and even the dry region!
For most people, the T-zone which is the forehead, nose and chin is the oily part and the cheeks are the dry part. But it can be the reverse…or a combination of both!
Combination skin is hard to deal with because finding the right products that won't clog up the oily areas and won't dry up the dry areas is quite challenging. Many times, a product may worsen the oily area and cause breakouts while leaving the dry area drier than ever.
Even natural products like coconut oil and shea butter are hard to choose between when finding a natural moisturizer to use. But with the right research and knowledge, you can concoct your own facial recipes for combination skin that work! Below, we'll be focusing on a DIY facial cleanser for combination skin.
What Ingredients Are Needed?
We will need oil-control ingredients as well as moisturizing ingredients and mix them up to create a synergist effect that's effective for combination skin.
The oil control ingredients we'll be using are: witch hazel and geranium oil. Witch hazel is a natural astringent which tightens pores and removes excess oils from skin. Geranium oil has a balancing effect on skin and controls sebum secretion.
Meanwhile, the moisturizing ingredients will be argan oil and vegetable glycerine. Argan oil is a good moisturizer but at the same time has a comedogenic rating of zero, which means it doesn't clog pores whatsoever. Vegetable glycerin is a natural humectant which seals moisture into skin cells.
The base ingredient is liquid castile soap in distilled water. Liquid castile soap forms a lather and cleanses skin thoroughly.
Now onto the recipe!
DIY Facial Cleanser for Combination Skin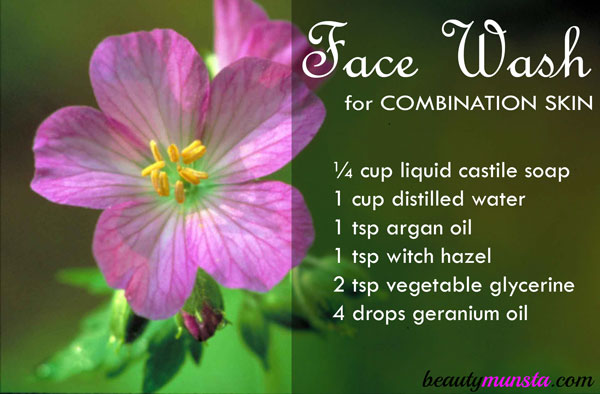 What you need
Directions
In a Pyrex measuring cup, add the witch hazel and vegetable glycerin. Drop in the essential oil and start vigorously to combine.
Now pour in the liquid castile soap and argan oil and stir again.
Carefully pour the mixture into the foaming soap dispensers (you'll need about two 4 oz ones).
Then add the distilled water.
Now give it a little shake to combine everything. That's it! Your DIY facial cleanser for combination skin is ready!
Pump twice on your hand, then lather up your face.
Rinse well with tepid water and pat dry with a soft towel.