Okay, so I've seen that there are practically no DIY shea butter face wash recipes out there. So that's why I decided to share my own recipe, hoping it'll benefit anyone out there.
This face wash will be perfect for those with dry skin or acneic skin that gets dry! It may also be helpful for those with sensitive skin. So if you react badly to store-bought face washes, give this DIY shea butter face wash a try!
Why Shea Butter?
You know how many face washes strip your face of ALL oils, leaving it tight and dry? Well you won't experience that with this DIY shea butter face wash recipe. That's because it contains the award winning shea butter.
This natural plant-based butter is so moisturizing and it doesn't clog up pores like other facial oils do. That's why it's amazing to use for acne-prone skin without fear of clogging it up and causing more breakouts. Shea butter also has vitamins like A, E, K and F that nourish skin deeply and regenerate skin cells.
Other Ingredients in this DIY Face Wash
Vegetable glycerin – This acts as an emulsifier to combine all ingredients together. It is also a humectant which means it will seal moisture into your skin. Vegetable glycerin is also silky and helps thicken the face wash.
Liquid castile soap – Castile soap is also plant-based and a wonderful all-natural green cleaning product. It forms the lather for easy face washing. It's very gentle so it won't leave your face irritated.
Lavender essential oil – A soothing essential oil, lavender is good for all skin types. It reduces inflammation, cleanses out pores and smells calming too!
DIY Shea Butter Face Wash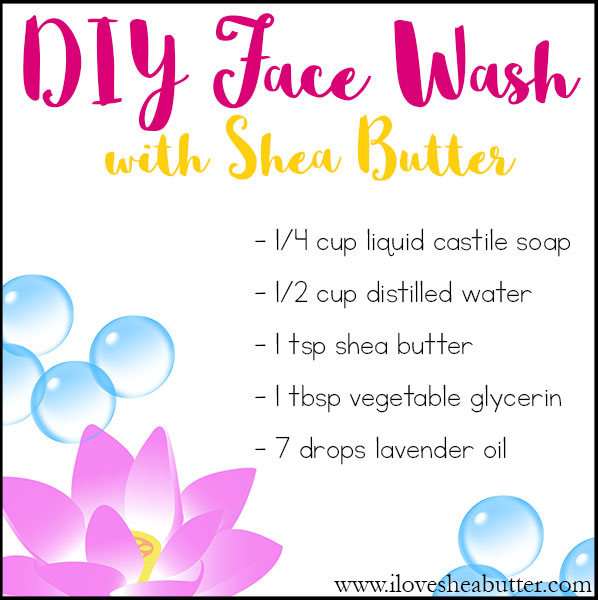 What you Need
Directions
Into the foaming soap dispenser, add the vegetable glycerin, shea butter and lavender oil. Swirl the bottle to mix up the ingredients. Your shea butter should be creamy. If it's hard then you should pop the jar in a bowl of hot water. That'll gently melt it down.
Now pour in the distilled water and liquid castile soap.
Close the bottle and shake well so everything gets fully incorporated.
That's it! Your DIY shea butter face wash is ready!
To use, pump once onto your palm then lather up your whole face.
Rinse off with warm water first, then cold water.
Pat dry with a clean towel or paper towels. You can go ahead a use a sliver of shea butter to moisturize, if your face need it. Or, use your usual moisturizer. But the natural, the better 😉
Hope you will love the recipe! If you make it, come and tell me if it worked out for you!