In this article, find out whether the pretty pink-hued Himalayan salt is actually good for acne prone skin!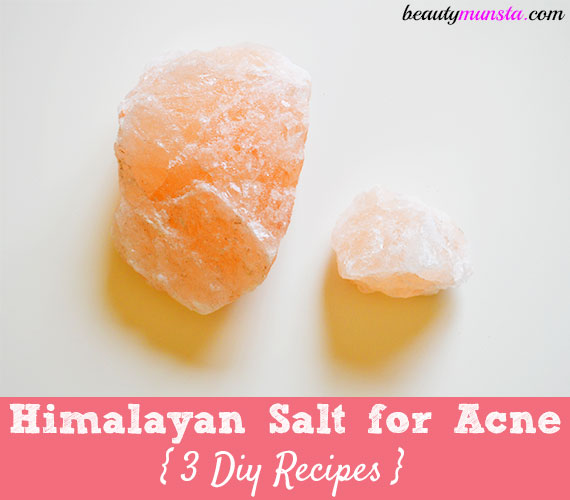 What is Himalayan Salt?
Himalayan salt is a pink colored salt that is only found in the Himalayan Mountain region in Pakistan. It is hand mined and sold in huge crystals, coarse grains or fine grains.
What makes Himalayan pink salt special (apart from its pretty color of course!) is that it has got over 84 different minerals in it! These include magnesium, potassium, iron, sodium and trace minerals.
When mixing in water, the minerals are activated and provide nourishing benefits to the body including skin! Read on to find out what makes Himalayan pink salt good for acne in particular:
Is Himalayan Salt Good for Acne?
Yes it is! Here are some of the ways Himalayan salt helps manage acne:
Natural antiseptic: All salts are antiseptic and destroy acne-causing bacteria on the skin.
Removes excess oils: Greasy skin? Himalayan salt will help with that! It soaks up excess sebum and leaves your skin feeling clean and soft.
Balances skin pH: An unbalanced skin pH can lead to acne. Once you use Himalayan salt, in a DIY cleanser or toner (recipes below!) you'll balance your skin's pH which will keep away acne and breakouts.
How to Use Himalayan Salt for Acne – 3 Recipes
Below, you'll see recipes for facial toner, facial scrub and face wash using Himalayan pink salt. They're all great and work wonders for acne prone skin. My favorite is the Himalayan salt facial toner!
1. My Favorite: Himalayan Salt Facial Toner
What you need
Go to full post: DIY Himalayan Salt Facial Toner for Acne
2. Himalayan Salt Coconut Oil Facial Scrub
What you need
Go to full post: Himalayan Salt Coconut Oil Facial Scrub
3. Deep Cleansing Face Wash
What you need
Directions
Into your foaming soap dispenser, add the Himalayan salt, vegetable glycerine then the tea tree oil. Shake them up to disperse the oil evenly.
Fill up the rest of the bottle with liquid castile soap and distilled water. Shake to combine and it's ready!
Use once in the morning and once in the night for best results.
Now that you know how good Himalayan salt is for acne, are you gonna try using it?!