Did you know that Himalayan salt contains up to 84 trace minerals?! This means it's extremely nourishing and something that should be a part of your diet – and skin care! Make your own DIY Himalayan salt face scrub and benefit from its awesomeness right away!
A beautiful pink colored salt hand mined from the foot hills of the Himalayas, Himalayan pink salt has been traditionally used in food, medicines and skin care. What makes it so special for skin? Find out below:
Benefits of Himalayan Salt for Skin
► Detoxifies skin. Himalayan salt drives out impurities, toxins and wastes including grime, dirt, stale oils and pollution from deep within the skin.
► Exfoliates dead cells. It has a mild abrasive texture that provides exfoliating action. It scrounges off dead cells and flaky skin, leaving your face feeling smooth and soft.
► Stimulates blood circulation. Rubbing this Himalayan salt face scrub will promote blood circulation to each and every skin cell. This feeds it with nutrient-rich blood, making them function properly and get rejuvenated. Stimulating blood circulation promotes youthful and glowing skin.
► Reduces fluid retention. Got puffy eyes and swollen skin? Use this DIY Himalayan salt face scrub! It will drain out excess fluids from the face and under eyes.
► Softens skin. Rough skin on the chin or forehead can easily be smoothed and softened using Himalayan salt!
► Unclogs blocked pores. Clogged up pores feel icky and gunky. Thankfully, you can make this Himalayan face salt scrub to scrub out unclean clogged pores.
DIY Himalayan Salt Face Scrub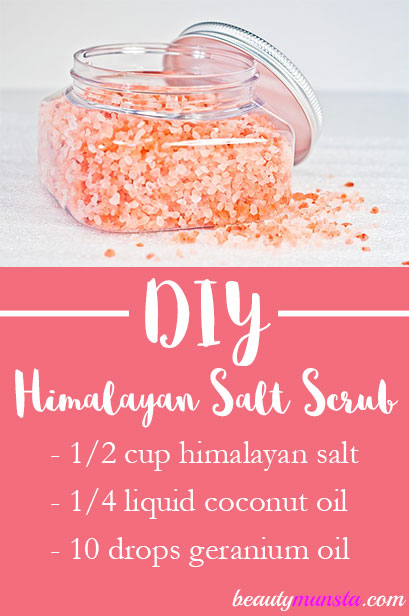 What you need
Directions
Into a bowl, add the Himalayan pink salt then slowly pour in the liquid coconut oil.
Mix them up using a spoon.
Karamba! Your Himalayan salt face scrub is ready for use! Was that easy or what?!
Transfer it into 4 oz containers or a large ball mason jar – anything that's sterilized and the salt scrub can fit in. Store in a cool dry place. You can even store it in the fridge.
To use, scoop out a little using clean fingers. Massage it in a gentle circular motion on your face.
Leave it to sit for a minute then rinse off with warm water. Splash your face with cold water to close the pores.
Pat your face dry and marvel at how beautiful your skin looks!