Emu oil is one of the best kept secrets for hair growth. Find out the best emu oil hair growth recipe for your hair type!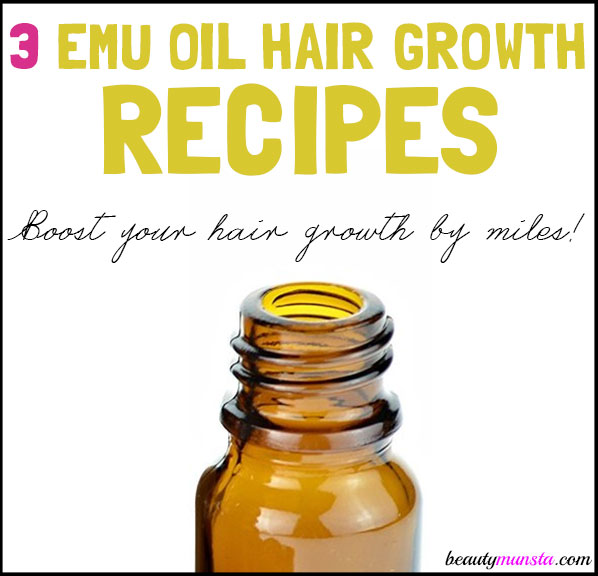 What is Emu Oil?
Emu oil is a semi-solid, creamy oil that melts when applied on the skin. Emu oil has a strong fan base of customers who get hooked to the oil when they experience its numerous benefits for the skin and hair.
Minimally processed emu oil does have a lingering farm smell, which can easily be masked with natural fragrances, luckily. You can also get refined emu oil which doesn't have any scent, but will obviously lack many helpful nutrients and properties that are important for hair growth.
The color of emu oil varies from an off-white to yellow color, and the consistency is semi-liquid at room temperature.
What Is the Best Emu Oil Hair Growth Recipe?
Emu oil, by itself, is an amazing resource for hair growth. Yes, you can definitely use emu oil alone on your hair and scalp to enjoy its hair growth benefits.
But when you combine emu oil with other hair supporting ingredients, you increase the chances of hair growth by 4 – 5 times more.
Where to Get Pure Emu Oil
Always look for 100% pure and organic emu oil. I like Dr. Adorable's 100% Pure Australian Emu Oil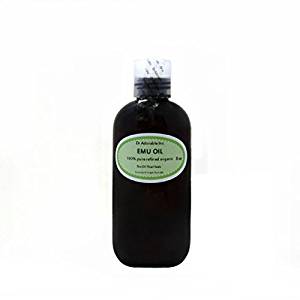 These are some of the best ways you can incorporate emu oil into your hair growth routine. We will be using totally safe, non-toxic ingredients. We shall also be using specific essential oils for hair growth such as cedarwood, peppermint and more.
3 Emu Oil Recipes for Hair Growth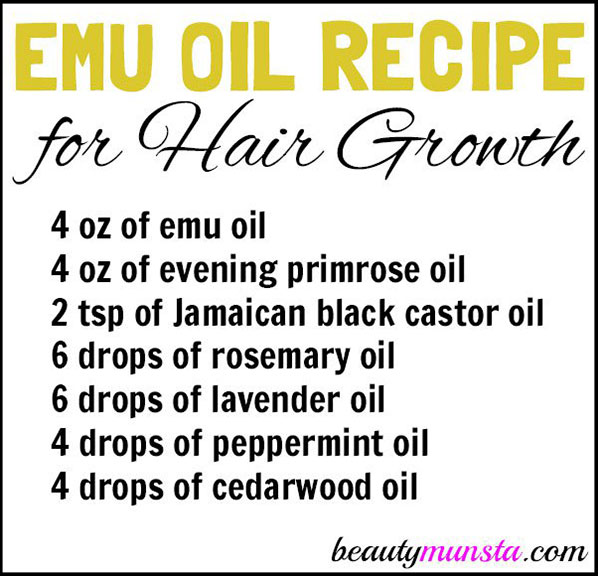 1. Hair Thickening Serum with Emu Oil
Emu oil is quite creamy and thick at room temperature, making it a viable serum. This simple hair thickening serum uses emu oil and other hair regenerating ingredients to stimulate hair growth.
Ingredients:
Directions:
Mix all of the above ingredients and store in a recycled container or 4 oz amber glass dropper bottle.
Apply this serum onto your hair roots and hair strands 3 – 4 times a week for 6 months.
2. Scalp Stimulating Massage Oil
Massaging your scalp is a very important technique to stimulate dormant hair follicles, encourage blood circulation to the scalp and promote lymphatic drainage. Make sure you do a scalp stimulating massage for hair growth every day without fail.
Ingredients:
Directions:
Combine the above oils and store in a jar.
Before use, gently heat up 2 teaspoons of the oil mixture.
Apply this hot oil onto your hair, massage gently for 2 minutes and throw a shower cap on. Let this oil sit on your scalp for 15 minutes.
Now wash off with water.
3. Homemade Emu Oil Shampoo
Getting rid of conventional shampoo is one of the most important steps to beginning your hair restoration journey. Replace conventional, toxin-laden shampoo with a homemade emu oil shampoo that will cleanse, moisturize and stimulate your hair.
Ingredients:
Directions:
You need a flip top bottle  for this purpose.
Using a funnel to avoid spillage, pour in all the ingredients into the container/bottle.
Add the essential oils at the end.
Now screw on the cap and shake gently to combine all the ingredients.
Your emu oil shampoo is now ready for use! Use like normal shampoo.