A new bizarre but super effective secret for boosting hair growth is cayenne pepper! Don't believe it? Try this DIY cayenne pepper hair growth mask consistently to see what it does!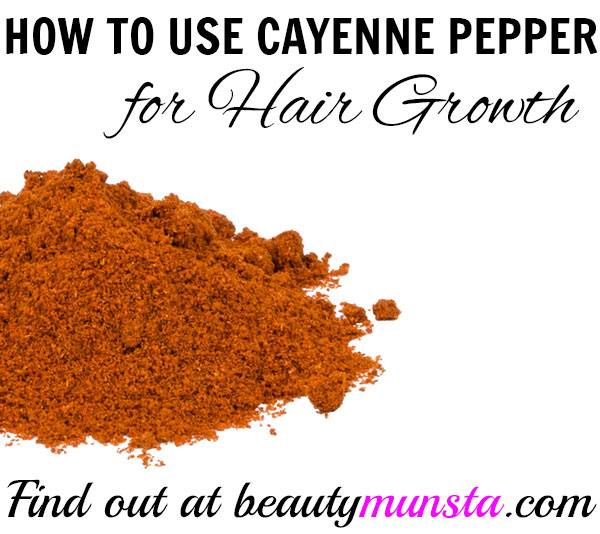 How Cayenne Pepper Works for Hair Growth
Nourishing – Rich in nutrients such as vitamin C, capsaicin, folic acid, vitamin A, niacin, thiamine and b-vitamins, cayenne pepper is an incredible hair nourisher. It accelerates hair growth, builds hair protein and strengthens hair strands by nourishing the follicles.
Stimulates Blood Circulation – Cayenne pepper is hot and increases blood circulation when eaten or applied topically. This ensures each and every hair follicles in the scalp receives nutrient-rich blood hence promoting growth of strong long and thick hairs. If not all the hair follicles receive this nourishing blood, some will go dormant and make the hair they are holding fall out, causing hair loss.
Invigorates Hair Follicles – When applied to the scalp (mixed with other ingredients of course), cayenne pepper gives a hot tingling sensation that is said to invigorate the hair follicles. This sensation wakes up even the hair follicles that have fallen dormant in the telogen phase of the hair cycle. These hair follicles start functioning again and lead to hair growth.
DIY Cayenne Pepper Hair Growth Mask
Making a DIY cayenne pepper hair growth mask is very easy. However, you need to know the right measurements and ingredients to use so that you can make an effective hair growth treatment. Then there's also the fact that cayenne pepper is really hot and you must know that using copious amounts of it will burn the skin off your scalp!
What you need
Directions
In a small bowl, place 1/2 tsp or 1 tsp of ground cayenne pepper then pour in 4 tsp of olive oil. Start small first because cayenne really is very strong. You don't want to burn your scalp, please.
Stir well with a spoon to create a mixture.
To use, put the glove on then rub all over your entire scalp and let it sit for 10 minutes.
Cover your hair with a shower cap to trap heat and allow the cayenne pepper to do its magic.
You will feel a hot tingling sensation which means it's working.
Rinse off thoroughly, shampoo and allow your hair to dry.
Repeat this DIY cayenne pepper hair growth mask 1 – 2 times weekly.
Caution

Do not use a lot of cayenne pepper for your hair mask. This stuff is HOT and can burn your scalp if you're not careful!
If you have sensitive scalp, then you might want to use very little cayenne or look for other hair growth mask such as egg hair masks or rosemary hair masks.