If there's one thing I absolutely must do before I head out, it's filling in my eyebrows. They're not as naturally dark as I'd like them to be. I'm sure some of you out there can relate with me. Many women have naturally light eyebrows.
But the popular trend right now is full, thick and dark eyebrows which are undeniably attractive. And brow pencil and powder are only a temporary fix to make your eyebrows look 100x better. So if you want naturally dark and thick eyebrows, try applying castor oil!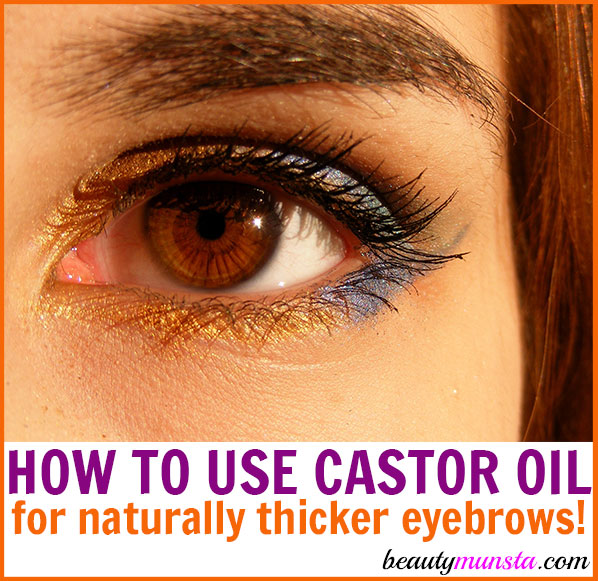 Why Use Castor Oil for Eyebrow Growth?
Castor oil has been a hair growth remedy for years. Many people with hair loss issues must have used this thick and sticky oil on their scalps. It is filled with nutrients such as omega 6 fatty acids, Vitamin E, ricinoleic acid, oleic acid, linoleic acid and more. All these deeply nourish the hair follicles, which encourages hair growth.
Massaging castor oil on your eyebrows also stimulates blood circulation in the hair follicles which triggers hair growth.
Which Kind of Castor Oil to Use for Eyebrow Growth
I actually bought a bottle of Jamaican black castor oil to help me in my eyebrow growth journey. But you can definitely use plain castor oil (the one that's a pale yellow in color). I use Jamaican black castor oil because it is more nutrient-dense and can help promote faster growth of eyebrows.
Jamaican black castor oil is actually a secret hair growth remedy. It is perfect for anyone suffering from thinning and sparse hair.
If you have the pale yellow castor oil, then you can go ahead and use it.
How to Use Castor Oil for Eyebrow Growth

My plan is to simply place a drop of castor oil onto my clean index fingers then rub it along my eyebrows in a gentle stroke for about a minute. This way, I'll be massaging my eyebrows and stimulating blood flow.
Another way is to fill up a clear and empty mascara bottle with castor oil then applying the oil with the mascara way. It's non-messy since you won't be putting the castor oil on your fingers and getting them oily.
It's also great for using on your eyelashes as well if you want longer and fuller eyelashes! You can kill two birds with one stone with this method!
And lastly, you can mix up your castor oil with other hair growth boosting ingredients to create a powerful eyebrow growth serum! I use this serum as well! I'm also using it to fill up my edges (I made a bigger batch).
DIY Powerful Eyebrow Growth Serum
Make your eyebrow growth serum as follows:
What you need
Directions
What you're going to do is get your mascara bottles and fill them halfway with castor oil. The mascara tube kit I linked to above comes with tiny funnels to help you with transfer of the oils!
After that, add one drop each of rosemary oil, lavender oil and cedarwood oil.
Now fill up the tubes with liquid coconut oil, leaving a little space at the top.
Close the bottles and shake them gently to mix everything up.
It's ready! To use, gently brush your eyebrows with the mascara wand. Just one coat is enough because you don't want the serum to seep into your eyes. If you're using it for your eyelashes as well, then definitely use just one coat! Do not apply a lot because of the risk of it entering your eyes and burning.
Hope you learned how to use castor oil for eyebrow growth! I wish you the best in your eyebrow growth journey! Feel free to come back and share your progress xoxo