Give this DIY carrot face mask a go if you want bright and glowing skin! Carrots are rich in vitamin b and other nutrients that give skin a golden boost.

I've never really given a thought to using fresh carrots for beauty. But then I discovered they have a lot to offer for beautiful skin! Carrots are well known for promoting healthy eye sight. I'm sure all our moms and dads told us to eat carrots so our eyes could be healthy. It's true, by the way, since carrots are full of beta carotene that is converted into vitamin A in the body. Vitamin A improves eye health and night vision.
Anyway, so what do carrots do for skin? First off, as mentioned above, carrots are rich in beta carotene. This compound beta carotene is amazing for skin. It works to beautify skin from the inside and outside!
Many commercial beauty products and skin creams contain beta carotene for a reason! When you apply a carrot face mask topically, beta carotene enables the healing retinols in it to penetrate the skin, providing deep healing on a cellular level.
Benefits of a Carrot Face Mask
Below are the benefits of using this carrot face mask:
Improves skin elasticity
Promotes cell turnover
Fades away dark spots
Brightens skin tone
Makes skin soft
Reduces melasma
Delays wrinkles and fine lines
Check out how to make the DIY carrot face mask in a few easy steps!
DIY Carrot Face Mask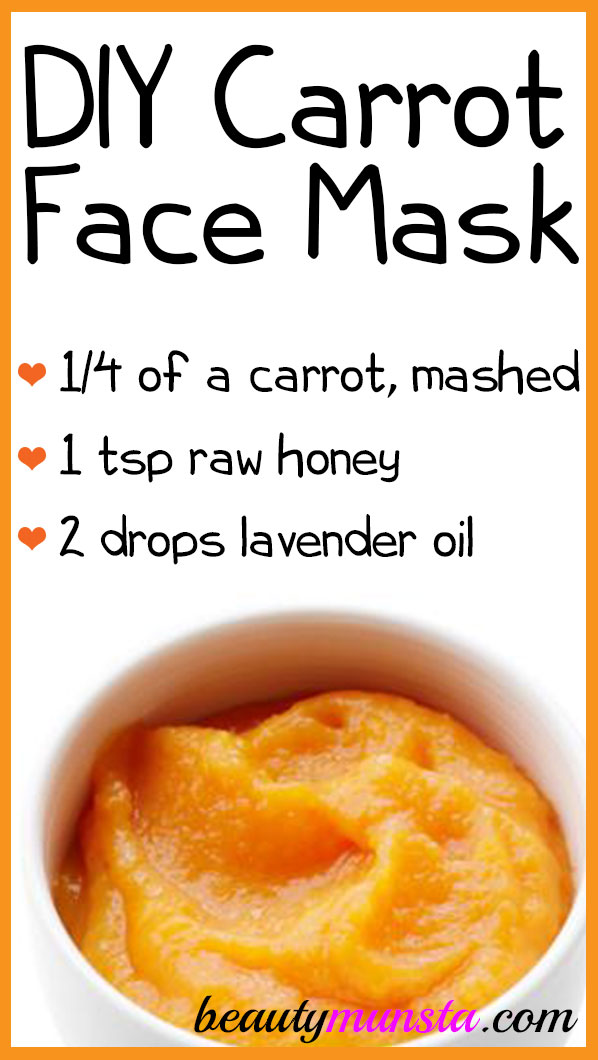 What you need
¼ a carrot
1 tsp honey
2 drops lavender essential oil
Pot of water & heat source
Small bowl & fork
Directions
Get a carrot and cut off ¼ of it. Peel it then boil it in a pot of water until it's soft enough to be pierced with a fork easily.
Remove from heat then mash it up in a bowl with a fork.
Next add 1 tsp of raw honey and 2 drops of lavender essential oil.
Your DIY carrot facial mask is ready for application!
Onto your clean face, apply the mask using your fingers. Avoid the area around the eyes and mouth.
Leave it on for 10 minutes then rinse off with cool water.
Pat your face dry with a soft towel then tone and moisturize your skin!
Are you ready to try out this DIY carrot face mask?!