Did you know that you can achieve radiance by using cocoa butter for skin lightening?
Cocoa butter is a natural plant-based butter derived from whole cocoa beans. Yes, we are talking about the same cocoa beans from which we get chocolate! The cocoa beans are first fermented, then dried, after which they are roasted to separate from their hulls, thereby producing cocoa nibs. Cocoa nibs contain some 54% – 58% of cocoa butter.
Cocoa butter has the traces of the cocoa beans scent ­– the scent is mild.
Native to South and Central America, cocoa beans have been widely used for years in places like the Caribbean and Mesoamerica.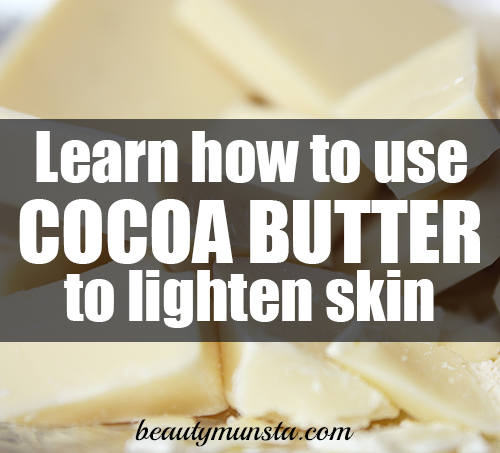 Cocoa butter has a lot of properties that makes it effective for skin beauty and skin lightening. This butter is very rich in saturated fats and monounsaturated oleic acid. Among the fatty acids contained in cocoa butter are arachidic acid, palmitic acid, lauric acid, myristic acid and stearic acid. Cocoa butter is also rich in antioxidant and emollient properties. It has a pale-yellow color.
Using Cocoa Butter for Skin Lightening
Pigmentation is all about the skin's coloration. When the skin becomes lighter, it is known as hypopigmentation. On the other hand, when a skin gets darker, it is known as hyperpigmentation. This article sets out to treat how to get rid of hyperpigmentation, thereby achieving brighter skin using cocoa butter.
Hyperpigmentation is majorly caused by the overproduction of pigment. A number of home remedies are available to help in reducing the discoloration of the skin, thereby gradually fading out the dark spot then lightening the skin. Dark spots can appear any where on the skin; the face, the thighs, anywhere.
What causes hyperpigmentation? Here are some of them:
post-acne scars
sun exposure
aging
excessive exposure to sun rays
usage of birth control pills
burns or injuries
the side-effect of a medication and more.
Whatever the cause of hyperpigmentation could be, using cocoa butter for skin lightening can be effective.
Where to Get Cocoa Butter
Plant Therapy Organic Cocoa Butter Raw, Unrefined USDA Certified 16 oz Bar For Body, Face and Hair 100% Pure, Natural Moisturizer For Dry Skin, DIY
Lightening The Skin With Cocoa Butter
In many parts of the world, especially among the African-Americans, it is common to fight hyperpigmentation using cocoa butter for skin lightening. Get your hands on some pure cocoa butter and apply it to the darker part of the skin or the entire skin to gradually fade out the darkness. Cocoa butter can be applied to the face, neck and body to lighten patches of darker skin or pigmentation.
Apart from being an antioxidant, cocoa butter is a very good moisturizer too. Firmly massage the cocoa butter through the skin to break scar tissues, aid the circulation of blood, thereby effacing hyperpigmentation gradually.
How, then, can you use cocoa butter for skin lightening, in order to reduce and remove hyperpigmentation? Begin by smearing cocoa butter on the skin or the pigmented region only. Massage the butter in thoroughly so that your skin can feel the potency of the butter. Wash off after some minutes have elapsed and clean your skin with a mild cleanser and water. Repeat the procedure regularly and you will start noticing difference in the color of your skin within 2 weeks.
DIY Cream Using Cocoa Butter for Skin Lightening
I have an easy do-it-yourself body butter that works wonders for skin lightening. Here's the simple recipe explained below.
Ingredients:
Procedure:
Get a pan and melt the cocoa butter on a low flame. Stir frequently and make sure you don't overheat or burn it.
Now pop the melted cocoa butter in the freezer for about 20 minutes to become a bit solid (more like semi-solid).
Blend the cooled cocoa butter together with the coconut oil in a food processor or use and electric whisker. The consistency should be a smooth white cream.
Get a clean container with a lid, pour your blended body butter in it.
Now add in your skin lightening essential oils in the right measurement (don't add too much essential oil as they are very potent and may be harmful in higher doses). Use the back of a clean spoon to gently incorporate the essential oils into the body butter.
Store it in a dark and cool place to prevent it from melting.
Apply to your skin twice daily to gradually remove pigmentation.
Note (1): Although cocoa butter is not the best ingredient for skin lightening, its proper blend with other skin lightening essential oils, like the ones mentioned above, can make its potency more effective on the skin.
Note (2): Other essential oils that can be mixed with cocoa butter for skin lightening include; lavender essential oil, chamomile essential oil, lemon essential oil, rose essential oil and more.
Note (3): Remember, it will take 2 weeks of regular application before you begin seeing results.
Learn More About Other Natural Ingredients For Skin Lightening