Here's a toast to natural beauty with 15 beauty benefits of green tea!
The beautiful art of tea drinking originated in China over 4000 years ago. Green tea, as well as all types of tea, came from China where ancient people valued it for its medicinal properties. The origin of this miracle drink is surrounded by different legends and folk stories. The most popular origin of green tea is associated with Shennong, an ancient and great emperor of China.
Another interesting legend has it that a man named Shei Non Shei was travelling up a mountain and was very thirsty when a leaf drifted onto his foot. On tasting the bitter taste of the leaf, he noted that it may be having medicinal and thrist quenching properties when brewed. Now that we know the history of green tea, let's find out its beauty benefits!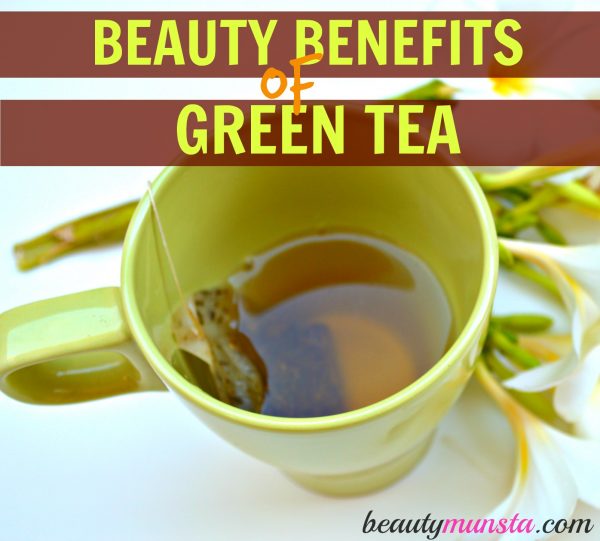 1. Anti-aging
Green tea contains as many as 200 bio active compunds which all have amazing anti-aging properties. Oligomeric proanthocyanidins also known as OPCs found in green tea, inhibit bad enzymes that break down the skin's collagen and elastin. Catechins and polyphenols found in green tea slow down the aging process of skin. They combat oxygen stealing free radicals which cause fine lines and wrinkles. Sip a steaming mug of gree tea regularly to delay aging.
2. Safeguards against sun damage
Flavonoids are polyphenol compounds found in green tea. They protect the skin from sun damage by steering away free radicals and absorbing UV rays. Drinking hot green tea every day bolster your skin's natural UV defense!
3. Soothes skin inflammation
The catechins in green tea have anti-inflammatory properties that calm skin inflammatory conditions such as eczema, rosacea, acne inflammation and sun burns. While making for your self a cup of green tea, save some for your face too! Let it cool down completely before dabbing it onto your inflamed skin using a clean cotton ball.
4. Heals & Prevents Acne
Green tea helps acne both internally and topically. It contains catechins that are anti-bacterial agents that fights off acne germs and bacteria. Catechins help reduce hormonal acne by controlling hormonal imbalances. The anti inflammatory properties of green tea soothe acne inflammation, making acne less visible. Spritz a pure green tea toner onto your face twice a day, in addition to drinking a cup of green tea to keep the acne away.
5. Sun burn soother
Green tea contains high concentrations of antioxidants such as tannic acid and theobromine which have been proven to reverse sun damage by harmful sun rays. Make a soothing green tea toner by steeping 1 teabag in hot water for 20 minutes. When it is completely cool, store it in an empty spray bottle and spritz onto your sun burned skin for a soothing relief.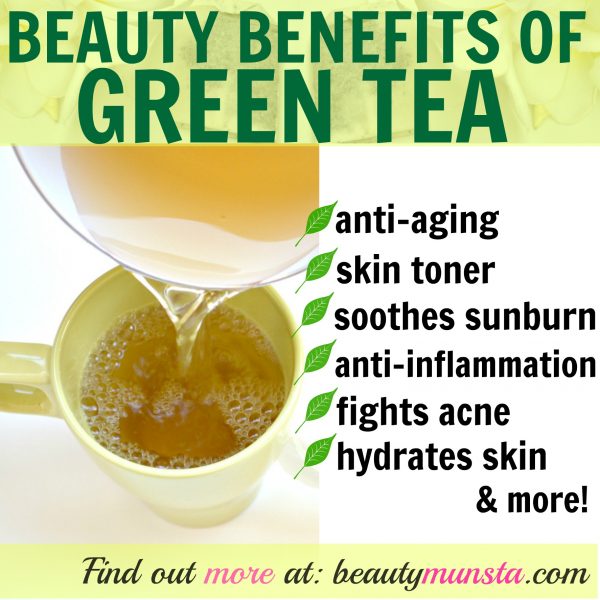 6. Natural skin toner
You can make your own green tea toner at home! Green tea is an excellent skin toner for all skin types. It reduces oiliness, plumps dry skin, tightens large pores, soothes inflammation and relieves itchy skin. Green tea is even said to heal blemishes and speed up the healing of wounds. Spritz your face with green tea 3 times a day to tone your skin.
7. Radiant skin
The powerful ECGG compounds in green tea help regenerate and repair skin cells that have been damaged by UV rays, pollution and free radical attack. Anti oxidant filled green tea will lighten up dull skin with a natural glow!
Make a skin brightening face mask with 1 teabag of green tea mixed with 1 egg white. Apply that to your face and rinse off after it dries up. Behold your firm and glowing skin!
8. Natural skin cleanser
Soak a clean cotton ball with green tea and use it to wipe your face after a long day at school or work. Green tea sinks deep into your pores, eliminate toxins and excess sebum. It dissolves excess dead cells and dislodge dirt, grime, pollution, germs and stale oils from deep inside skin pores.
9. Flushes out toxins
Healthy hair and skin require a healthy internal system. If your body is filled with toxins, you'll experience breakouts and dull hair coupled with hair fall. Green tea is an effective diuretic. It not only get rid of toxins but also reduces water retention by removing excess fluid build up. Flush out toxins with green tea before they cause havoc on your hair and skin!
10. Anti-oxidant hair rinse
Green tea also works wonders as a natural hair rinse. It strengthens the hair follicles and shaft, remove product build-up, protect the hair from harmful UV rays and free radicals, and add a natural sheen to your tresses. Soak 2 teabags in 2 cups of hot filtered water for 30 minutes. When it cools, use it to give your hair a final rinse after washing.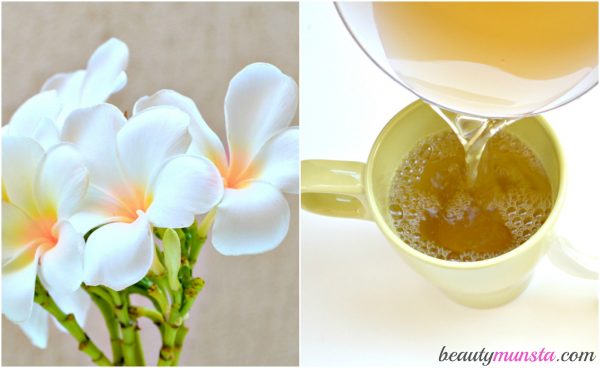 11. Hydrates skin
Green tea plumps up dry skin cells by locking moisture into them. Pat chilled green tea onto your face to hydrate your skin. To get rid of dry flaky skin, treat your skin to a natural green tea facial steam. Drop 1 tea bag in one cup of filtered water and let it boil. Remove your pan from the burner, set it down on a flat surface. Lean towards the pan to allow the steam to propel the green tea into your pores. Make a tent with a towel to trap the steam and bring it towards your face. Warning: Be careful so that you don't scald/burn yourself!
12. Stimulates hair growth & strengthens hair
The vital nutrients in green tea including powerful antioxidants such as b-vitamins, vitamin C, E and panthenol are all ingredients you will find in hair products. These nutritious ingredients seal moisture into hair cells giving hair a natural shine. The anti-inflammatory properties in green tea soothe inflammatory hair problems. Drink green tea to strengthen hair follicles and stimulate hair growth. Use your fingertips to massage the green tea deep into your hair follicles to promote hair growth.
13. Reduce puffy eyes
Ease tired, red and puffy eyes with green tea. All you need is a soaked teabag. Lie down on your back in a comfortable position and place the chilled teabags over your eyes. The tannins in green tea act as an astringent, providing a cooling relief to tired eyes. The significant amount of vitamin K in green tea also calms puffy eyes.
14. Great Exfoliator
Save used tea bags to make yourself an effecive green tea face scrub. The green tea in teabags has a mild gritty texture which has exfoliating properties. It will drive out impurities, excess sebum and dirt from deep within skin pores. Cut the tea bag and shake the contents in a small bowl, containing 1 teaspoon honey. Mix the ingredients well and use the mixture to scrub your face for at least 2 minutes. Rinse off with cool water. Enjoy soft silky skin!
15. Fresh breath
Get rid of bad breath aka halitosis by simply drinking green tea. Drinking unsweetened green tea is said to neautralize bad odor and fight off microbes that form plaque, which is a cause of bad breath. Make your own toothepaste by mixing small and equal parts green tea and baking soda. Use this paste to clean your teeth to eliminate bad breath.
Are you interested in any of the above beauty benefits of green tea?! Share your favorites below!