Do you know some of the amazing beauty benefits of matcha that can make all the difference to your skin, hair and body? Matcha could be the perfect matcha for all your beauty needs!
What Is Matcha?
Matcha, sometimes known as matcha green tea, is actually not much different from green tea. Except for the fact that matcha has way more intense antioxidant power than green tea!
While green tea is harvested from tea plants that grow under the sun, matcha is harvested from tea plants that are specially cultivated in the shade. Growing in the shade makes matcha plants have a richer concentration of chlorophyll and amino acids.
Matcha leaves are dried and pounded to make a bright green powder that is more buttery and deeper in taste compared to green tea.
The unique method of harvesting matcha gives it a slight edge over green tea. Matcha has found to have higher quantities of nutrients compared to green tea.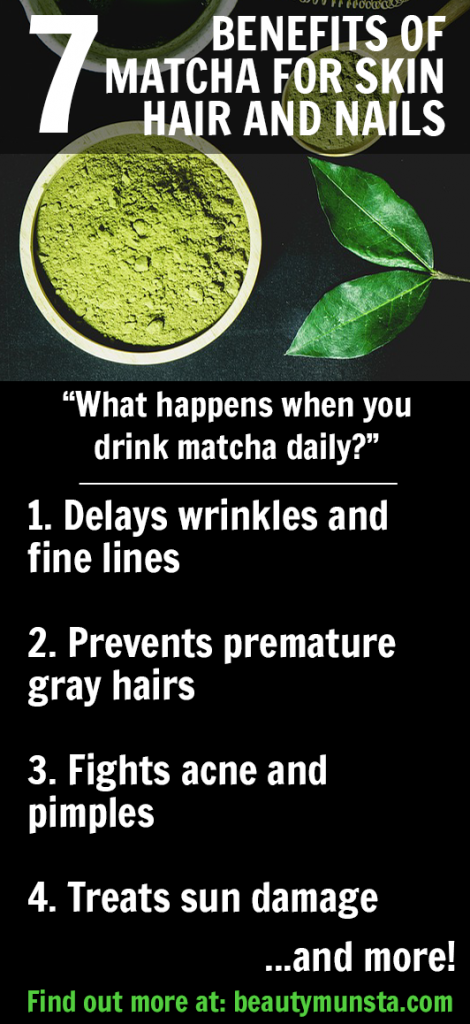 What are the Beauty Benefits of Matcha?
Now that we know what matcha actually is, are there any beauty benefits of matcha that we can make use of? Why, of course there are! Let's take a look at some of the benefits that matcha have to offer for our skin, hair, nails and general well being:
1. Slimming Down & Toning the Body
Just like green tea, matcha is known to boost the body's metabolism and burn calories more effectively. If you are faced with a sluggish digestive system, excess weight and difficulty in losing weight, matcha is a hot remedy you need to consider sipping.
2. Promoting Youthful Skin
Matcha is brimming with a myriad of antioxidants, which neutralize free radical damage to the cells in our body. These antioxidants include polyphenols, chlorophyll, catechins and vitamins which keep your skin, hair and nails healthy, radiant and youthful.
Drinking matcha daily can help prevent the formation of wrinkles, smooth out wrinkles and fine lines, even out your complexion, and detox your skin.
3. Prevents Premature Graying of Hair
In today's stressful world, so many of us are faced with premature graying of hair. One of the easiest things you can do to prevent graying of hair is sipping on matcha green tea!
4. Reduces Acne, Pimples & Other Skin Conditions
Acne and pimples are caused by bacteria, which can effectively be controlled with matcha. Matcha has strong anti-bacterial and anti-viral properties that can help keep acne-causing bacteria at bay.
Matcha is rich in a unique property called epigallocatechin-3-gallate or EGCG which has been proven to fight pimples and blemishes on the skin. So what are you waiting for? Get your matcha on!
5. Promotes Healthy Teeth & Reduces Bad Breath
Unlike other teas and coffee, matcha doesn't stain your teeth. It also reduces the growth of bacteria in the mouth which cause dental cavities and decays.
ECGC, an amazing antioxidant present in matcha, actually helps fight harmful bacteria in the mouth which cause staining in the teeth, cavities and bad breath.
6. Reduces Sun Damage
Matcha can help reduce the effects of dangerous UV ray damage. It is high in catechins and polyphenols, which guard your skin from extreme weather conditions including dry winds and direct sun.
To treat sun damage, make a mix of aloe vera gel, lavender essential oil and matcha and apply on the affected areas for 10 minutes.
7. Decreases Puffiness
Puffiness often happens from lack of sleep or stress. It happens due to water retention and poor circulation. Matcha is a great remedy for reducing puffiness and inflammation thanks to its high concentration of Vitamin K. It also helps reduce under-eye bags and dark circles.
Buy Only High Quality Organic Matcha

Sunfood Superfoods Matcha Green Tea Powder- Organic. For Lattes, Cooking, Baking and More. Unsweetened. 100% Pure Whole Leaf Green Tea. Culinary Grade. Natural Caffeine Coffee Substitute. 4 oz Bag
How to Use Matcha On Your Skin
You are probably already drinking matcha in your tea or smoothies, and that's a great way to show your body some much needed love!
But if you're wondering how exactly to use matcha on your skin, here are some ways:
1. Make a Matcha Toner
Boil a teaspoon of matcha (where to get it) with 1 cup of water, strain and pour it into a spritz bottle (where to get it). Add 6 drops of geranium essential oil (where to get it) to it and shake well before each use. Store the toner in your refrigerator and use as and when needed! It lasts 1-2 weeks in the fridge.
2. Try a Matcha-Honey Face Mask
Is your face feeling dull? Perk it up with a quick matcha honey face mask! P.S. This face mask is also great for fighting acne! In a small bowl mix 1 teaspoon of matcha powder (where to get it) and 2 teaspoons of pure manuka honey (where to get it). Add 3 drops tea tree essential oil (where to get it) for antibacterial effects. Now apply this mask onto your face and wait for 10 minutes before washing off.
3. Exfoliate Dead Cells with Matcha
Bumpy, rough skin is everyone's nightmare. Exfoliate your skin with a mix of equal small portions of matcha powder (where to get it) and baking soda (where to get it) combined with enough water to create a smooth paste.  Wet your face and gently rub the exfoliating mix all over your face for 2 minutes. Now wash off and admire your smooth, flawless skin!
What beauty benefits of matcha are you most excited about?!