These beauty benefits of blueberries will make you love the tiny super foods even more! From face masks to smoothies, blueberries have lots to offer for youth and beauty!
Embrace Blueberries for Their Beauty Benefits!
Blueberries are a popular variety of berries that top of the list of the world's most antioxidant rich foods. They contain even more antioxidants than green tea, and that speaks volumes about their nutrient density.
The deep purple to blue coloring that makes blueberries so unique is actually a result of a group of powerful antioxidant agents called "anthocyanins," which neutralize the damaging effects of free radicals in the body.
Blueberries are rich in fiber, helping to prevent constipation, colon cancer and sluggish digestion. They are low in sugar, so it helps greatly in preventing diabetes. They are high on taste though, making them the perfect addition to yogurt, muffins, oatmeal and more!
7 Beauty Benefits of Blueberries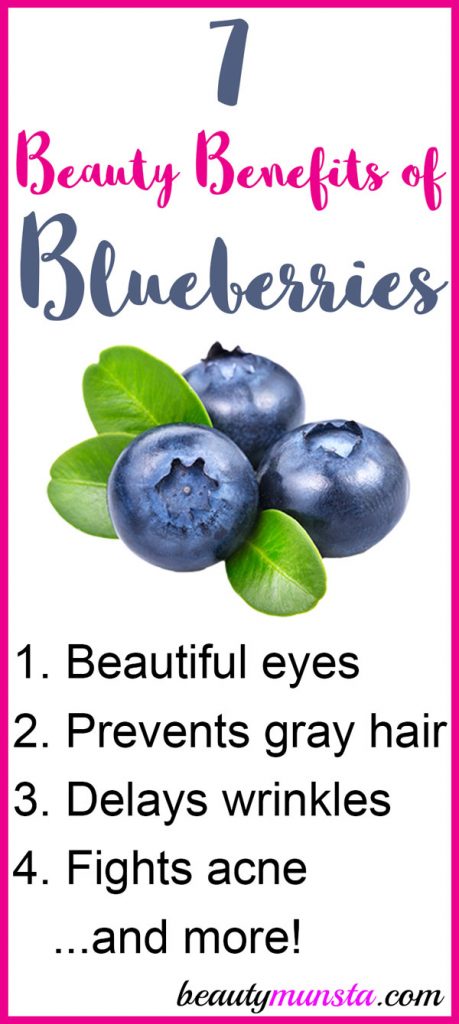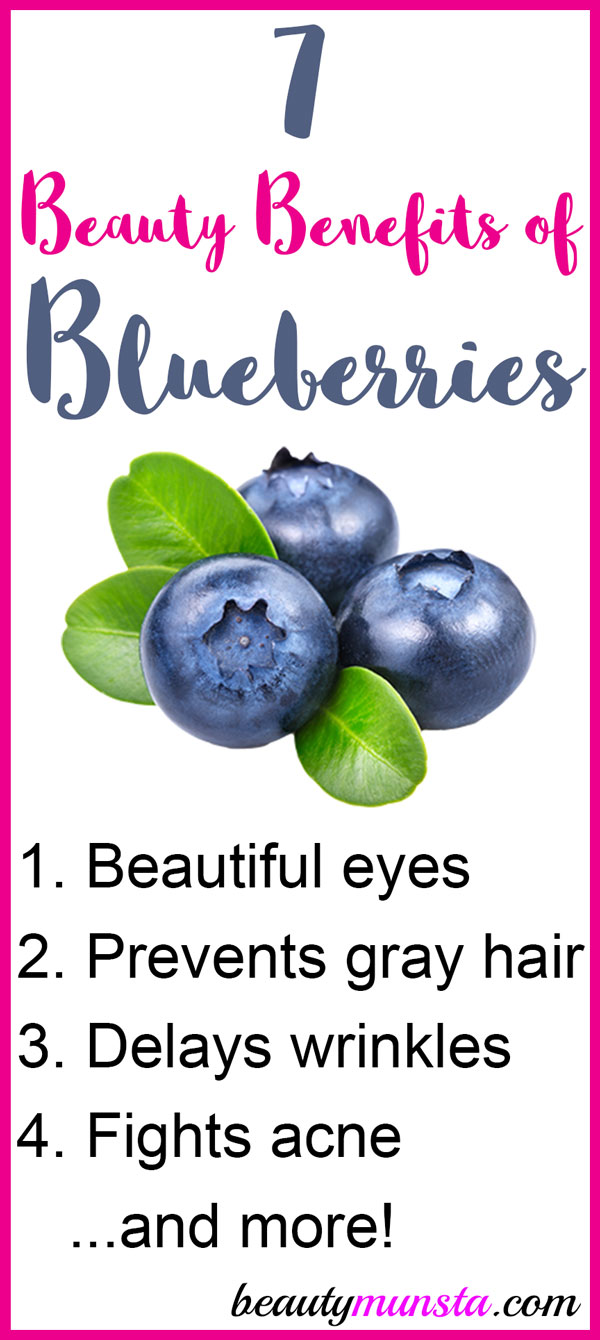 Here are some of the beauty benefits of blueberries:
1. Superior Anti-aging Properties!
The anthocyanins in blueberries are powerful antioxidants that prevent disease and reduce oxidative damage in the body. These strong anti-aging properties are what prevent the premature graying of hair and delay wrinkles and aged skin in those who eat blueberries daily.
2. Fights Acne from Within!
Blueberries are one of the best anti-acne foods for those suffering with constant zits, acne and pimples. These tiny berries have hormone-balancing properties which help clear out hormonal acne. They are rich in fiber, which helps cleanse the colon, resulting in cleaner smoother skin!
3. Powerful Skin Food!
Rich in Vitamin A and vitamin C, blueberries nourish the skin from the inside out! Eating blueberries helps heal sun damaged skin, reduce dark spots and reduces puffiness in the skin due to its anti-inflammatory properties.
4. Prevents Gray Hair!
Thanks to the powerful antioxidants in blueberries, premature gray hairs can easily be prevented by eating blueberries on a daily basis! Your hair is what keeps you looking youthful so keeping the gray hairs at bay will do wonders for your beauty!
5. Promotes Hair Growth!
In order to have lush, long and thick hair, you need to supply your body with the necessary nutrients. These nutrients are carried through the blood and directly into the hair roots, contributing to your hair growth. Blueberries are packed with nutrients that can nourish your follicles and promote faster hair growth.
6. Weight Loss Helper!
When it comes to weight loss foods, you can count on blueberries. One cup of blueberries can keep you full for hours and provide a ton of nutrition, all for just a mere 84 calories! Blueberries also help in reducing bloating and water retention, making you look and feel slimmer within a few days!
7. For Beautiful Eyes!
Your eyes are the windows to your soul, and sparkling bright eyes make you look instantly younger and more attractive. Have you seen people with too many visible red veins in the eyes or even yellow-looking eyes? This can be healed using blueberries as a remedy.
Blueberries have powerful detox properties that can make your eyes look less yellow. The flavanoids contained in blueberries help improve and sharpen your vision. It also helps regulate blood vessels in the eyes, helping to reduce visible red veins in the eyes and promoting blood circulation to the eyes.
How to Use Blueberries to Improve Your Beauty
1. Blueberry Smoothie Recipe:
In a blender, pour in ½ cup of coconut yogurt, ½ cup of blueberries, ½ cup of almond milk and 1 banana. Blend until smooth and serve!
Another simple, yet powerful smoothie I like is ½ cup of blueberries, 2 teaspoons of maca and some crushed ice. Blend these for 2 minutes and drink up. Looks too simple, but tastes frothy and delicious! Plus it's a great way to get your maca in!
2. Blueberry Oatmeal:
You'll need 1 cup of whole oats and 2 cups of water. Boil water and add oats into the pan, stirring constantly to avoid lumps. Keep stirring until the oatmeal gets a porridge-like consistency. Now add in ½ tsp of spices of your choice like cinnamon powder, 2 tablespoons of coconut sugarand a handful of blueberries. Stir and keep covered for 10 minutes before serving.
3. Blueberry Superfood Powder:
Did you know you can now buy freeze-dried blueberry powder that keeps all the nutrients intact? This is very handy for me because my blueberries often get moldy very quickly. Blueberry powder is much more convenient, has a long shelf line and is so versatile as it can be added to any recipe! It can also be used for mess-free anti-aging face masks!
4. Blueberry Face Mask:
If you have blueberry powder, simply use one teaspoon of the stuff mixed with 1 teaspoon of manuka honey for a revitalizing, anti-acne, anti-aging face mask!
For a fresh blueberry face mask, simply place 2 blueberries in a bowl, along with 1 teaspoon of greek yogurt. Mash the ingredients using a fork for about a minute until it is fairly smooth. Now apply this onto your clean face and allow to rest for 10 minutes. This will leave your skin feeling fresh, radiant and hydrated!
5. Blueberry Hair Mask:
Blueberries can be used on your hair, believe it or not! For a conditioning hair mask, blend 1/4 cup of blueberries with 1 tsp of apple cider vinegar, 2 tablespoons of rose water and 5 drops of rosemary essential oil. Apply this onto your hair and scalp and allow the mask to work its magic for 10 minutes. Now wash off carefully under warm water and shampoo as usual (preferably with a sulfate-free shampoo). This is invigorate your hair, boost hair growth and leave your hair and scalp smelling lovely!