There are so many beauty benefits of butterfly pea flower tea for skin, hair and more! Learn how to prepare butterfly pea flower for your beauty recipes such as face masks, hair rinses, sugar scrubs and more!
Butterfly pea flower tea, scientifically known as Clitoria ternatea, recently took the internet by a storm because of its shocking natural blue color and edibility. But did you know it has been used in East Asian cultures such as Thai, Malay & Vietnamese, since ancient times? It is an edible flower that has been ingested as teas, and in traditional foods for its health benefits such as reduction of blood sugar, blood pressure and more!
Not only is the butterfly pea flower itself a lovely gorgeous blue color, when steeped in hot water it turns into a gorgeous inky blue color, too. And for an amazing party trick, the one that made butterfly pea flower go viral – add a squeeze of lemon juice to the blue tea and watch it turn into a magical purple!
The compound in butterfly pea flower that gives it a vibrant blue hue is called anthocyanin, a group of tertanins, that are found in many flowers. Butterfly pea flower also contains flavonoid pigments like delphinidin. This pigment is produced by the flower to protect it from UV radiation and for other benefits. When ingested, these compounds provide many health and beauty benefits for humans.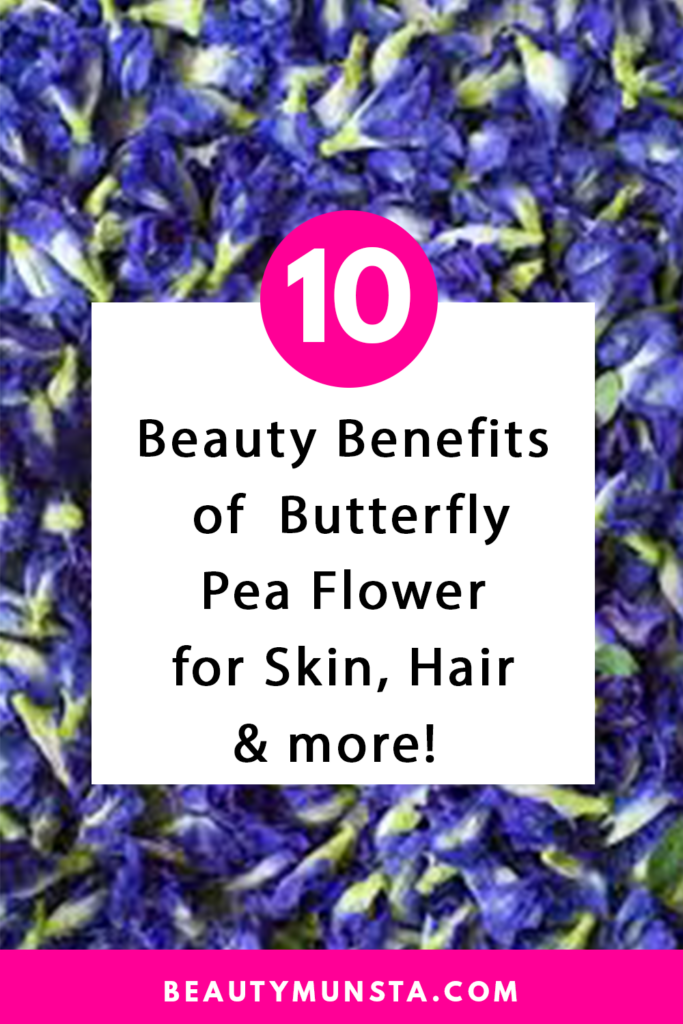 12 Beauty Benefits of Butterfly Pea Flower Tea for Skin, Hair with Recipes and More!
Here are some amazing butterfly pea flower tea benefits, with DIY recipes and ideas included for you!
1. Rich in Antioxidants
Did you know antioxidants are very important for keeping your skin young, supple and elastic? Butterfly pea flower is rich in antioxidants and flavonoids, which are a powerful force against aging and free radical damage.
2. Aids in Antiaging
This beautiful flower will help you prevent premature aging of skin. Flavanoids contained in butterfly pea flower also help to reduce skin inflammation, making your skin look tighter and less bloated!  Make your own antiaging facial oil with butterfly pea flower by steeping about a handful of the beautiful blue pea flowers in ½ cup of grapeseed oil. You can use a double broiler to speed up the infusion. Simple place a bowl containing your carrier oil of choice and the flowers and place this bowl in a bigger pan containing boiling water. Allow to boil gently for an hour. Now transfer to a container and further let it infuse for 2 weeks. Now strain this oil into a dropper bottle and add 20 drops antiaging essential oils like frankincense, geranium, myrrh and rose. Apply every night before bed.
3. Use in Face Masks
To benefit from the antiaging, anti-inflammatory and antioxidant effects of butterfly pea flower, you can make a handy face mask to apply 2x per week. Simple steep 3 – 4 butterfly pea flowers in ½ cup of hot water for 30 minutes. Now get about 1 Tbsp rice powder (a Japanese secret for glass skin) and add ½ tsp – 1 tsp of the steeped butterfly pea flower tea. You can add a drop of frankincense oil too. Now mix this face mask well and apply onto your face. Leave it on for 10 minutes and gently wash off. This will leave your skin rejuvenated, deep cleansed and refreshed!
4. Skin Toner
This flower does have astringent properties thanks to its flavanoid compounds. The natural astringent qualities in butterfly pea flower help control excess oily skin & tighten large pores. They also have anti-inflammatory properties that reduce skin inflammation! To make a stunning blue toner that's different from the rest, steep 4 butterfly pea flowers in 1 cup of hot water. Allow to cool. Then add about 1 – 2 tsp of apple cider vinegar. Pour into a spray bottle for easy use. This will last up to a week in your refrigerator. Spray onto your face twice a day for full benefits.
5. Exfoliates Dead Cells
Make butterfly pea flower powder by finely grinding about ¾ cup of dry butterfly pea flowers. Store this powder in a clean dry container. To exfoliate your face, simple get a about a half teaspoon of this powder, 1 tsp of brown sugar and 1 tsp of honey. Mix this scrub and gently apply in circular motions to your face. This will exfoliate dead cells and leave your skin glowing!
6. Boosts Hair Health
Since butterfly pea flower is rich in antioxidants, it is very beneficial for hair care, hair maintenance and hair growth.
– Make Hair Growth Spray: To make a nourishing hair growth spray that your hair will love, get a mason jar and add 1tsp of fenugreek seed, 1 star anise and about 5 pea flowers. Bring 1 cup of water to boil and pour gently into the mason jar. Now allow this to steep overnight. The next day, use this water as a rinse after washing your hair, or use as a leave-in spray by transferring into a spray bottle and spraying onto your hair 1 – 2 times a day.
7. Detoxification
Did you know that drinking up to 8 cups of water a day is essential for beautiful, hydrated skin? When you don't drink enough water, your skin will look dry, dull and lacklustre. It will also speed up pre-mature wrinkles. Now that you know you need to drink enough water each day for beauty, why not add a few butterfly pea flowers to your water bottle overnight. Not only will it look cool and special, like spa-water, it will also motivate you to drink more water.
8. Deep Cleanses Pores
When our pores get clogged, we get pimples, acne and make our pores stretched out and lose elasticity. To prevent this, we must give ourselves at least a weekly once deep cleansing face mask. Get some rhassoul clay or French green clay and make a paste using butterfly pea flower water. Add a few drops of cleansing essential oils like tea tree oil. Steam your face for about 5 minutes to open your pores. Apply this clay paste all over your face and let it work its magic for at least 10 minutes. Now wash off. The clay combined with the antioxidants in the pea flowers will help absorb dirt and impurities from your pores gently.
9. Blue Sugar Scrub
Make a fun exfoliating sugar scrub by blending ½ cup of sugar, 10 – 12  butterfly pea flowers, ¼ cup of coconut oil and 12 drops of lavender essential oil. This sugar scrub will leave your skin feeling incredibly soft, boost blood circulation to the surface of your skin, reduce the appearance of scars and remove dead skin cells.
10. For Relaxation and Anti-Depression
We all know that stress and depression negatively affects the overall quality of our skin and causes hair loss and thinning hair. Butterfly pea flower tea is scientifically proven to be a relaxant and anti-depressant as well as for anxiety relief (all scientifically proven in clinical studies). Well what are you waiting for, brew yourself a gorgeous cup of clitoria tea to combat stress and depression and keep your skin looking smooth and relaxed!
How to Make Butterfly Pea Flower Tea
1. Take 3 – 4 butterfly pea flowers
2. Put them in a glass jar
3. Bring 2 cups of water to a boil
4. Pour the hot water slowly into the glass
5. Now wait 5 minutes for it to steep and then sip slowly.
Tip: Add a squeeze of lemon juice to watch your tea magically change into a purple color. Adding lemon also enhances the detoxification abilities of this tea.