Did you know that borage (pronounced: bor-raj) seed oil is said to be one of the luxury oils in skin care products? It's a wonderful oil that has a high level of essential fatty acids (EFAs). This makes it immensely beneficial for skin and hair!
The borage plant has blue star-shaped flowers and is actually part of the same family as the Forget-Me-Not flowers. The oil is cold pressed from the seeds of the plant and is very unstable. It should not be exposed to heat and light, because this will make it go rancid super fast. Borage seed oil is also very similar to evening primrose oil and both oils are used to treat female problems such as premenstrual syndrome and others.
Since the side effects of taking borage seed oil internally are truly scary (yellow eyes, stomach pain, bleeding), I'd suggest you use this oil externally. When you see results from external use, then go ahead and use it internally UNDER the care of your doctor.
Okay, now let's look at the ingredient profile of borage seed oil below! After that, we shall explore 7 ballistic beauty benefits of borage seed oil!
Borage Seed Oil Profile
♥ Scientific Name:
Borago officinalis
♥ Other Names:
Borage seed oil is also known as borage oil, starflower oil and borage officinalis oil
♥ Origin:
Borage seed oil originates from Europe and Africa
♥ Color and Smell:
The oil has a yellowish color with a faint green hue. It has a strong heady scent that most find unpleasant, however, its amazing beauty benefits far outweigh its smell, that's for sure!
♥ Texture:
Borage seed oil has a light texture with a fairly absorbable consistency
♥ Shelf Life:
Only 3-6 months! Please refrigerate it!
♥ Comedogenic Rating:
2
♥ Precaution & Tips:
Pregnant women should avoid borage seed oil
Borage seed oil may prolong bleeding time, increase the risk of bruising and bleeding, and increase the risk of bleeding during and after surgery (Wikipedia).
Do not take borage oil or borage-containing products internally/externally without first consulting with your doctor, especially if you have health complications. Though it has amazing benefits, using it improperly can be damaging.
If you have liver problems, please stay away from borage seed oil.
Overdose of borage seed oil (1,500 to 3,000 mg daily) can lead to seizures and other complications.
Do a patch test by applying a little borage seed oil on your inner arm. If there's irritation within 1-2 hours, do not use the oil.
Mix borage seed oil with more stable oils like jojoba oil, meadowfoam seed oil, wheat germ oil or vitamin E oil to prolong its shelf life. You can add 1 tsp of any of these oils to 1 oz of borage seed oil. Or, simply refrigerate the oil to keep it fresh.
Components of Borage Seed Oil
Borage seed oil is very rich in essential fatty acids (EFAs). Here are some of the nutrients found in this oil:
Omega 6 fatty acid GLA (Gamma Linoleic Acid)
Icosenoic acid
Docosenoic acid
Oleic acid
Palmitic acid
Stearic acid
7 Beauty Benefits of Borage Seed Oil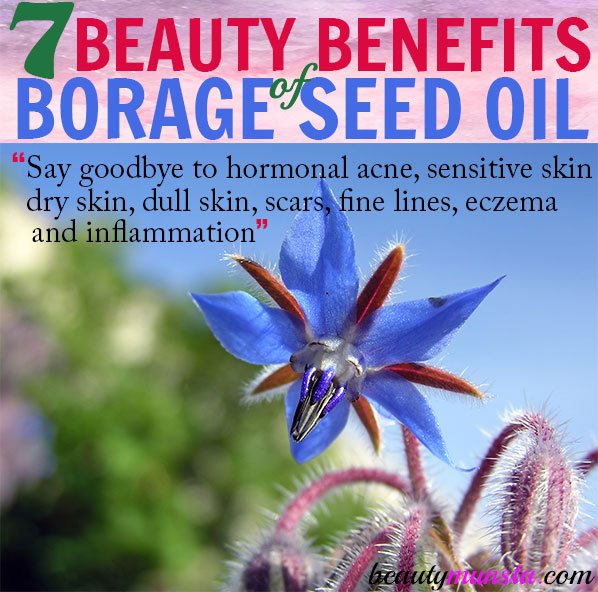 1. Age-Defying
Borage seed oil promotes youthful skin! That's because of its rich essential fatty acid content and GLAs that fight inflammation and free radicals that both promote premature aging. It has the following benefits for anti-aging: cell regenerative, firming, soothing, moisturizing, anti-inflammatory and revitalizing.
To use, prick a borage seed oil capsule with a safety pin and squeeze out the oil. Dab under the eyes and massage on your clean face. It has a very unpleasant odor though, so if you can't stand it then consider squeezing oil from 2 capsules into your face wash, face cream or anti-aging serum.
You can also make an anti-aging serum: Pour 1 tbsp argan oil, 1 tbsp prickly pear oil into a 2 oz amber glass dropper bottle using a small funnel. Then prick and squeeze out oil from 1-2 borage seed oil capsules. Now add 4 drops of lavender oil, 3 drops of frankincense oil, 3 drops of carrot seed oil and 2 drops of sandalwood oil. Close the bottle and shake well to combine everything. Massage 2-4 drops on your face.
2. Treats Inflammatory Skin Conditions
You can use borage seed oil to treat skin inflammatory conditions like eczema, psoriasis and rosacea. It can be used internally and externally. This is because borage seed oil has high levels of GLAs that has been shown to be anti-inflammatory and correct deficiencies in the skin's sebum (natural oils) that are caused by low levels of delta-6-desaturate activity. Prick a borage seed oil capsule, squeeze the oil and apply it on the affected areas for natural treatment.
3. Moisturizing
Borage seed oil is incredibly rich in GLA (Gamma Linoleic Acid) that deeply moisturizes skin with long-lasting hydration. Prick a borage seed oil capsule with a safety pin and squeeze the oil into your face moisturizer. It's said to balance the skin's natural oils. You can also apply it directly on your skin but it seriously stinks so you'd rather combine it with something else.
You can even make your own face cream by mixing up 2 tbsp of shea butter, 10 drops of lavender oil and squeezed oil from one borage seed oil capsule. Store this in a small glass jar.
4. For Sensitive Skin
The high levels of GLA fight skin inflammation. It is also soothing and hydrating. All these factors make it soothing and gentle for sensitive skin issues. Skin can be sensitive when not enough protective oils are produced by the oil glands. This can make it dehydrated, causing inflammatory flare-ups that lead to sensitivity in skin. So applying borage seed oil topically can provide your skin with the essential fatty acids its lacking and balance out sebum.
5. For Healthy Hair
Dr. Oz touted borage seed oil as a moisturizing product for the hair. It helps retain moisture in the care by coating it. But that's not all! Borage seed oil can also promote hair growth, treat folliculitis and dry scalp issues. You can use it both internally and externally for all these purpose.
If using externally, you can make a hair growth oil by combining 2 tbsp of coconut oil, oil squeezed from 2 borage seed oil capsules and 12 drops of rosemary oil. Massage this on your scalp one hour before shampooing. It's help your hair loads!
6. Skin Rejuvenating
Borage seed oil is an amazing skin rejuvenator. If you're suffering from dull skin, scars and dark marks, try using borage seed oil in your skin care routine! You can make weekly facial masks with it:
Dump 2 tsp of brown sugar in a small bowl. Now add 2 tsp of raw honey (manuka honey is the best), oil from one borage seed oil capsule and ½ tsp of lemon juice, squeezed from a fresh lemon. Mix up the ingredients together using a spoon. Now apply it on your clean and damp face (freshly washed) using gentle circular motions. Now let it sit for two minutes then rinse off very well with warm water. Pat dry, tone and moisture your face afterwards.
7. Hormonal Acne
People have had success treating hormonal acne using borage seed oil and evening primrose oil, internally and externally. You can take borage seed oil capsules internally to balance your hormones naturally. But please ensure to pass it through your doctor or dermatologist before you do so. Applying borage seed oil on your face is also a good way to combat hormonal acne.
A study published in the Acta Dermato-Venereologica Journal found that positive improvements were seen in mild to moderate acne after supplementation with borage oil over the course of 10 weeks. 45 participants were grouped into 3, each group having 15 participants each. Each group supplemented with omega 3, borage oil (omega 6) and nothing. The group on omega 3 and omega 6 showed improvement in the appearance of both inflammatory and non-inflammatory acne lesions.
You can make an anti-acne potion by mixing up borage seed oil, geranium oil and sunflower oil. Just pour 1 tbsp of sunflower oil in an 2 oz amber glass dropper bottle, prick and squeeze the oil from 2 borage seed oil capsules and add 6 drops of geranium oil. Close the bottle and shake well. Use about 2-4 drops on your face daily before applying moisturizer.
Where to Buy Borage Seed Oil
Always look for 100% pure high quality borage seed oil without additives. It is very important to purchase the best quality borage seed oil that is free of unsaturated pyrrolizidine alkaloids (UPAs). UPAs are hepatotoxic meaning that it can cause toxic effects to the liver if taken in large quantities. Check for a label that says PA-free.
My advice is if taking borage seed oil internally, please do so under the supervision of your doctor.
My recommended brand of borage seed oil is Now Food's 100% pure borage seed oil capsules. They're a trusted and great brand that I also use for any other supplements I take. The capsules can be used internally and externally.
You can also buy Nature's Way Borage Seed Oil. It's another great brand with high quality products!