Orange peels have a lot to offer in the natural beauty world! Check out the top 12 beauty benefits of orange peel powder in this post!
You can use orange peels to make zest for pies and cakes, you can infuse orange peels in vinegar for green cleaning, you can drink orange peel tea, but did you know that you can make orange peel powder for beauty?!
Yup, that's right! And orange peels are an amazing skin care secret for glowing skin! The best part is that you can make your own orange peel powder right at home! Read my guide on How to Make Orange Peel Powder for Beauty
If you don't have time, don't worry, just buy orange peel powder! You can get Organic Orange Peel Powder here.
Top 12 Beauty Benefits of Orange Peel Powder for Hair, Skin and More!
Orange peel powder can safely be used on your skin every day. But if you don't have time, using it once a week makes all the difference in the world, trust me! Now let's discover 12 amazing beauty benefits of orange peel powder, shall we?!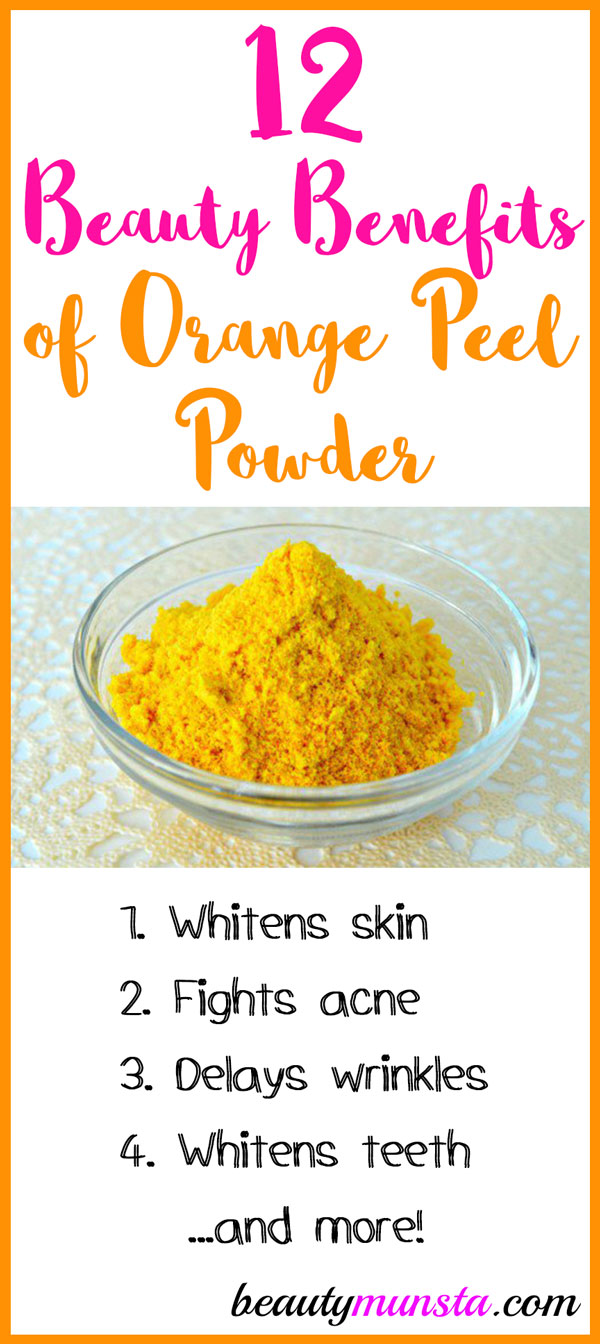 1. Skin Whitening
This is by far the top beauty benefit of orange peel powder. It has skin whitening properties like no other! If you want to test it out – mix some orange peel powder with water to form an easily applicable paste. Now scrub this onto one arm. After 2 minutes, rinse it off. Compare this arm with the other. You'll be astounded because the hand you applied orange peel to will be brighter, whiter and glowing compared to the other one! Do the same for your face to make it appear brighter and whiter!
2. Reduces Acne Scars
Got acne scars? Orange peel powder to your rescue! Since it has amazing skin whitening properties, orange peel powder will be beneficial in reducing acne scars.
Simply combine 1 tsp of orange peel powder with 1 tsp raw honey. Apply this to your whole face for 10 minutes then rinse off very well. Use every other day!
3. Fades Blemishes & Dark Spots
The skin whitening/lightening properties of orange peel powder are also helpful for fading away blemishes and dark spots on your skin! Mix a suitable amount of orange peel powder with milk then apply onto your face. Wait for 10 minutes then rinse off. Use every other day to see good results!
4. Fights Acne & Pimples
Acne is caused by a wide variety of features but two main ones include oily skin and acne causing bacteria. Orange peel powder reduces excess oils from the skin and fights off acne causing bacteria by disinfecting skin! Use it to fight acne and pimples in the form of a face mask, face scrub or face cleanser.
5. Exfoliates Skin
Orange peel powder has a gentle abrasive texture that can be used to exfoliate dead cells. You can mix it up with water and use it to exfoliate your skin. For more scrubbing action, add fine white sugar to your orange peel – water paste.
6. Delays Wrinkles
The high amount of Vitamin C in orange peel powder is very good for delaying wrinkles. It boosts collagen production, fights off free radicals that cause premature aging and tightens up sagging skin!
7. Brightens Complexion
A dull complexion can instantly be remedied with orange peel powder. It's true! Mix up 1 tbsp of orange peel powder with enough thick yogurt (like greek yogurt) to form a paste. Apply it thickly on your face and neck in the shower (because it can get messy). Rinse off after 15 minutes and behold a brighter complexion!
8. Oil Control Action
Oranges are natural astringents and so is the peel of oranges! It has strong oil control action which removes excess oiliness from your skin. If you have oily skin, try an orange peel face mask or use orange peel as a face cleanser (for instructions, see point 10 below!).
9. Reduces Large Pores
The natural astringent properties of orange peel powder also play a role in reducing large pores! Once you use an orange peel mask, you'll notice your skin feels firmer and your large pores have diminished!
10. Natural Face Cleanser
Want a non-soapy face cleanser? Try orange peels! I love using orange peels as a natural face cleanser when I want to instantly brighten my skin up for the day! It also remove impurities, digs out stale sebum with the pores and disinfects your skin. It's truly amazing!
Just get a tsp of orange peel powder on your palm, mix it with tap water from your bathroom sink then gently apply it on your face, avoiding the eyes. Rinse off with cold water and pat your face dry! Now you can apply moisturizer!
11. Teeth Whitener
You've heard of using activated charcoal for teeth whitening and even hydrogen peroxide. But what's easily available and gentler on your teeth? Orange peel powder!
Mix about ½ tsp in a small dish together with water. Apply it on your front teeth then leave it on for at least 2 minutes. Rinse off with water and voila! Bright white teeth! Try this once a week or once in two weeks – don't overdo it because you don't want the acidity of orange peels to wear out your enamel.
12. Firms Skin
If you skin your skin is starting to droop and sag (a sign of aging), start using skin firming products especially natural ones like this orange peel powder! Make a face pack with it and apply on your skin for 15 minutes.
Also See: 3 DIY Orange Peel Powder Face Mask Recipes
Share your favorite recipes and beauty benefits of orange peel powder!