Find out how to make an easy and effective DIY coconut oil face mask for acne prone skin here!
Coconut oil is a multi-purpose product in the beauty world. It is beneficial for treating acne and fading away acne scars, if used in the right way. I say this because care must be taking when using coconut oil for acne as it has a high comedogenic rating of 4, which means it can clog up your pores. The last thing someone with acne wants is clogged up skin, whiteheads and more acne.
On the brighter side, using coconut oil for the Oil Cleansing Method or in Facial Masks is a good way to treat acne. These use coconut oil for a short period of time on your face then it's all washed off, leaving no chance for coconut oil to linger in your pores and clog them up.
Let's now check out the benefits of coconut oil for acne!
Antibacterial: Coconut oil has a high content of lauric acid, which has antibacterial properties. It's proven to fight off and kill the acne causing bacteria: Propionibacterium acnes.
Cleanses skin: Coconut oil is a great skin cleanser. That's why it's amazing to use in the Oil Cleansing Method. Oil Cleansing uses the theory that like attracts like. This means the good oil (coconut oil) drives out the bad oil (dirty skin sebum) from within the pores.
Seals moisture into skin: Some people have dry acne prone skin and coconut oil will immensely help in such causes by sealing moisture into the skin and keeping it supple.
Reduces inflammation: Soothe red angry acne by using coconut oil! Coconut oil is very soothing and has anti-inflammatory properties that can calm your acne.
DIY Coconut Oil Face Mask for Acne Prone Skin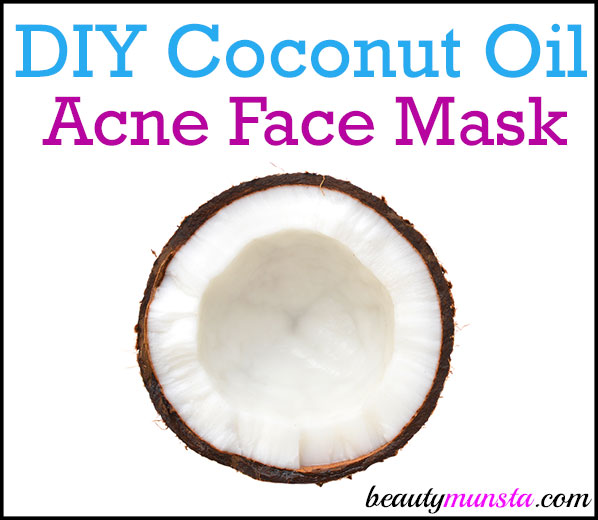 What you Need
Directions
In a bowl, add all your ingredients and mix them up using a spoon till you get a creamy mixture.
Now using clean fingers tips, scoop up the mixture and apply it all over your face, avoiding the area around your eyes and mouth.
Let the face mask sit for about 5 minutes then rinse off using warm water.
Once all the mask is off, splash your face with cold water. Moisturize if necessary but your face will feel moisturized, soft and supple.
You can use this DIY coconut oil face mask for acne just once a week!