Check out the benefits of grapeseed oil vs jojoba oil for face skin in particular!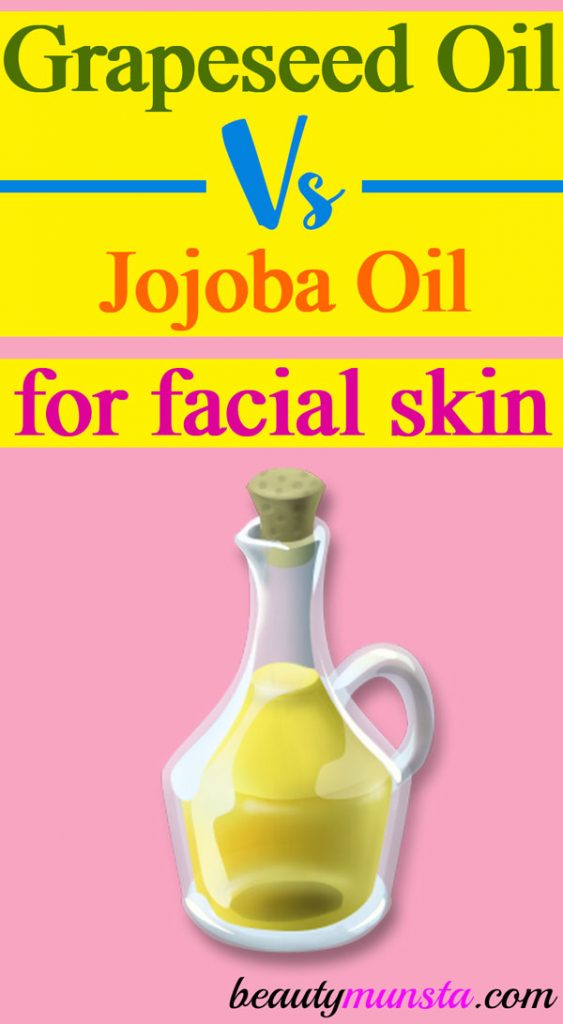 Facial skin is very sensitive and as such, you wouldn't want to be using just any kind of oil on it! In this post, we're going to be exploring between grapeseed oil and jojoba oil – which should you use for your skin type and what are their benefits?!
Grapeseed Oil for Skin
Grapeseed oil is a fairly common type of oil. It is favored for cooking just like olive oil but it also has great beauty benefits! Please read 15 Beauty Benefits of Grapeseed Oil to know about the profile of grapeseed oil (its shelf life, consistency, comedogenic rating, etc).
Jojoba Oil for Skin
You've seen jojoba oil in many high end face oils haven't you? This oil is excellent for skin care and it has a good reputation for skin of all types. And it's actually a wax ester not an oil! You can read 12 Beauty Benefits of Jojoba Oil to get to know its ingredient profile and fantastic beauty benefits for skin, hair and more!
Okay, now let's get to the main gist of this article: Grapeseed Oil Vs Jojoba Oil for Face! Here's the breakdown of the benefits of grapeseed oil over jojoba oil and vice versa!
Benefits of Grapeseed Oil over Jojoba Oil
Why would you choose grapeseed oil over jojoba oil for your skin type? Here are some reasons:
Consistency. Grapeseed oil is much lighter in consistency than many skin care oils, including jojoba oil. So if you want a non-greasy moisturizer for your face like in the summer months, you may go with grapeseed oil instead.
Price. Grapeseed oil is cheaper than jojoba oil so you may prefer to purchase it for face moisturization purposes instead of the pricier jojoba oil.
Availability. Unlike jojoba oil which can be difficult to find, grapeseed oil is easily available.
Vitamin E Content. If you're looking for a skin care oil high in skin healing Vitamin E oil, then you've got grapeseed oil! Grapeseed oil actually has twice as much the amount of Vitamin E than olive oil! Vitamin E is known as the beauty vitamin. It repairs skin cells, fights free radicals, smooths wrinkles and reduces scars.
High Linoleic Acid Content. If you have oily or acne prone skin, then you must choose to moisturize your face with oils high in linoleic acid. That's because people with oily skin or acne have little to no levels of linoleic acid in their skin, which makes their sebum sticky and pore clogging! Using oils rich in linoleic acid will thin sebum and make it high quality so it won't grease your face up or cause breakouts!
Benefits of Jojoba Oil Over Grapeseed Oil
Has a Similar Molecular Structure as Our Skin's Natural Oils. This is by far the most important reason why jojoba oil is great for skin! It has a similar structure to that of our skin's natural oils (sebum). This makes it a perfect moisturizer for our skin!
Suitable for Oily Skin. Jojoba oil is suitable for oily skin because it tricks the skin into thinking it has produced enough oil (since it is similar to sebum) so it won't produce any more. It is also good for acne prone skin for this same reason.
Has a Long Shelf Life. Another reason why you would prefer jojoba oil for your face is that it has a long shelf life! That's because it is a wax rather than an oil. Oils are usually made up of fatty acids and glycerol. However, waxes are made up of unesterified hydrocarbons which are softer and melt at low temperatures.
Odorless. Yes, jojoba oil is odorless and this is also because it's a wax ester not an oil. So you may prefer it to be used as a face oil straight on its own. This makes it also beneficial for skin that gets irritated by fragrances!
Good for Sensitive Skin. Jojoba oil is known to be gentle for moisturizing and healing sensitive skin types. You can use it for rosacea, eczema, psoriasis and sensitive skin types that can't handle regular moisturizers.
Long Lasting Moisture. Jojoba oil is said to give skin long lasting moisturization so you might choose it over grapeseed oil if you have a perpetually dry and flaky skin type.
Grapeseed Oil Vs Jojoba Oil for Face
So which oil is better for the face? Grapeseed oil or jojoba oil? From the above information, if you have oily skin or want a light moisturizer that's non-greasy, I'd say go for grapeseed oil. Jojoba oil is good for those with sensitive skin, dry and mature skin, especially.
But of course, looking at the benefits of one oil over the other, you choose your pick! If you want to get anti-aging benefits, then go for jojoba oil. For scar reduction, go with grapeseed oil.

You've reached the end of the article 'Grapeseed Oil Vs Jojoba Oil for Face Skin'! What oil have you chosen as best to use for your skin type?