You can soften hyperpigmentation using natural substances such as carrier oils. Find out the top 7 carrier oils for hyperpigmentation in this post!
Not long ago, I talked about Essential Oils for Hyperpigmentation. Today, I want to talk about the top 7 carrier oils for hyperpigmentation. Carrier oils are called so because they 'carry' essential oils onto the skin. They acts as a safe vehicle to transport essential oils onto the skin. This is because essential oils are very potent and must never be applied undiluted. Carrier oils are used to dilute essential oils before application. They are simply vegetable/plant oils extracted from different parts of plants. They contain fatty acids, unlike essential oils.
Hyperpigmentation is a skin condition whereby some parts of the face/body are darker than the rest. For example, the area around the mouth and eyes can be darker than the rest of the face. Hyperpigmentation is caused by various conditions including acne scarring, inflammation, too much sun exposure and more.
More and more people are turning to natural remedies to treat hyperpigmentation because they work! You don't have to go spend extra $$$ at the dermatologist's to correct hyperpigmentation. Just use the carrier oils below consistently and you'll see results!
Top 7 Carrier Oils for Hyperpigmentation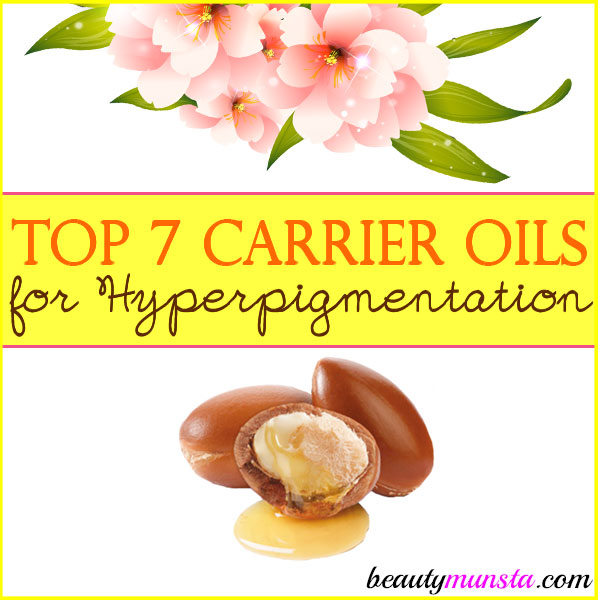 1. Argan Oil
A smooth golden oil with a silky texture, argan oil is revered in the natural beauty world. It has amazing anti-aging properties and transforms hair into a beautiful mass of silken tresses! What's more is that it has wonderful properties that even out discolorations on skin. It softens hyperpigmentation and brings a natural glow to your face! Try 100% Organic Cold Pressed Argan Oil from Puradora.
2. Sesame Oil
Sesame oil might be a strange oil to use for skin but it's actually been touted as a skin lightening oil in India. It has a thick consistency and a rather powerful nutty smell so make sure to make a blend with it by combining nice-smelling anti-hyperpigmentation essential oils! To make a DIY hyperpigmentation serum with sesame oil, simply pour 2 tbsp of sesame oil and 2 tbsp of argan oil into a 4 oz glass dropper bottle. Now add 3 drops lemon essential oil, 3 drops carrot seed essential oil, 3 drops sandalwood essential oil and 3 drops of rose essential oil. Close the bottle and shake well. Massage 2-4 drops on your skin at night time only. Buy 100% Pure Organic Cold Pressed Sesame Oil from Bayan Botanicals.
3. Evening Primrose Oil
Evening primrose oil is most known for its hormonal-balancing properties. It's high in GLA – Gamma Linoleic Acid which is omega 6 fatty acids. It's good for controlling PMS symptoms, lowering high blood pressure, reducing oily skin and treating hormonal acne. But what makes it even more special is it is one of the best carrier oils for hyperpigmentation! Personally, I like pricking one Evening Primrose Oil Capsule then rubbing the oil onto my face (or hyperpigmented areas). You can buy Now Foods Evening Primrose Oil Capsules. Also purchase evening primrose oil in liquid form to make hyperpigmentation serums and body oils. I recommend buying 100% Pure Organic Evening Primrose Oil from Botanical Beauty.
4. Mustard Oil
You must be thinking, 'What in the world?! Mustard what?!' Yes, folks, I was surprised as you are to find out that mustard oil is good for hypepigmentation too. It's also used in the Indian subcontinent as a skin lightener, just like sesame oil! Fortunately, the oil has a milder smell compared to sesame oil. It's just a tad pungent-smelling but I'm sure you can use it on its own. Remember, you can always add essential oils to mustard oil to boost its hyperpigmentation reducing properties and improve scent. Buy 100% Pure Organic Cold Pressed Mustard Oil from Dr.Adorable.
5. Rosehip Seed Oil
Rosehip seed oil is as luxurious as it sounds, friends! It's extracted from the fruits of the rosehip plant (this is actually a different plant from the normal rose flower we know). It contains vibrant red fruits that are used to produce a nutrient-rich oil. It contains Vitamin C, Vitamin E, Linoleic acid and more. Rosehip seed oil is very good for scarring and hyperpigmentation. So if your hyperpigmentation is caused by acne scars, then rosehip seed oil is a must-have for you! My favorite rosehip seed oil is 100% Pure Cold Pressed Organic Rosehip Seed Oil from Leven Rose.
6. Tamanu Oil
One of the more exotic oils, tamanu oil is on this list of carrier oils for hyperpigmentation. I've written more about its beauty benefits here: 12 Beauty Benefits of Tamanu Oil. It's excellent for scars from acne & stretch marks (which are a form of scars). It also has skin lightening properties so it's helpful for reducing hyperpigmentation! It softens skin and prevents wrinkles while evening out hyperpigmentation! How cool is that?! My recommended brand of tamanu oil that I've found to love is 100% Pure and Natural Extra Virgin Tamanu Oil from Majestic Pure Cosmeceuticals.
7. Papaya Seed Oil
Papaya seed oil is seriously one of my fav oils! It has natural exfoliating properties: I mean, which oil have you heard has such properties? I'm guessing none right?! And it's brilliant for skin lightening, skin brightening, skin whitening, you name it. So that makes it brilliant for reducing hyperpigmentation. All these properties can be dedicated to its high amounts of papain, one of its main active enzymes. Buy Botanical Beauty's 100% Pure, Organic Cold Pressed Papaya Seed Oil. It comes in a handy 4 fl. oz bottle!
Take Care
Always do a patch test with any oil before lathering it on your skin. Do a patch test by rubbing 1-2 drops of the oil on your inner elbow. If you notice any irritation within 30-60 minutes, then do not use the oil.
Pregnant/nursing women or those who're trying to get pregnant should consult their doctors before using any of the above oils.
Use these oils mainly at night time for best results because this is when the skin repairs and rejuvenates itself.