Using Carrier Oils for Low Porosity Hair
It's important to know your hair type so that you can moisturize it with the best suiting oil. Today we're going to look at the best carrier oils for low porosity hair. But first, what exactly are carrier oils?
Carrier oils, also known simply as skin care oils. They are derived from mostly from plant fatty elements, mainly nuts, seeds, and kernels. Carrier oils are so called because they dilute essential oils and carry their goodness to the area of application like hair or skin. The reason essential oils need to be diluted with carrier oils is because they are very strong and concentrated in nature, which makes them unsafe for direct application. Thus, carrier oils are used to dilute them. Carrier oils are very light and mostly odourless. They do wonders for hair with low porosity when mixed in the correct ratio with essential oil.
What is Low Hair Porosity?
Low hair porosity is a hair category where the cuticle layers are so tightly and closely packed. In this hair type, the tightly packed cuticle cells avoid the moisture from setting in, thereby making the hair frizzy and unhealthy-looking. It is always advisable to use lighter, more absorbable products and oils, such as carrier oils for such type of hair. Mixing carrier oils with essential oils is also a very healthy way to keep low porosity hair nourished and moisturized.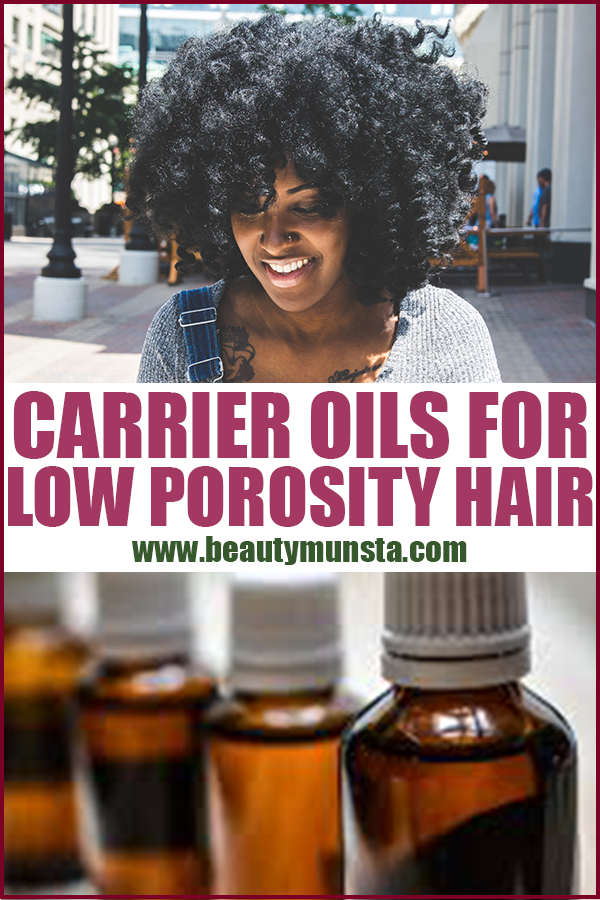 Top 7 Carrier Oils for Low Porosity Hair
Let's have a look at the most suitable and best carrier oils that have been known to have very good results for low porosity hair:
1. Argan Oil
Also known as 'liquid gold', this is very lightweight oil is extracted from kernels of the argan tree found only in Morocco. The oil contains rich important elements such as fatty acids (omega 6 and omega 9) and vitamin E. You can make a DIY Shampoo with Argan Oil for Soft & Silky Hair. Antioxidants in the argan oil are extremely beneficial for increasing hair growth and can also give positive results as far as hair re-growth is concerned.  It acts as a natural conditioner and moisturizer for both hair and scalp. The easy absorption quality of this oil makes it too good for low porosity hair. Related: 14 Beauty Benefits of Argan Oil for Skin, Hair & Nails
2. Grapeseed Oil
Grapeseed oil is pressed out from grapes seeds and is rich in Vitamin E that helps in building tissue and linoleic acid that assists hair growth. This oil is a great heat protectant and thus is good for natural hot oil treatment. This oil also acts as a natural conditioner and helps to retain moisture for hair. Grapeseed oil when used as a carrier for essential oils helps in relaxation of hair follicles thereby preventing hair loss. Related: Top 6 Grapeseed Oil Benefits For Hair
3. Jojoba Oil
This oil is basically the wax that is extracted from jojoba plants grown in the south-western region of United States. Along with being a rich source of Vitamins and fatty acids like Omega -6, Omega – 9, it also contains Docosanol that makes it antifungal. It acts as a natural source of hair moisturizer and helps fight hair problems such as hair fall, hair breakage and split ends. This oil helps the scalp to stay hydrated and moisturized, keeps it clean and thus prevents dandruff. Related: 12 Amazing Beauty Benefits of Jojoba Oil
4. Apricot Oil
One of the best carrier oils for low porosity hair is apricot oil. This oil is produced from cold pressed dried apricot kennel and is too good for treating hair suffering from low porosity. It is a good source of important nutrients, minerals, and plant antioxidants. This oil contains important vitamins A, D and E. Fatty acids such as linoleic and oleic contained in it helps to keep the scalp soft and hydrated and prevents hair from losing moisture and fuels in hair growth. Related: 12 Beauty Benefits of Apricot Kernel Oil
5. Boabab Oil  
Baobab oil is extracted from cold-pressed seeds of Boabab trees found in Africa. It is rich in Omega 3, Omega 6 and Omega 9 and also vitamin A, D3 and E. Regular application of this oil makes hair stronger, healthier and also induces hair growth. It acts as a medicine for infected dry scalp and treats dandruff. Baobab oil leaves a non-greasy after effect and acts as an effective sealant for the hair from harmful UV rays. Related: Bentonite Clay for Low Porosity Hair | How to Use it
 6. Sweet Almond Oil
Derived from pressing of edible almond nuts native to South Asia and the Middle East, this oil owes its numerous benefits to the fact that it is a generous source of fatty acids like Omega-3, minerals, potassium, zinc, vitamin E, and magnesium. Sweet almond oil is one of the most excellent carrier oils for low porosity hair. Applying the oil on a regular basis gives miraculous results for low porosity hair. It nourishes hair and is an important emollient. Related: 15 Remarkable Beauty Benefits of Sweet Almond Oil
7. Pomegranate Oil
Lesser known, pomegranate oil is another great remedy for low porosity hair. It does wonders for dry hair, bringing it back to life. Pomegranate oil also boosts the blood circulation in the scalp and comes packed with antioxidants and essential vitamins. This carrier oil acts as a good heat protectant and strengthen your hair naturally. Related: Top 10 Beauty Benefits of Pomegranate Seed Oil
Protect Your Hair While You Sleep With a Silk Night Cap